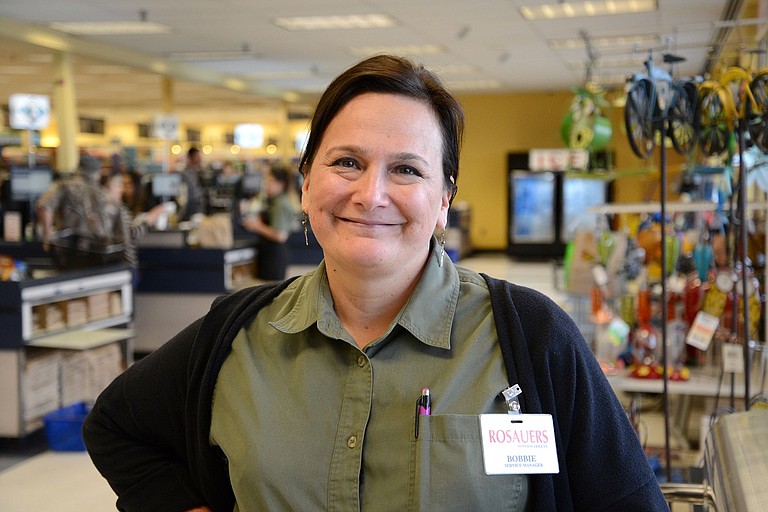 The Shed: Daniel 'Beau' Koch
Bartender, "Master of Ceremonies"
Koch, 45, said his sisters gave him his nickname the day he was born, "My older brother's nickname was Bub, and I became a Beau." He has worked at The Shed since coming to the Gorge about 10 years ago; he has been a bartender since he was 17 while living in Puerto Rico, where the drinking age is 18. He started out washing dishes, then worked the bar, "and one beer led to another, and pretty soon I was slinging beers like there was no tomorrow." He then moved to Las Vegas before settling in the Gorge.
What he enjoys the most: "The best part is the people. I've met amazing people in this town, everyone from the richest people to the poorest. I'll make more mistakes if there's two people as opposed to if there are 50, because it's all little increments, everyone is a piece of the puzzle. I've seen families start in this bar. I've seen relationships end. My stepdaughters, and their friends come in on her 21st birthday. It's a rite of passage to come here from Portland on their day, to sit down and have their picture taken. It's priceless."
Biggest challenge: "The hardest part is I stopped drinking 13 years ago. It's all done by memory now, I don't ever taste my drinks, I just make them.
"I stopped drinking because my family gave me the choice to stop drinking or watch my nieces and nephews grow up. And family is the most important thing to me." His siblings live in Camas, Washougal, Portland, and San Diego.
— Kirby Neumann-Rea
Rosauers: Bobbie Phillips
Bobbie Phillips is the service manager at Rosauers, where she is in charge of the "front end" — supermarket parlance for those working at the check stands, helping to bag groceries, and assisting customers in loading their purchases into their vehicles. She also literally minds the store when Store Manager Steve Morgan and Assistant Manager Doug Bohn are out.
Phillips has lived in the Gorge since 1993 and has worked at Rosauers for nearly 20 years, starting out at the meat department and moving to the front end about eight or nine years ago.
Phillips says one of the things she enjoys most about her job is "working with my customers and my coworkers." (In the few minutes the News was at the store to take a photo, Phillips took time to chat with a regular and help another customer with a question.) She also takes pride in the challenge of "trying to make sure that everyone has a really good experience in the store," which means helping employees find that balance of interacting with customers, while also being cognizant of other people waiting in the checkout line.
"I just want to make sure that we are up on things, and making sure that we are professionals, and that customers get through quickly and with satisfaction," she says. "Be friendly, but be efficient."
Outside of Rosauers, Phillips enjoys volunteering as a member of the local Eagles club with her husband, Brian, hunting, reading, hiking (she recently tackled Mitchell Point, "really hard, but enjoyable!"), and spending time with her grandkids.
— Ben Mitchell
Hood River Valley High School: Maria Alcala
Maria Alcala, Cafeteria
Every day at 11:29 a.m., the students of Hood River Valley High School flood to the cafeteria, many of them going to stand in Maria Alcala's lunch line.
There, they can walk through and choose from an assortment of lunch options before typing in their student ID at the register with Alcala. According to many, she "always has a smile on her face."
Alcala has worked in the kitchen at HRVHS since 2009. Before that, she lived in California and worked at an almond packing facility and as a caregiver for the elderly. Nowadays, she can be found at the high school, overseeing preparation of fruits and vegetables, baking pizzas, cooking French fries, and organizing the lunch line for the high school students of Hood River Valley.
Alcala talks to certain students almost every day, in English or Spanish, but she loves meeting new students all the time. "I love my job," says Alcala. "My favorite part is being able to offer students foods that they will enjoy."
— Grace Whitmore
Dog River: Lisa Muñoz
Lisa Muñoz, barista
Muñoz was born and raised in Hood River — she's lived here all of her 24 years, with the exception of college. She graduated from Hood River Valley High School in 2011, and graduated with a Bachelor of Science in biochemistry and molecular biology at Lewis and Clark College, and has been working at Dog River Coffee in downtown Hood River for two years.
"My boyfriend is in the nursing program (at Columbia Gorge Community College)," she said, noting that they'll later decide if they will settle here or move to another town. "This has been a fun in-between. There's a big difference, being in a lab versus being here. I'm learning all the people skills I've been lacking the last four years."
Muñoz said the most challenging aspect of her job is "being able to switch gears quickly and meet people on their level. For a lot of people, coffee is about comfort, so I just try to get people whatever they need as quickly as I can, all while trying to maintain a friendly conversation.
"It's a juggling act."
Muñoz enjoys hiking, reading, and learning new skills and hobbies, like knitting and weaving.
— Trisha Walker
Heights Fuel Stop: Michelle McKissen
Michelle McKissen, fuel attendant/clerk
Every time McKissen left Hood River, she found herself eventually returning. She has been here most of her life since she was three years old. She attended Hood River Valley High School and later traveled to a few states — including Maine — before journeying home.
She came back to be with her mother, she said, as well as the beauty of the area. "I missed the mountains and the river," McKissen explained.
McKissen enjoys seeing customers at her job at Heights Fuel Stop, and she spends her free time with her daughter, Mikayla, 4, who likes biking, playing in the park, and family board games like Pete the Cat, the family's newest pursuit.
"She's my life," McKissen said.
— Patrick Mulvihill