Originally published May 6, 2017 at midnight, updated May 6, 2017 at midnight
Hood River County Elections Office mailed ballots to county voters at the end of April for the May 16 Special Districts Election.
The ballot, depending on your place of residence, lists candidates for dozens of positions including Port of Hood River and Port of Cascade Locks commissions, Hood River County School District Board, and the boards of Hood River Library District, Hood River Valley Parks and Recreation District and Hood River Transportation District, along with many local fire, water, and sanitation districts.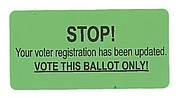 Remember to sign the envelope for your ballot only, and return by mail or at drop-off locations at Sixth and State and Cascade Locks City Hall (deadline is 8 p.m. May 16; postmarks do not count).
Voters are advised to mail the ballot prior to May 10 to ensure the Election Department receives it in time; after May 11, voters should hand-deliver ballots to either location listed above.
Voters who have not received ballots should immediately call County Elections at 541-386-1442.
•
Are you a voter and you received a ballot with a green sticker?
Did you change your voting information after April 3? You will receive two ballots — one with a green sticker on the envelope. Several hundred voters will receive duplicate ballots — and should cast only the ballot inside the envelope with the green sticker. These are ballots that had changes prior to the county sending its elector list to its out-of-county mailing service.
Keep that green-sticker ballot and submit it; DESTROY the other one — it will not count.
If you realized you cast the incorrect ballot, contact County Elections at 541-386-1442.
Candidate questionnaires
To learn more about candidates for local office, read Q&As previously published in the Hood River News:
Port of Hood River, Hood River Valley Parks and Recreation District