Anna Ticknor and Emily Gallegos, both Hood River Valley High School seniors, have been selected as the April Elks Students of the Month. Both were presented checks for $100 in recognition of their volunteer efforts in the community and their achievements at school during a recent lodge meeting.
Ticknor is the daughter of Art and Susan Ticknor, and she maintains a 3.86 GPA. Her advanced courses include Honors Physical Science, AP Human Geography, Writing 253/254, AP U.S. History, Honors Ecology, and Writing 121/122. She is a member of the National Honor Society, the Biology Book Club, and Youth Heart of Hospice. Ticknor is an excellent student and is friendly and kind. She is a Link Leader and helps to welcome freshmen to the high school. She was also chosen by the HRV staff to serve as a school student ambassador. As an ambassador, Ticknor helps to make new students feel welcome and safe. She participates in High Five Friday and helps to plan school improvements such as a welcoming board. She is a natural leader and is a member of the Leaders for Tomorrow group at the high school. Students in this group visit different local businesses every month to see how they function. In the second year of this program, the class completes a service project. This year Ticknor's class recognized national Random Act of Kindness Day and are creating a presentation highlighting recycling that will be presented to local elementary schools. Ticknor is also a member of the Adirondack Trail Improvement Society, a camp in the Adirondacks that she has participated in since she was 4. The camp has taught her trail etiquette and appreciation for nature.
Ticknor's list of extra-curricular activities includes volunteering at the FISH Food Bank and the Christmas Project. She works as a babysitter and helps her mom with group piano lessons once a month. For her junior year EA project, she taught ballet classes at the St. Francis House in Odell on Sundays for an hour. She continues to teach these classes frequently and enjoys working with the little girls who participate in her classes.
Dance is at the heart of Ticknor's interests and passions. She is a Columbia Gorge Dance Academy Company Member, where she dances five days a week in genres including ballet, pointe, modern, contemporary and jazz. As a company member, she participates in fundraisers and in 2016 danced with her company members at the Orange Bowl in Miami. She has danced in the Hood River production of the Nutcracker as the Dew Drop Fairy, Sugar Plum Fairy, and Snow Queen. Her other stage performances include "Grease," "Oklahoma," "Reach For It," and "Catch Me If You Can." She served as dance captain in "Reach for It" and "Catch Me If You Can," where she led warm ups and choreographed pieces. Ticknor would like to major in dance and minor in journalism at the University of Utah.
•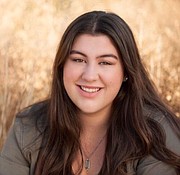 When a student starts out in 4H, she often ends up in FFA. This is true for Gallegos. She is the daughter of Patricia Martin. Gallegos' service began at a young age through her 4H club, the Four Furry Feathered Critters Club. As a youth, she showed sheep, pigs, and small animals. She attended the Oregon State University Summer Conference and led showmanship clinics, and helped build and maintain a community garden. As an FFA member, she has continued to raise livestock and small animals. She also competes in ag sales, vet science, and public speaking events. Through FFA, she has done volunteer work at events like Pass the Pig, Ag in the Classroom, Blossom Festival, Steak Feed and Silent Auction, football game barbecue sales, Touch & See Day, the Farmers' Breakfast, Harvest Festival, and many more. She's helped out at the Christmas Project Gala Fashion Show and has worked for Community Work Day, with her wages going to a charity chosen the HRVHS ASB group.
Gallegos has challenged herself academically, having taken four years of ag classes, including welding and vet science, Medical Biology, AP U.S. History, AP Human Geography, and Writing 121/122. She participates in sports as well. She has played basketball for HRVHS, and was a member of the HRV Lacrosse team in 2014, 2015, and 2016 as goalie. She has assisted at youth camps for both sports.
Gallegos' love for animals spills over from her volunteer work into her paid work as a veterinary assistant at Tucker Road Animal Hospital. At this job, she walks, feeds and waters all types of patients, cleans up before and after surgeries, and gets to practice for her real-life goal of becoming a veterinarian. Gallegos plans to attend Oregon State University and pursue a degree in animal science. Her most meaningful community service has been the FFA Ag in Classroom program, where she gets to teach kids about her passion for agriculture. She has a younger sister, Alyssa, who also attends HRVHS.