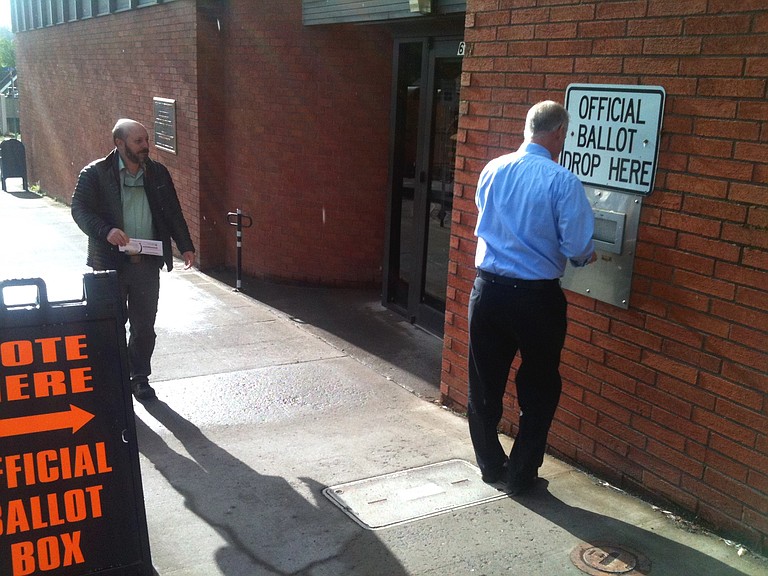 Originally published May 16, 2017 at 2:23 p.m., updated May 16, 2017 at 2:23 p.m.
The voting deadline is 8 p.m. today, May 16, for the Special Districts election.
Ballot drop-off locations are Sixth and State streets and Cascade Locks City Hall. (Remember to sign the envelope.)
At press time at 11 a.m. Tuesday, balloting had reached about 22 percent.
The May 16 ballot contained dozens of positions including Port of Hood River and Port of Cascade Locks commissions, Hood River County School District Board, and the boards of Hood River Library District, Hood River Valley Parks and Recreation District and Hood River Transportation District, along with many local fire, water, and sanitation districts, and a Northern Oregon Regional Corrections Facility levy that would replace an existing capital bond with an operations levy.
The Elections Office opened at 7 a.m. May 16, as it must every election day since it is legally a polling place.
Deputy Clerk Kim Kean said the mid-day run of ballots would likely push the tally to 23 or 24 percent. A typical final tally for a Special Districts election is usually about one-in-four eligible voters turning in their ballots, according to Kean.
"If we get over 25 percent it's probably above normal," Kean said. "I thought we might get more because of the NORCOR (levy)" she said. "But we are seeing a steady stream today, with a full tray at 10:30 a.m.," referring to what was placed in the bin inside Sixth and State.
Results of the election will be posted online on the Oregon Secretary of State's website.
Those results are posted as early as 9 p.m. on election night.
To learn more about candidates for local office, read Q&As previously published in the Hood River News:
Port of Hood River, Hood River Valley Parks and Recreation District