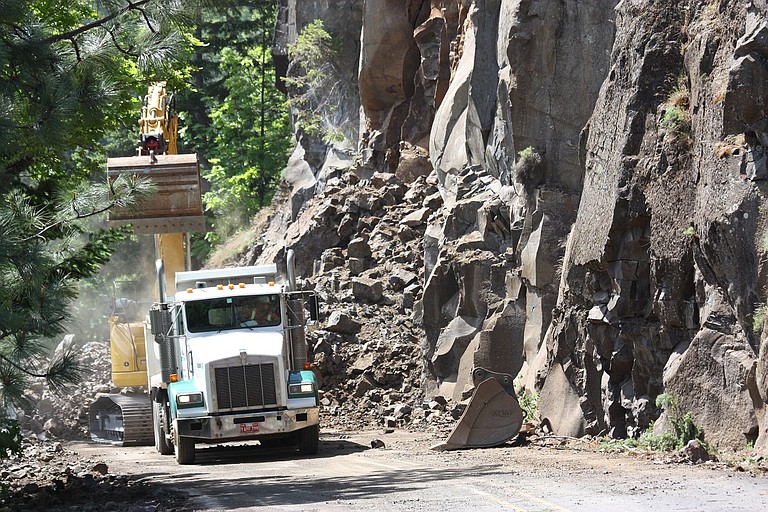 The Oregon Department of Transportation is hard at work to remove the recent rockslide that occurred just east of the Rowena Crest Overlook between Mosier and Rowena.
The slide occurred at around 7:30 p.m. on Sunday, May 7, and it was a big one. ODOT officials estimated that between 500 and 600 cubic yards of rock and debris came down, covering both lanes of Highway 30's "Rowena Loops" area, about a mile east of the overlook. About 150 feet of the roadway was covered by rocks, some of which were massive.
"It's the biggest slide of the season for sure," said ODOT's Don Hamilton, a public information officer based in Portland.
"Road closed" barricades remain in place across Highway 30 just past the entrance to the Rowena Crest Viewpoint on the west and at Rowena Ferry Road on the east.
On Monday, representatives from ODOT said they expected the rockfall to be cleared and Highway 30 to be reopened before Memorial Day.
"The target is Memorial Day, if not before," said Peter Murphy, ODOT's spokesman for Region 4, a district that includes Rowena and The Dalles. "We'll do our best to get it open before then if we can. It's a busy highway and this is a busy time of year with motorists and bicyclists. The important thing is that we understand what happened, and make it safe."
Jamie Schick, ODOT's statewide rock slope geologist, said the clearing and repair work has been going well.
Read the full story at www.thedalleschronicle.com.