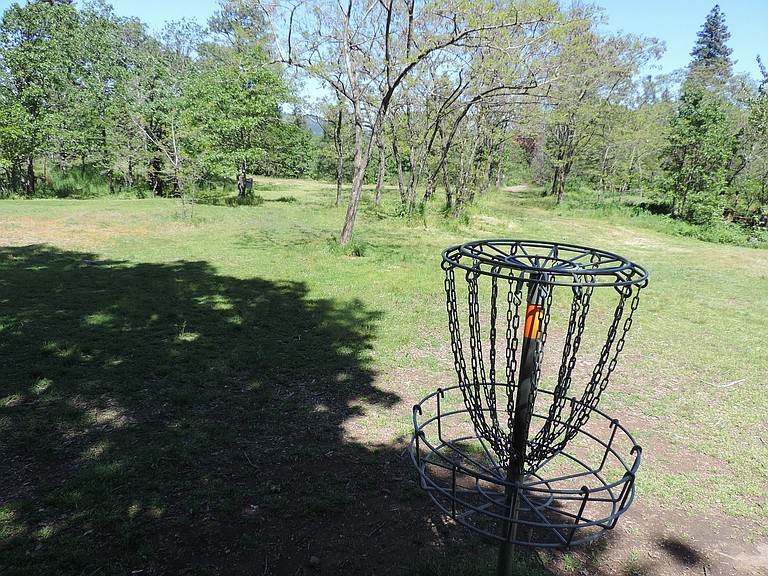 Monday will likely bring the last word on the proposed Lot 700, aka Morrison Park re-zone, as city council is scheduled to deliberate after hearing one more piece of testimony.
The council is considering the city planning department's request to rezone the 5.3-acre park parcel at 20th and Wasco, currently a popular disc golf course and open space. Council meets at 6 p.m. at City Hall.
The city, working with Mid-Columbia Housing Authority, wishes to transform the land into 60 units of affordable housing.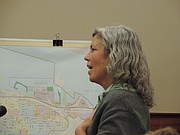 The proposal is predicated on the idea that "if you work in Hood River you should be able to live in Hood River," Planning Director Cindy Walbridge said, pointing to the near-total lack of affordable single-family or multi-family dwellings, and the fact that "private sector housing developers have not met the need."
"This will not solve the housing crisis. It just kicks the can down the road and gives us one less valuable park," Jim Klaas told the council May 8.
Testimony opposing the rezone dominated the final hearing on the rezone request, with neighbors and others decrying the loss a recreational venue as well the removal of trees, habitat and open space.
Josh Sceva said lower-income residents "are the ones who need the park the most."
Ann Frodel called on the city to do "a painstaking review of its other options."
Testimony also included a blended housing-park proposal by the Hood River Valley Residents Committee and Liveable Hood River advocacy group (details at right).
Klaas, a neighbor and opponent of the rezone since its introduction last year, will give a presentation along with Jurgen Hess at the start of Monday's meeting, representing the Save Morrison Park citizen group. No other verbal testimony will be taken at the meeting. (Written testimony deadline was May 18.)
Hess and others noted that Maui Meyer was invited to speak May 8 by Mayor Blackburn and given extra time to make a presentation on the need for developing affordable housing, but other groups had not received the same opportunity.
Marie Uhler said she used to live and work near the park and knows its healthful value as a natural space for adults as well as children.
"It is a place of exploration," Uhler said. "We might end up with a few scientists. These people are also our constituents. Consider them first."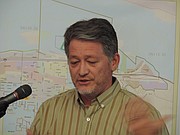 Solutions such as the rezone are long overdue and "it is already too late," Meyer said on May 8. A realtor and former county commissioner, Meyer has for several years made an in-depth study of the housing situation in the county, via his role as member of the governor's Regional Solutions advisory committee. Meyer noted that Hood River is now in the 95th percentile of most expensive housing markets in the nation, but average wages come nowhere close to providing necessary income for the majority of workers. "Half of Hood River County makes $15 or less an hour," he said.
"Frankly, it's unsustainable," Meyer said.
Rezone supporters noted the rising need for housing for middle- and low-income residents. The land is owned by the city, so purchase costs are avoided. It was originally zone residential, and the Hood River Valley Parks and Recreation developed the land as park 10 years ago with the understanding that it might someday be converted for housing.
"This is a rare opportunity to get it done. I fully support the Residents Committee-Liveable Hood River proposal," said Laurent Picard, who served for 10 years on council until resigning last year.
n
Speaking on behalf of Hood River Valley Residents Committee and the group Liveable Hood River, Arthur Babitz presented a proposal for keeping the land both as park and housing. It reads in part:
"We would like to maintain greenspace within our city to enhance the environment and urban livability, yet the degree to which we do so can directly challenge the statutory mandate that we do not sprawl beyond our boundaries. For every acre we shelter from development inside the UGB, which acre of resource land will we seek to develop?
"We need to provide housing opportunities for all our residents, not just the wealthy ones, yet the degree to which we constrain development and protect greenspace can raise land costs and further exacerbate our housing affordability crisis ... HRVRC and LHR think you can satisfactorily address your housing and your parks needs in your decision on this parcel. But it is important to note that to the extent you can't satisfy everyone, you've set a clear priority of meeting your Goal 10 Housing obligations. You get to make that call, and your decision is backed by the sound policy imperative that you are required to meet our housing goals within our UGB so we do not need to prematurely grow beyond … Your Housing Needs Analysis has identified a clear deficit of affordable housing. Rezoning land and donating it to Mid-Columbia Housing is precisely the sort of affirmative action called for under the state and local Goal 10.
"Our city's goals are captured in our Comprehensive Plan. The Comprehensive Plan guides the development of our municipal code, which takes the broad concepts and reduces them to specific rules. The goals of the Comprehensive Plan are intentionally in conflict. It is the role of the city council to resolve those conflicts — to harmonize the provisions of the Comprehensive Plan — both when you write zoning code and when you decide cases like the one before you. Sometimes you can achieve the aspirations of all the goals, but often you must set priorities and choose which goal to give precedence."