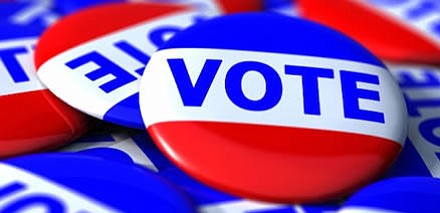 Originally published May 20, 2017 at midnight, updated May 20, 2017 at midnight
VOTES YET TO COUNT
The County Election results will be certified on June 5.
Letters have gone out to about 36 voters with "question ballots" who need to visit the Elections Office by May 30.
Early returns from the May 16 Special District Election show tightly contested races and a narrowly rejected operations levy at Northern Oregon Regional Corrections Facility.
The NORCOR bond would have established a permanent 26 cents per $1,000 property tax toward jail operations, effectively carrying over the original bonds that created the jail. Those bonds expired last fall.
Hood River County Elections issued the unofficial results on Tuesday night; the election will be certified on June 5.
Two narrow races stand out: John Everitt holding a two-vote lead over Svea Truax for Port of Hood River Commission Position 2, and Benjamin Sheppard edging incumbent David Russo by six votes for the Hood River County School District Board, Position 2. That tally stands at 322 for Sheppard to 316 for Russo, or 50.16 to 49.22 percent.
The port race will automatically go to recount, as it falls within one-fifth of one percent of the total number of ballots cast in the race. Everitt has 1,169 votes to 1,167 for Truax, a 44.15 to 44.07 margin.
Truax said, "I am glad to know John and I are both highly respected and backed up by friends and people who know us in the community. I think District 2 will be well served when the final decision is made." (Her husband, Rich, was elected to School Board Tuesday.)
To Everitt, the results show "how important every vote is. It's amazing, with that much out there, how it can have an effect." Asked if the tight results are a reflection of his and Truax's stances, he said, "Not really. It shows we have the same number of friends and equal name recognition."
In all close races, "question" ballots could be a factor: these are ballots that have yet to be counted due to unresolved issues usually having to do with the signature or lack thereof.
The last time a local race was this close was a city gas tax ballot measure in 2009, which ended up passing 812-809 after going to automatic recount.
Russo said he would wait for certification before asking for a recount.
"This is a case where you can clearly say that one vote makes a difference," said County Chief Deputy Clerk Kim Kean.
Sheppard felt his extensive door-belling in District 2 helped garner him votes.
"I didn't expect I would win, so I'm hopeful," he said. "It's a tight race but I'm ahead and that's cool. I had some shout-outs in the Hood River News (letters) and I talked to a lot of teachers. I felt like I got a lot of the teachers behind me."
Russo said, "I think the enthusiasm for people wanting to serve on school board is great — this is what the process is supposed to be about, contested races and people coming out and doing this," Russo said. "I hope I win, but I've had a great term on the board, and I would like to serve another."
Asked what the ballot split said about voters' perception of him versus Sheppard, Russo said, "I'm not sure. I think half the people like the information they know about and half the people like the information about my opponent. It makes me wonder if in the contested races, we should have more of a candidate forum so voters can have a better appreciation of where candidates stand on issues.
Unofficial election results
In the only other contested local race, Crystal Springs Water District, Eric Cedarstam and Antonio Baptista were elected with 35 and 33 percent of the vote, respectively, and Bill Munk received 31 percent.
In the failed Mt. Hood Community College bond measure, Cascade Locks voters said no by a 56-44 percent margin.
Unofficial returns from Wednesday afternoon indicate the NORCOR bond measure passed in Hood River, Sherman and Gilliam counties, but failed by a large enough margin in Wasco county to reject the measure.
Wasco County voters rejected the NORCOR bond by about 55 percent. Hood River County approved it by 53.35 percent, Sherman by 58.92 percent, and Gilliam by 54.84 percent.
Via an aggregate of 8,235 votes from the four counties, the measure failed, with 50.35 percent opposed and 49.65 percent in favor.
Results are not final. The deadline to certify results is June 5.
---
Local races saw a crowded field of candidates. Here are the results:
Port of Hood River
Position 1: Ben Sheppard took the lead with 53.14 percent of votes, defeating Anna Williams with 26 percent and Brian Carlstrom with 20 percent.
Position 2: John Everitt was leading Svea Truax in a near tie of 44.15 percent against 44.07. Jeff Helfrich received 11 percent.
Position 3: David Meriwether won with 58.72 percent of votes, over Kristi Chapman with 25 percent. Laurie Balmuth drew 11.2 percent and Robert Bart, who pulled out of the race after the ballots had been printed, received 4.3 percent.
Port of Cascade Locks
Dean Bump took 64.23 percent of votes against Sally Drew. Jess Groves edged David Lipps by a narrow 51.06 percent versus 47.82 percent.
Hood River County School District Board
At Large Position: Rich Truax edged Brian Hardy by 64.42 percent.
Position 2: Benjamin Sheppard was slightly leading against David Russo with 50.16 percent versus 49.22 percent of votes.
Position 3: Corinda Hankins-Elliott brought in 62.45 percent of votes against Joanna Smith.
Julia Garcia Ramirez and Mark Johnson took unopposed positions 4 and 6 respectively.
Hood River Valley Parks and Recreation District
Two positions were up for election in a nine-person field. Anna Cavaleri came out on top with 22.49 percent of the vote, trailed by Nan Noteboom with 17.12 percent; Nick Kraemer was next with 16.9 percent.
Hood River County Transportation District
Five new board members were elected: In the six-person race for positions 1-4, Mark Reynolds took the highest count with almost 25 percent of votes, followed by Marbe Cook, Leanne Hogie, and Effie Mooney.
In the Position 5 race, Theresa North edged Bobbi Reisner with 55.78 percent of the vote.
Hood River Library District Board
Three positions were up for election: Sara Marsden, Megan Janik, and Karen Bureker received 28 percent, 27 percent, and 23 percent of the vote, respectively. In fourth was Brian Hackett with 21 percent.
---
Letters have gone out to about 36 voters who need to visit the Elections Office in person to remedy questions over the signature on their ballot or other concern keeping officials from tabulating it. These include at least 16 with signatures that do not match the registration.
Given the number of votes, it is likely they could affect the wafer-thin Port and School Board races (details, main story.)
The deadline to come in is May 30 at 5 p.m. County Elections can be reached at 541-386-1442.
Another factor is the unknown number of ballots cast in other counties that have not been received by the Hood River County Elections office.