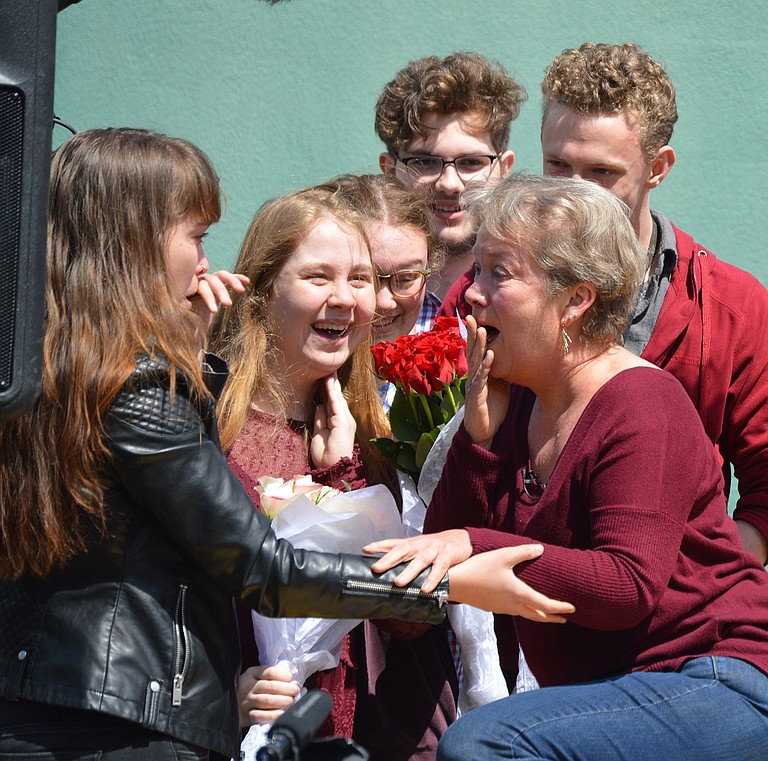 Originally published May 20, 2017 at midnight, updated May 20, 2017 at midnight
Forget three times — the second time was the charm for Hood River Valley High School theater arts teacher Rachel Harry, who learned Wednesday that she had been awarded The Tony Awards and Carnegie Mellon University "Teachers with the Excellence in Theater Education" Award.
The announcement came as a complete surprise to Harry, who assumed that the interviews she'd been giving all morning to CBS Correspondent James Watt were part of a greater story.
"I knew there were three finalists, and when CBS (Producer Joe Long) called, I assumed he was making three videos of each finalist so that when the great reveal occurred, they would have a polished video to show," said Harry.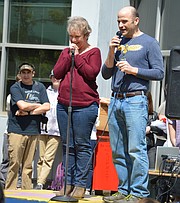 She thought the students gathered in the courtyard were there to celebrate the completion of Campus Pride Work Day, and that the announcement of her being a finalist for the Tony was part of shots needed to accompany the story.
Instead, she learned she was the winner.
"You guys rock my world," Harry tearfully told the crowd of students, who were laughing and crying along with her. A chant of her nickname "Krum" filled the courtyard as she absorbed the news, visibly shocked.
It also came as a surprise to Principal Rich Polkinghorn.
"I found out (that Harry won the Tony) literally less than five minutes before I called her on the stage," he said. "The producer, Joe Long, pulled me aside and said he wanted me to do a little intro, talk to the kids about Campus Pride Day and how we take pride in our school and staff, and then introduce Rachel and call her on stage," he said.
And then Long asked if he could speak to Polkinghorn in his office — and dropped the news.
"I was super excited for Rachel and proud of her — she's done so much great work here and has been doing it for so long, it felt really great for her to get some recognition for everything she does," he said. "I was elated … She's put a ton of time and devotion into the program, and that program is what it is because of Rachel Harry. We're super proud of her."
Her students feel the same. The nomination is student-driven — past and present — and is what garnished Harry last year's distinction of being one of 23 honorable mentions in the same category. Amirra Malak, HRVHS art teacher, contacted students to see if they wanted to resubmit their nomination from last year.
"They of course said yes," Malak said.
Students had to submit a video and three letters of recommendation — the latter from Malak, former student Cayla Sacre and parent Terina Neal. Current students Finn Peterson and Casey Holzman shot new video footage of student interviews, which Malak and former student Nicole Scribner helped to edit. Harry's daughter, Tay Camille Lynn, consulted over the phone "to help make sure we were capturing the true Rachel Harry vibe," said Malak. Claire Hamada, another former student who spearheaded last year's effort, again submitted the completed application, which had been kept a secret.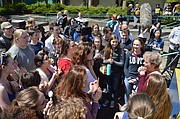 Harry found out about the nomination via email, but "with demanding productions this year, I promptly forgot it," she said.
One particular highlight of Wednesday's news: CBS brought her daughter in for the event.
"She had spoken on the original application video the students made. They liked what she said and wanted to use it," Harry said. "They flew her to Portland and then put her in a limo for the drive to Hood River."
Reaction to the announcement by the crowd of students, most of whom were in her theater classes, was shock — and joy.
"We were all blown away by the announcement," said senior Jasper Krehbiel, who has been in several theater productions. "The moment they told her, the shock and awe in her face, her eyes, her tears were so beautiful," he added. "It should quite honestly not be a surprise that she won. She is so deserving and so humble … it's incredible to have the entire nation finally recognize her for what she has been to us for so long: An inspiration."
Senior Cathryn Kellett, who has been in six productions and taken theater classes from Harry all four years, echoed the sentiment. "It was absolutely insane to hear that she won," she said. "After everything she's done for this school, her students, and even the community, she deserves the award and the recognition so much.
"It's a crazy feeling knowing I've been taught and directed by a Tony Award winner!"
Sam Hannigan, another senior who has been in several productions, described Harry's teaching methods — and how she inspires her students. "You get what you put into Krum's class," he said. "If you have a dream, she will support it, no matter how ridiculous it is. The thing about taking a theater class with Krum is that it's very student-driven. She gives us the tools for creation, and then sends us out to make something for ourselves."
"Krum is one of the most qualified and valuable teachers I've ever had," said junior Katelyn McAllister. "She pours every minute she has into the theater and her students. Krum has made the theatre a safe home for everyone. She has impacted every student in her class and cares for each one of us. I believe wholeheartedly that Krum deserves this Tony and I am so happy that she is getting the love and recognition she deserves."
As for Harry, the news hasn't really sunk in yet.
"Occasionally, I will realize I am going to New York City to attend the Tony Awards, that I will be on the red carpet, that I have been invited to many private parties and I will be at Radio City Music Hall to rehearse with all the starts Sunday morning," she said Friday morning of the June 11 show.
"They're flying both my kids there and they will be attending all the parties, dinners and stand on the red carpet with me and James Watt. I am honored and humbled and in shock."