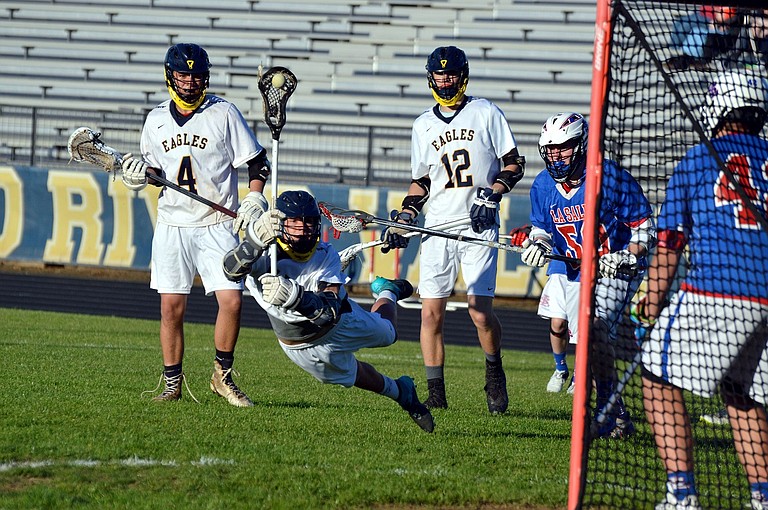 Originally published May 24, 2017 at midnight, updated May 23, 2017 at 3:19 p.m.
The HRV boys lacrosse team is the top team in the Cascade Cup and certainly acted like it in the opening round Friday evening, bowling over No. 16 La Salle, outscoring the Falcons 18-2.
The Eagles (6-8) shelled La Salle (3-9) from the outset, controlling possession and firing at will. HRV went on a 16-0 run that lasted until midway through the third quarter when La Salle finally got on the board.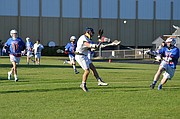 For a team that gave the Eagles all the could handle two years ago in the Cascade Cup final (HRV won that game 11-10), HRV Head Coach Matt Luchsinger was surprised just how lopsided the contest got — so much so that even the home crowd seemed to grow weary with HRV's prolific offense.
"That was more than I expected… I never like it when it's like that," he said. "It's no fun for the other team or even for our guys. It makes things difficult for us, because we have to make sure they're practicing things and not running up the score."
But, with athletes on the HRV boys lax team sidelined for a variety of reasons, there were only so many subs that Luchsinger could put in. Eventually, he sent in his starting defenders on attack, and made other players shoot with their non-dominant hand. It didn't work, and senior defender Wyatt Mansfield came away with two goals.
That being said, HRV's attack still did most of the heavy lifting on offense, with Steven Crouch and Cody Wheat combining for eight goals. Also scoring were Christian Zack (three), Jackson Lebsack (two), Mason Collins (one), Sam Newton (one), Bruce Ostler (one). Jhett Chrisman had limited work to do in net, but made a handful of saves when he was called upon to do so.
With the first round out of the way, HRV advances to a quarterfinal matchup, hosting No. 8 Oregon City (6-10) Thursday at 7 p.m. at Henderson Community Stadium. Oregon City is of the Three Rivers League and they have not faced HRV yet this season, although they do share common opponents in La Salle and Wilsonville. Oregon City beat both of those teams this year, as did HRV. Winner of Thursday's game will advance to the semifinals and play either No. 12 Corvallis or No. 13 Wilsonville.