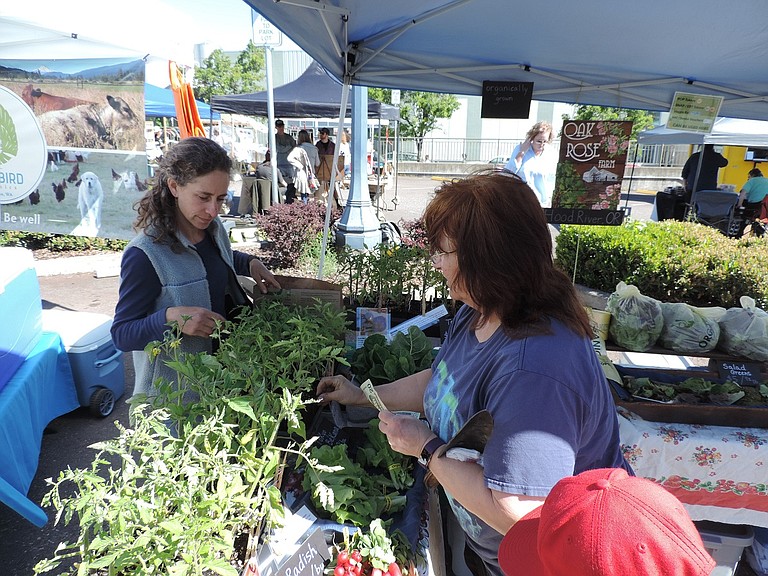 It is market time again; the bounty of the Gorge is available to all.
Hood River Farmers Market opened three weeks ago, and other Gorge markets, including Mercado del Valle in Odell, will open within the coming weeks. Most run through September and some into October.
The markets are a place to find fresh, high quality produce as well as ready-to-eat food items, handcrafts and more. Music always accompanies the Hood River Market, held at Fifth and Columbia, and there are games for kids.
The Rural Farmers Market Network, formed in 2017, bolsters the connection between all eight Gorge Farmers Markets. According to Gorge Grown Food Network, the market network increases low-income access programs, provides training opportunities, uses mobile trucks to support markets, increases cooperative promotion, tracks sales and marketing data and materials, and provides information rules, best practice communication tools, and other market activities.
A quick guide to shopping at Gorge farmers' markets
Don't live in Hood River? Are you traveling elsewhere in the Gorge? Or do you just want to try another farmer's market?
There are plenty to choose from.
The list of all eight markets is below; most gather on Saturdays. Available produce changes by market and as the season progresses; for updates visit the Gorge Grown website, gorgegrown.com.
Hood River: May through November, 9 a.m. to 1 p.m. Saturday, summer location Fifth and Columbia Streets parking lot across from Full Sail; free parking available at the lot.
Goldendale: May through first week of October, Saturdays 9 a.m. to 2 p.m., Ekone Park.
Mosier: May Through September 4-7 p.m. Sundays, downtown Mosier.
Odell (Mercado del Valle): June through October, first and third Thursday, 4-7 p.m., downtown Odell.
Stevenson: Mid-June
through October, Saturdays 10 a.m. to 1 p.m., 199 Second St.
The Dalles: Through October, Saturday, 9 a.m. to 1 p.m., City Park at Union and E. Fifth streets.
Trout Lake: Mid-June through September, 9 a.m. to 1 p.m. Saturday at Trout Lake Grange.
White Salmon: Mid-June to October, Tuesdays 4-7 p.m. at City Park.
•
Looking for additional food resources? Gorge Grown's website contains links to its programs, including the "Who's Your Farmer?" directory, with extensive information on vendors and food providers up and down the Gorge.
Also, Hood River News' quarterly publication Savor will be out in June; copies at Hood River News' office and at businesses and visitor's centers.
The Gorge Grown Food Network offers a SNAP match program at Hood River, Mosier and Mercado del Valle farmers' markets. Come to the information booth at any of these markets, swipe your EBT card, and receive $5 in tokens to shop for fresh, unprocessed fruits and vegetable every week. The markets also accepts FDNP and WIC checks.