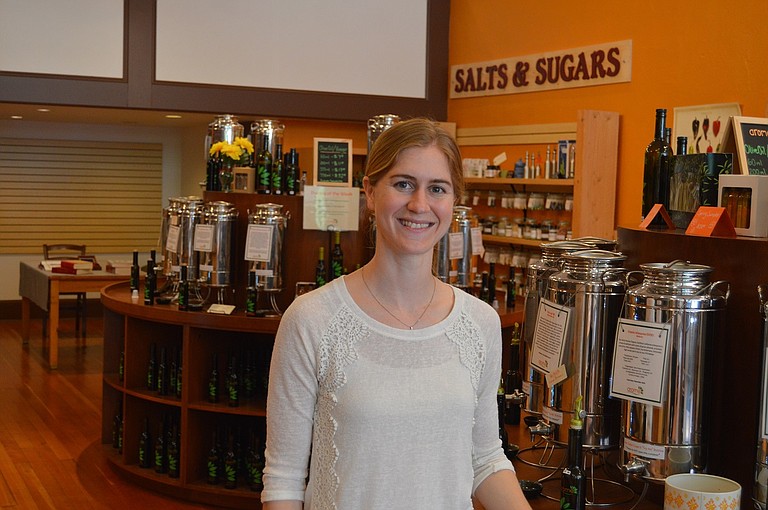 It's hard to find a word for a shop like Arome.
Owner Janice Bell, of Husum, sells loose leaf teas — 34 varieties, with organic and herbal options — salts and sugars, spices and herbs, oils and vinegars. A small café, serving teas and baked goods from White Salmon Bakery and Columbia Gorge Gluten Free — and a couple of tables — also fill the space.
The shop offers "an experience more than a specific genre of food or store," said Bell. It's part café, part specialty grocery, but Bell's goal is to provide culinary inspiration and knowledge.
Arome
105 Oak St.
Hours: 9 a.m. to 6 p.m. daily
"We encourage customers to taste all of our products in the store and are happy to discuss recipe ideas, and are open to suggestions from customers on products they'd like to have available locally," she said.
"We have general standbys, plus unique items like amchur powder and black cardamom," Bell said. The former is a mango powder, and the latter what Bell described as a "meat marinade type of spice."
Bell isn't entirely new to business. She grew up in St. Paul, Ore., on a small farm; her parents grow hazelnuts and chestnuts, as well as grass seed and wheat. A civil engineer by trade, Bell and husband Nathan Bell — an engineer with Hood River Public Works — opened Arome April 8 after months of planning.
"I chose the more practical path in my profession," Bell said of engineering. "I just decided I wanted to get out from behind a desk."
The Bells began brainstorming business ideas last summer as a way to become more independent. When the former At Home on Oak Street space became available in October, they knew they'd found their spot.
"My husband saw the ad and said, 'That space is amazing — we should jump on that,'" she said.
She quit her Portland-area engineering job in December, created the Arome brand (and the tagline, "Find Your Flavor"), and spent the better part of March remodeling the shop.
Bell turned to Columbia Gorge Community College's Small Business Center for help in creating a business plan, working with Rick Leibowitz, renter director, and Todd Meislahn, business adviser.
"This would not have been possible without them," Bell said. "There were so many things I needed to learn."
Although she's been in business for only a couple of months, she's already modified inventory based on customer demand. And she's looking for local suppliers for items she sells in the shop.
"If there are other locals who make something we have, I would love it," she said.
As it is, she's already tapped local artisans and producers. Besides bakery items, she sells pottery by J.Lee Creations, of Underwood, and shelving was created by Bill Anderson, Anderson's Custom Sawing, in White Salmon. And her husband built the counter.
"He's incredibly handy and an incredible craftsman," Bell said.
She sources the olive oil from a supplier who works directly with farmers to ensure standards are met. Both the crush date and chemistry are published on the oil description cards. The glass bottles the oil is decanted into can be reused — clean and dry bottles can be refilled, Bell said, or make cute flower holders.
The store carries many types of whole spices, which she buys in smaller quantities "to keep them as fresh as possible." Customers can buy these whole, or Bell can grind them in store.
The Bells moved to the Gorge from Portland "because we wanted to gain more of a sense of community," she said. "Starting a business has compounded that for us.
"We've been welcomed by businesses here, and we appreciate all the local support we've gotten," she added.