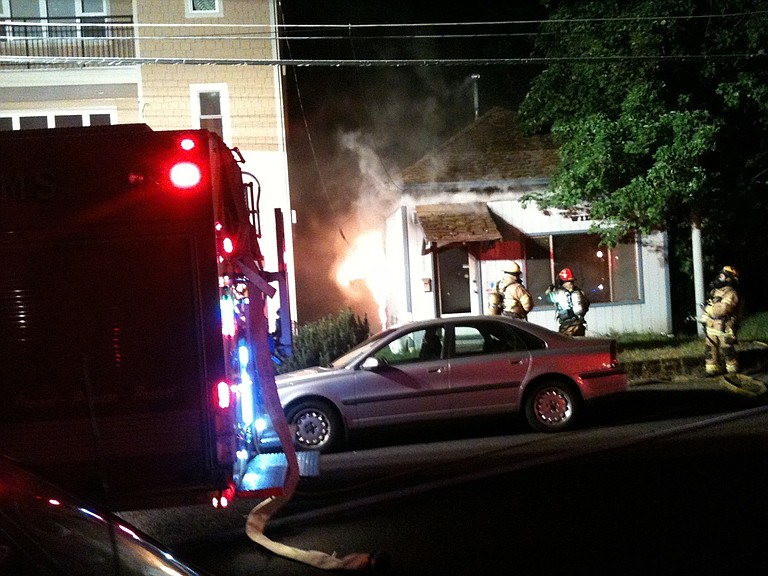 Originally published May 27, 2017 at midnight, updated May 27, 2017 at midnight
Fire destroyed the inside of a Heights answering service business early Wednesday morning.
Jeremy Price, the lone employee on duty at Columbia Pacific Answering Service, 1109 Wilson St., called in the fire at about 1 a.m. after flames erupted from the breaker box, according to Hood River Fire Department Lt. Paul Henke, who was in command of the response. High winds whipped smoke around, and the acrid burning odor was detectable for several blocks.
"The cause is probably electrical," Henke said, given Price's description and the concentration of torched wall around the box, on the east side of the building. No one was hurt in the fire, and firefighters evacuated two families from the neighboring condominium, in the path of a heavy wind-driven wall of smoke. (A couple and their baby were given shelter in the fire department command vehicle.)
The flames gutted the building, owned by Louis Dominguez, according to Henke. "We saved the structure, but the contents are destroyed. It's going to get torn down," he said.
Hood River firefighters battle Heights blaze
Dominguez, as well as Columbia Pacific, could not be reached for comment.
Firefighters were challenged by the close proximity of the condominiums, along with vehicles and debris in the yard and a large tree next to the burning building. They were limited to outside attack until Pacific Power could come and disconnect the line running into the house.
"The color of the flames and the smoke suggested (the cause was) electrical, but we were not sure the lines (leading in) were dead," Henke said.
Another factor was staffing: Henke arrived with fellow duty crew members Jeremy Cervantes and Adam Wheat, but the response team legally needs at least four people — two in and two out — before anyone can go into a burning structure. Between seven and 20 minutes later, they were joined by volunteers from Hood River, Westside, and Parkdale departments. Mid-Columbia Fire and Rescue also sent an ambulance to the scene.