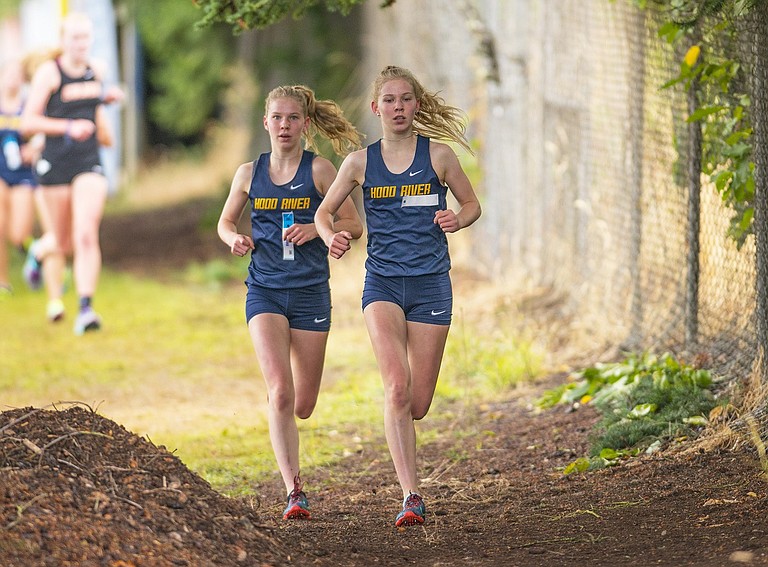 Originally published November 1, 2017 at midnight, updated November 1, 2017 at midnight
The HRV cross country team last week won both the boys and girls Columbia River Conference titles at the conference's district meet in Pendleton.
This is the boys third and the girls second consecutive CRC championship.
And the team brought home the championships in two different ways, Head Coach Brandon Bertram explained.
"The girls won by systematically moving up throughout the race from mile one to the finish," said Bertram. "The boys started fast with a quick first mile and finished the second half of the race with grit and determination."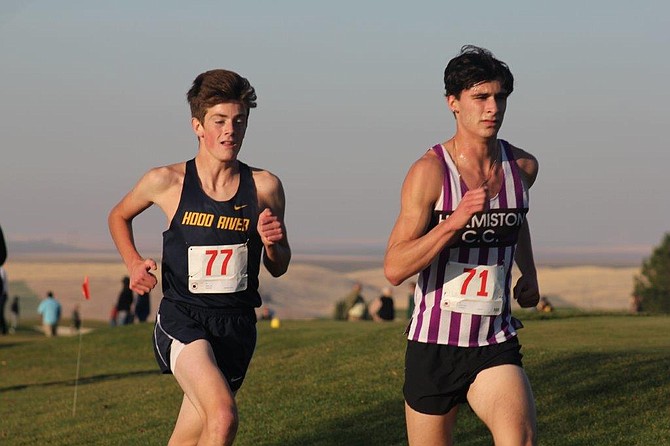 Josephine Dickinson, Frances Dickinson and Lottie Bromham took the lead from a large Hermiston and The Dalles pack halfway through the race, creating a large gap as they ran three wide until the final quarter mile.
Josephine in first place finished with a time of 19 minutes and 18.7 seconds. Frances and Bromham followed at 19:20.9 and 19:27.2.
Evelyn Nunez and Chloe Bullock keyed off each other as well, picking off runners in the final mile, edging out the top 10.
Nunez finished in eighth place (20:01.8) and Bullock (20:03.2) was right behind her in ninth.
Running a personal best time of 20:36.8 and finishing in 12th place was freshman Vada Joplin Clay.
"Incredible race by a group of girls with five of the seven Eagles running in their first CRC race," said Bertram.
Like the girls, five of the seven boys had never run in a varsity CRC race.
"The boys ran the first mile with purpose as all five scorers went through in under five minutes," said Bertram.
Josh Haynes finished with a personal best time of 16:25.6, earning him and the Eagles a second-place finish overall.
The other Eagle in front of the pack was Braxton Wilson, who in fourth place ran a time of 16:43.2.
With Haynes and Wilson leading the way, Omar Quintana, Finn Peterson, Travis Running, Raine Melby, and Oscar Powell "packed up a pressed through the second and third mile," said Bertram.
Quintana (16:52.8) finished in seventh, Peterson (17:03.1) ninth place, Running (17:17.9) 11th place, Melby (17:31.8) 15th place and Powell (17:43.1) in 18th place.
Both Quintana and Melby saved their best for last, running personal best times at districts.
"The boys ran savvy, knowing what color jerseys they needed to beat in the final mile," said Bertram. "Peterson and Quintana demonstrated their experience as team captains. Finn Petersen, after last week's title, is the first HRV runner to be a part of three CRC championship teams. Seniors Running and Wilson took a chance on a new sport this fall and went at it with tireless dedication. Their performances this season have not disappointed and have turned into some of our strongest runners."
The Eagles themed this race as a "greatest hits," said Bertram. He explained that it means this race was a collection of what they have put together in previous races from the season.
"Learning from what worked in the past and put it together in a championship race and that's what we did at CRC. With all championship teams, we never said that the work needed between June to November would be easy, but it will be worth it," said Bertram.
Next up for HRV cross country is the state meet in Eugene at Lane Community College on Nov. 3 and 4.