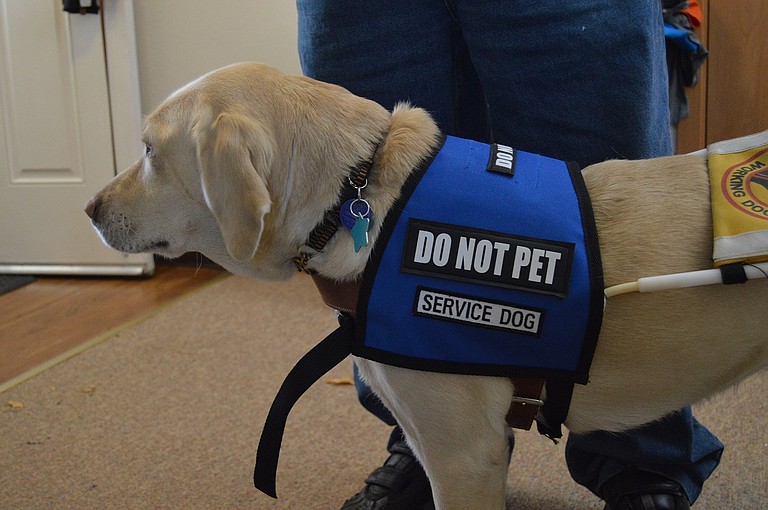 Originally published November 1, 2017 at midnight, updated November 1, 2017 at midnight
When you meet a working guide dog team
Always ask permission before petting someone's guide dog.
A guide dog should never be offered food or other distracting treats.
Guide dogs are responsible for helping their handlers safely cross a street. Calling out to a guide dog or intentionally obstructing its path can be dangerous. Please don't honk your horn to signal when it is safe to cross. Be especially careful of pedestrians in crosswalks when turning right on red.
When guide dogs are not in harness, they are treated in much the same way as pets. However, they are only allowed to play with specific toys. Please don't offer them toys without first asking their handler's permission.
In some situations, working with a guide dog may not be appropriate. Instead, the handler may prefer to take your arm and have you guide them instead.
You may encounter a guide dog wearing a head collar, which is a humane training tool that helps a dog become calm and focused when distracted. The head collar is not a muzzle and is designed to permit the dog to fully open its mouth and can even be worn when the dog is eating, drinking or playing.
Access laws in the U.S. and Canada, including the Americans with Disabilities Act, permit guide dogs to accompany their handlers anywhere the general public is allowed, including taxis and buses, restaurants, theaters, stores, schools, hotels, apartment and office buildings.
— Guide Dogs for the Blind
Bill Caldwell has had people distract his guide dogs before, but never like this.
Caldwell, who has been legally blind since age 27 — he's 73 now — has been paired with his newest guide dog, Joy, since July. He's had to ask people not to pet the dog, but finds they don't always comply.
"I'd been without a dog for five months, and people will see me with another dog and they come practically running," he said. "I said, 'Don't, don't, don't (pet her), she's new and she needs time to get used to me and a new place.'
"But people still do it. They'll come up from behind us and pet her while we're trying to get around the store. And I've had to get a little bit rank with them, saying, 'Please don't do that, you're causing her to lose her ability to keep her focus on her guiding.' But they don't listen."
He's recently put a "do not pet" sign on Joy's harness, and even that hasn't helped. Last week, a woman came up to him and told him she didn't think his sign would stop people from petting the dog.
"And I said, 'What do you mean by that?'" Caldwell said. "And she said, 'Well, I just petted her.' It just shocked me to death."
He's also put a clicker device on her harness. When Joy gets distracted by someone while she's guiding, Caldwell "clicks" it to get her attention back on her work — and rewards her with a treat.
He said that people don't understand that service dogs are working dogs. They're licensed, so they are able to go into businesses where other dogs are not allowed.
"Give some consideration for a person who's visually impaired, that the guide dog is their eyes," Caldwell said. "… Consider they are a service dog and please allow them to keep their attention on their guiding.
"If you see a guide dog for the blind, please do not get their attention, please do not pet, please do not feed," he said.
Distractions have come in the form of petting or even sneaking the dog treats. Joy has had to be put on a diet because of the extra feedings she's received.
He notes that this only happens when he's alone, and shopping at Rosauers. He's talked to Guide Dogs for the Blind — the organization from which he's gotten all of his guide dogs — and was told that when some people see a person with a guide dog, they mistakenly believe that person cannot see anything and therefore cannot identify them should they pet the dog, give the dog a treat, or even knock the white cane out of a person's hand — all of which have happened to Caldwell this year.
"I'm looking through a straw," he explained of his vision. "If you take a drinking straw and look through it, what's at the end of that straw is what I can see."
While he can use a white cane to get around, he prefers using a guide dog.
"… We have to tell the dog where we want to go, right or left or forward, but the dog does such a better job," he said. "You're just hanging on to the handle and the dog is doing the weaving around. Take, for instance, these sidewalk café deals where there are chairs and tables. The dog is walking you through those, where with the white cane and those with low vision, we're always hitting the chair or something, so the dog is a hundred times better."
Caldwell was working for the police department when he lost his vision and had to resign.
"I didn't expect to lose my vision, but we have to deal with it," he said.
He credits the late Ken Jernstedt with introducing him to the idea of a guide dog. Caldwell saw Jernstedt walking up the street with his dog Driscoll, and learned he had lost vision in one eye. Caldwell mentioned he didn't think he qualified for a dog despite being legally blind.
"He said, 'No, any time your vision is less than the normal requirement, especially to drive, you qualify as long as you pass the physical and so forth,' and that's how I got Keanu. I got an application and filled it out and here I am now."
Joy is his fourth guide dog. Harold, his third, passed away suddenly in February at age 9.
"He was fine on Valentine's Day, we did our normal stuff, played or whatever, went to bed like we normally do, and he wouldn't get up the next morning," he said. "Roxanne (Fridley, his daughter) came running. We took him to the vet, but it was too late. And he was bleeding to death, on his spleen. It was cancer. It was a shock.
"He was a trooper right up to the end," Caldwell said.
It was the same cancer that Caldwell's first guide dog, Keanu, passed away from at age 13. His second dog, Timmy, "flunked out after two years because he kept getting away from me and running off," Caldwell said. "He got what they call 'career changed.' He was something."
Caldwell is Joy's second placement. Her first didn't work out, but since she was under age 4, Guide Dogs for the Blind took her back and gave her more training before deeming her fit to serve again.
"She's a good girl," he said.