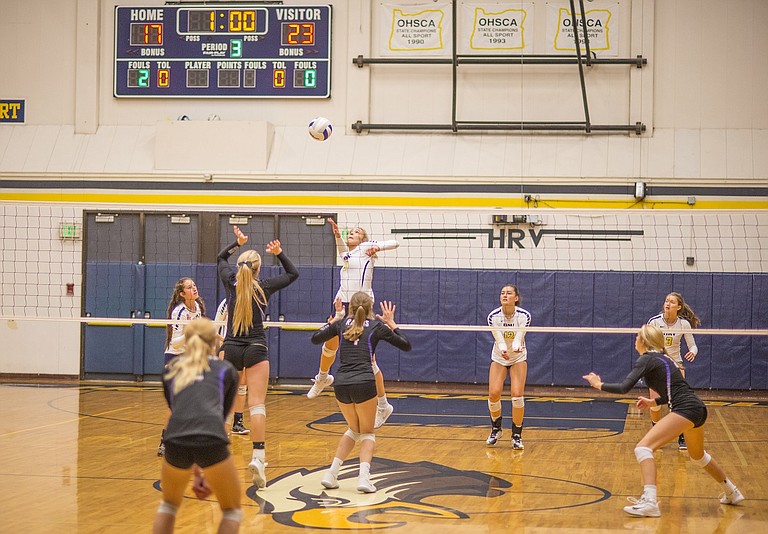 Originally published November 1, 2017 at midnight, updated November 1, 2017 at midnight
The Hood River Valley Eagles volleyball team this past Saturday punched their ticket to the state playoff quarterfinals after their sweep against a tough and young Wilsonville team that gave the Eagles all they could handle.
"It was far from a typical sweep, with the only difference in the match being a little luck, more experience, and a whole lot of grit," said Head Coach Scott Walker.
In the first set, the Eagles were down 10-17, but huge runs produced by HRV would help them go on to win 26-24 and steal a set from Wilsonville.
"Kennedy James came up big with six kills in the set and some really smart play," said Walker.
The Eagles, however, were unable to carry this momentum into the next set and once again dug themselves into a deep hole.
Down 17-8, the Eagles would fight their way back "with some great serving and hitting," said Walker, and would grind out the win 30-28.
Once again, the Eagles struggled to find any momentum early on in the final set and were down 14-8.
The Eagles clawed their way back and tied this game at 15.
And for a final time, HRV would win in extra time 26-24.
"It was a great team victory," said Walker, "with different players stepping up in every set to get the sweep."
Kill leaders for the Eagles: Shae Duffy (12), Katie Kennedy (11), and Kennedy James (11).
The duo of Hannah McNerney and Emily Curtis combined for 34 assists and six total team blocks.
Duffy added three total blocks and nine digs to go with Kennedy's team high 11 digs.
The Eagles quarterfinal matchup is this upcoming Friday, Nov. 3 at Liberty High School against Summit, the number one ranked team in the playoffs. This game is scheduled to begin at 1:15 p.m.