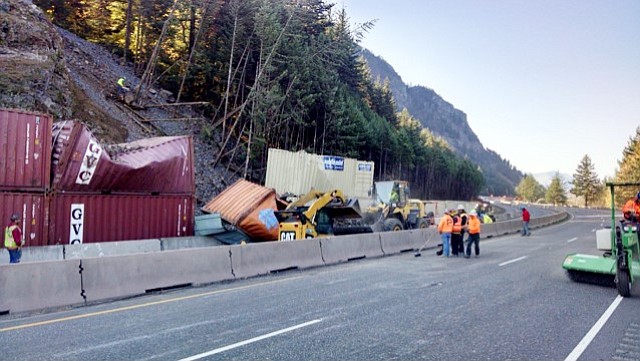 Originally published November 1, 2017 at midnight, updated November 1, 2017 at midnight
Rocks, and rolling slowdown, will echo at least three more times on Interstate 84 this month.
Monday saw the longest delay yet in the blasting project seven miles west of Hood River, the fourth of a total of seven planned freeway closures as Oregon Department of Transportation extends the latest segment of the Historic Columbia River Highway State Trail. Between 1-2 p.m. Monday, east-bound traffic was backed up to Cascade Locks, nine miles west.
Three more such blasts are planned in November, with the next one possibly on Monday, according to Don Hamilton of ODOT. He said the agency will provide two days' notice; check hoodrivernews.com for updates. McCallum Drilling of Chehalis, Wash., is the contractor.
The Oct. 30 blast was the highest altitude and closest to the highway to date, resulting in an unusual amount of debris landing on the freeway, according to Hamilton. In addition, the blast crushed or damaged several of the Conex containers stacked next to the freeway as explosion buffers, requiring more time to remove them. Crews also removed several trees that were in danger of falling onto Interstate 84 after the blast.
"All that debris needed more time to clean up, which ideally takes 20 minutes, as we like to get everything cleaned up and passage safe again, but this one took more than an hour," Hamilton said.
"We're sorry for the inconvenience it caused. We're going to be watching very carefully the impact of this one, to make sure we don't see a repeat of the lengthy traffic delays we had," he said. "If there is no alternative, we can consider rerouting traffic, but it's still a quicker trip to wait rather than crossing to Highway 14."
As part of the State Trail construction, a contractor is rock scaling to remove loose rock from the slopes at Shellrock Mountain. No additional traffic impacts for this work are anticipated at this time.
The blasting is necessary for construction of the Historic Trail segment connecting Wyeth and Lindsey Creek.
This work is located in the same area where eastbound traffic is temporarily diverted into one lane of westbound I-84 due to fire debris removal activity from the Eagle Creek Fire.
Keeping travelers safe from blasting activities is a top priority, according to ODOT officials. For more information about the trail, go to www.historichighway.org.
Blasting on I84