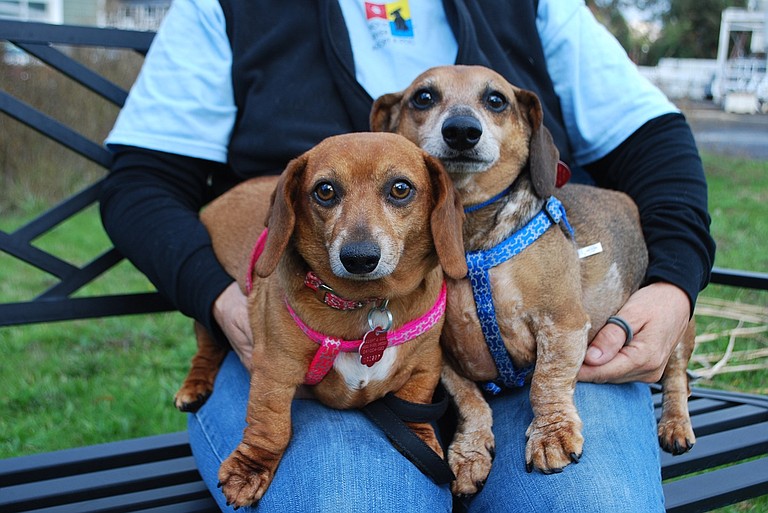 Wednesday, November 1, 2017
Check out this adorable duo! Pixie and Charlie Brown are just about the cutest bonded pair of Dachshunds volunteers at Hood River Adopt A Dog have ever seen, and they have been chosen as the organization's adoptable pets of the week.
They're both around 15 pounds and 6 years old. Check out those tiny, pudgy legs! Don't worry, they may be low to the ground, but they cruise around just fine. These two love to follow their people around with their little tails wagging nonstop, probably hoping for a snack to drop or a snuggle!
Both Pixie and Charlie Brown are a couple of cuddle monsters. They'll try to hop into your lap, but jumping isn't their greatest skill, so they always appreciate a boost and will reward you with love and kisses! They also like to burrow into big blankets and get as comfy as possible. They can be shy at first with strangers, but give them time, and they'll be sure to become your new best friends.
They would prefer a home where they aren't left alone for longs periods of time. Pixie and Charlie Brown are current on shots, microchipped and neutered. The adoption fee for the pair is $175.
Adopt A Dog is run by a small group of volunteers, and, since many of the dogs are in foster care, they ask that applications be turned in from the website (hoodriveradoptadog@gmail.com) ahead of time; they'll be in touch to schedule a meet and greet and answer questions. Adoption hours at Hukari Animal Shelter in Odell, 3910 Heron Drive, are Wednesday, 5-7 p.m. and Saturday, 9-11 a.m. Applications can be downloaded and scanned or emailed to hoodriveradoptadog@gmail.com, or faxed to 1-877-833-7166. They offer 24PetWatch microchips, which include free registration into the 24PetWatch pet recovery service. For more information visit www.24petwatch.com, or call 1-866-597-2424.