Wednesday, November 1, 2017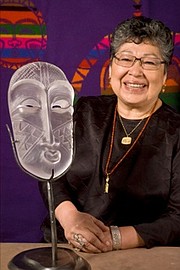 Columbia Center for the Arts will present a month-long, center-wide celebration of Native American art and culture Nov. 1-19. Visual arts in the gallery, performing arts in the theater, and classes in the studio will all focus on the artistic heritage of the Native American community.
In the gallery
Nov. 1-19 — Exhibition of artists from across the region will have visual artworks on display. Participating artists include Lillian Pitt, a collection of various artists from Crow Shadow Institute of the Arts in Pendleton, Christine Buckminster, Ann Fuller, Charles Funk, and Foster Kalama. Opening reception is Friday, Nov. 3 from 6-8 p.m.
In the theater
Nov. 4, 7 p.m. — Storytelling and music with poet Trevino Brings Plenty
Nov. 12, 2 p.m. — Presentation on the Pamplin Collection of Native American Art with Curator Chet Orloff
Nov. 16, 7 p.m. — Book and culture discussion with author Katherine Schlick Noe
In the studio
Nov. 18, 1 p.m. — Dreamcatcher workshop
This poTENtial program is sponsored by The Wheeler Foundation, The Templeton Foundation, Roundhouse Foundation, Summer Lea Hillman Foundation, Cathedral Ridge Winery, Print It!, Oak Street Hotel & Vacation Homes, Meyer Memorial Trust, & Oregon Arts Commission. Tickets are available at columbiaarts.org, in the art center gallery, and Waucoma Bookstore.