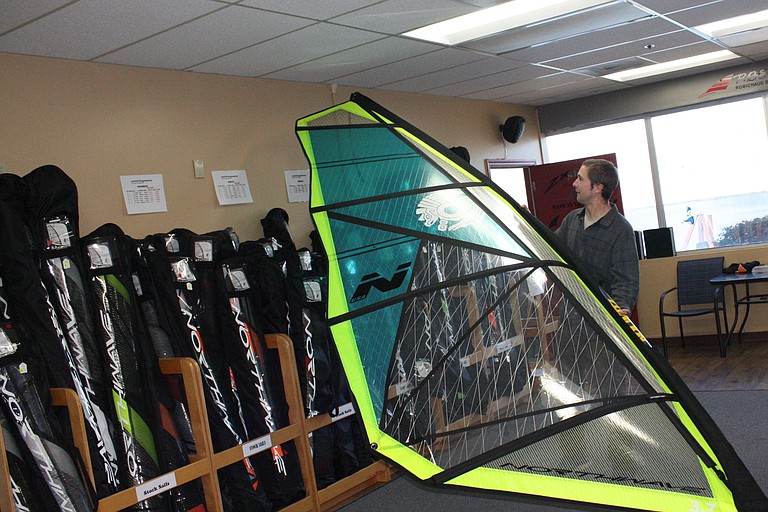 Hood River — HOOD RIVER – Fun is a core part of the business philosophy at Northwave Sails.
That principle has helped the wind surfing business deal with turbulent flow as the wind-based water sport industry changed over the last 30 years.
Northwave Sails got its start in the early 1980s in the Seattle area, focused on making windsurfing sails. Founder Blake Richards had done some windsurfing but he had been primarily interested in hang gliding until he did some work with a friend. He had a good time and was hooked.
So he started making sails. It wasn't too long after that he moved his business to Hood River. The Columbia River Gorge and Maui were some of the hottest spots for windsurfing.
"Northwave grew fast," he said. In the 2000s, what Richards calls the windsurfing industry's peak, the company was making about 2,700 sails and had about 50 employees.
But that was the peak. The wind brought changes such as more sail makers and new water sports.
"Kiteboarding diluted the market," Richards said. "And the market was saturated."
Northwave had to adjust. Richards's partner Tim Ferrick said one of the things they started focusing on was building custom sails – not just stock sails. Customers can pick their sail colors and then it is built to fit them.
"It keeps it fun," Richards said of the limited production. It makes it easier to keep the production close to home. Every sail Northwave is Gorge-made – it is not outsourced. And that is very important to Richards as he points out that other companies throughout the U.S. have started to outsource their production.
With the focus on keeping production in Hood River, Richards also had to make sure there was work for his six-person crew throughout the year since the fall and winter brings a slowdown in demand for sails. To do this, Northwave does custom commercial sewing projects.
Part of creating custom sails is building an awareness of what Northwave offers. The company has a demo program that allows windsurfers to try the sails before they buy them. The company will have a demo team out along the river equipped with sails. Windsurfers have the option to try it then. The company also sends out demo sails to windsurfers in other parts of the country.
The idea of trying the sail first is what brought Ferrick into the company. Ferrick has been windsurfing since 1975. About 15 years ago, he had an opportunity to try the Northwave Sail while out on the river. He tried one sail and then tried four or five different sail sizes.
By the time he got back to the beach, he was exhausted but he had a big smile on his face because the sails were great. He was hooked and knew he wanted one.
"My wife looked at me and said 'no you're not," Ferrick said, adding that he looked up at her and said "But dear, you try this."
After she tried the sail, she appreciated the smile and it was Okay to be involved with Northwave.
Ferrick is an example of how Northwave is more than just a place to get sails. It is a community. It is a place where the customers are part of the process.
When the Northwave launched a new line of sails, it turned to its customers – its community – to name it. Ferrick said an electrical engineer proposed the name Sine Wave since the mathematical term refers to a perfect continuous wave.
The idea of building a community goes beyond customer-named sails. Richards and Ferrick will hosts coffee and doughnut sessions where windsurfers can come and talk about windsurfing. They have hopes of doing more sessions. Richards said next spring they hope to go beyond coffee and doughnuts. The idea is to make it more of a clubhouse.
"Just keep it fun," he said.
With a customer-focused approach and being Gorge-made, Richards and Ferrick found another way to make it fun for them. Neither men take a salary from Northwave. Richards is quick to point out that both have other jobs that "pay the bills."
"This is my retirement job," Ferrick said.
Photo Gallery
Northwave Sails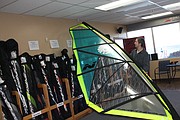 For 30 years, Northwave has been making sails along the Columbia River.