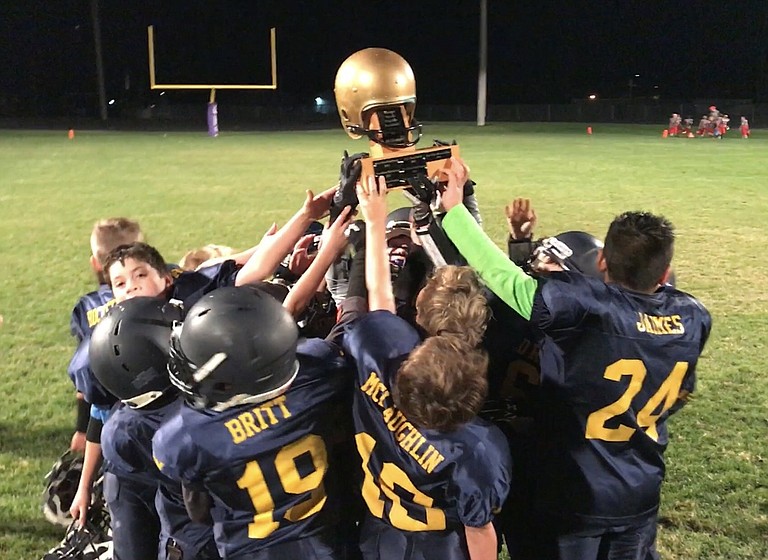 Originally published November 4, 2017 at midnight, updated November 4, 2017 at midnight
There's a team on the rise in Hood River.
The third and fourth grade Hood River Gold Youth Tackle Football team earned themselves a trip to the championship game last Saturday.
With an undefeated record and outscoring opponents 161-0 on the season, HR Gold were the favorites to come away with the Gorge Youth Football League Championship trophy.
Stout defense and a high-powered offense carried this team throughout the regular season and it would do so one last time.
On Oct. 28 under the lights in Goldendale, the boys would dominate White Salmon 34-0 for the Golden Helmet Trophy, a trophy that had been absent from Hood River for three years.
"The energy Saturday night was overwhelming," said Rita Britt, youth football coordinator with Community Ed. "The players hard work and dedication shined."
When they were on the field this season, "their love of the game truly showed," said Britt.
Every practice and game the Hood River Gold team took passion and fire with them to the field, she said, and it's clear when you look at their undefeated record against Hood River Blue, Corbett, Stevenson, White Salmon, The Dalles and Goldendale.
Ultimately, this team's love for the game just couldn't be matched and it's evident in their 161-plus point scoring margin.
"Community Ed Youth Football is making the future bright for the Hood River Valley football program," said Danny Ybarra, head coach for Hood River Gold. "I look forward to having another strong football season next year."
Community Ed's third and fourth grade Hood River Gold players and staff are: Cooper Wells (3), Evan Parr (6), Brenner Meyers (7), Deacon Ybarra (8), Josh McLaughlin (10), Maverick Hockett (11), Hudson Rodgers (14), George Layna (18), Talon Britt (19), Trevor Jacobs (23), Diego Bustos (24), Landon Edholm (28), Jesus Ortega (36), Leyton Adams (78), Atilano Layna (86) and Chaz Valentine (91). Coaching Staff: Danny Ybarra, Matt McLaughlin, Matt Hockett, Pete Valentine, Todd Rodgers, Devon Wells and Kevin Britt.
"A great big thank you to all the coaches, parents, sponsors, and players in the whole league! We could not run such a great program without your time and efforts. It's always really exciting to bring home a championship and we look forward to growing the football program in Hood River," said Hood River Community Ed Director John Rust.