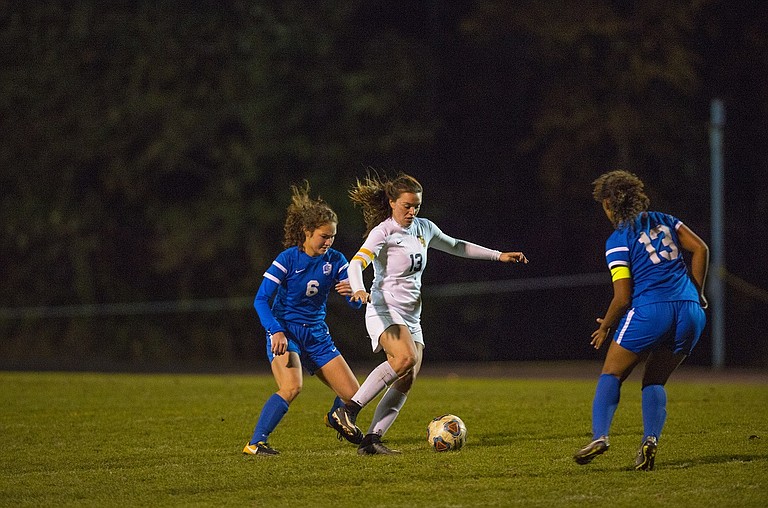 Originally published November 4, 2017 at midnight, updated November 4, 2017 at midnight
In the first round of the OSAA playoffs, the HRV girls soccer team played a familiar opponent, one they've built a rivalry with over the years.
On Halloween night, the Eagles went up against Hillsboro for a first round matchup between the eighth and ninth ranked teams in the 5A OSAA state playoff rankings.
Heading into this game, the Eagles had beaten the Spartans 3-0 at home. HRV would end their season at 9-3-2 with a 5-0-1 league record, while the Spartans went 6-4-4 and 5-1-1.

And both teams were just beginning to find their groove upon this playoff matchup.
HRV ended their season 5-1, while the Spartans made a final playoff push in their last five matchups, going on a five-game winning streak to close out the season.
What all this added up to is simple, and Head Coach Kevin Haspela knew before the matchup that "this would be a close and intense game."
And it was nothing short of that.
The game took almost two overtimes to determine a winner — almost.
In the 93rd minute, Hillsboro went down the field and punched themselves a ticket to the next round of the state playoffs thanks to Spartans midfielder and captain Madison Ellsworth, "who hit a great shot that had no chance of being blocked," said Haspela.
Ellsworth received a pass after a corner, took one touch to her left foot and shot a bullet at the left upper side of the net. "We knew she would be a big factor in this game and my hat goes off to Ellsworth," said Haspela. "It was a great goal by a very talented and hardworking player."
But before HRV would fall 1-0 to the Spartans, the Eagles had two chances, both in the second half.
After a countless number of counter attacks generated by HRV, the girls were beginning to tire out the Spartans and starting to put the pressure on Hillsboro's back line of defense.
"In a game when you are absorbing a lot of pressure, you need to stay composed and then attack when you get your chances," said Haspela.
Mira Olson, a forward for the Eagles, had her shot at goal in the second half after beating a Hillsboro's defender with a dribble into the box.
Olson's shot was taken from the right side of the box, but went left of the goal and narrowly missed the far post.
Then a potential game winner was nearly scored by Eagles forward Makena Zorza, who in regulation received a through ball that put her in position to get behind the back line of defense if she could win the foot race.
Zorza would outrun the defense and get the ball before Hillsboro's charging keeper; for HRV, this was their last chance.
With control of the ball, Zorza popped it over the goalie, but it would end up wide left.
While the Eagles were working to get looks at goal off counter attacks, "Hillsboro constantly kept moving the ball well and had the edge on a handful of one versus one matchups," said Haspela. "They were very good at moving the ball with give and go passing and quick passes forward followed by a layoff."
But Yaya Chavarria, Lauren Trumbull, Kiki Hosaka, Erin Sutherland, Abby Bergemann, and freshman Karla Barajas, the back line of defense for the Eagles, all stayed solid and "Hillsboro was never able to unblock our back line," said Haspela.
"And for the most part Hillsboro was limited to long range shots, which would be taken care of by Claire Oswald," said Haspela.
But whenever Hillsboro was able to put the pressure on HRV, "they were most dangerous with their corner kicks," said Haspela.
Hillsboro was awarded five corner kicks to HRV's one, and also had 14 shots to the Eagles two on the night.
And after a battle between opposing captains Davies and Ellsworth all game, Haspela said what great of a job he thought Davies did, "making her work for every ball Ellsworth got ahold of," but Ellsworth and Hillsboro would end this game.
The goal in the 93rd minute would put a conclusion to HRV's girls soccer team story that started in the third grade.
And although this Eagles team was unable to fulfill a Dynamos Bulldogs dream of winning a state title, Haspela noted, "The team should be proud of their accomplishments and the brand of soccer they learned to play, smart and composed team defending, team ball movement and dynamic attack of wing space; I will miss their presence on the field."
Season awards:
HRV senior defender and captain Yaya Chavarria won co-player of the year with Pendleton's Denisa Senkerikova.
Chavarria also earned first team all-league honors alongside teammates Claire Davies, Ashlee Ponce and Lauren Trumbull.
Second team all-league honors for HRV were Makena Zorza, Mira Olson and Avrie VanTilburg.
Second team goalkeeper: Claire Oswald.
And the league's coach of the year, in the final year of the Columbia River Conference, was Eagles Head Coach Kevin Haspela.
With 13 seniors on this year's roster, the Eagles girls soccer team will have a whole new look and feel to it as only seven varsity players return.