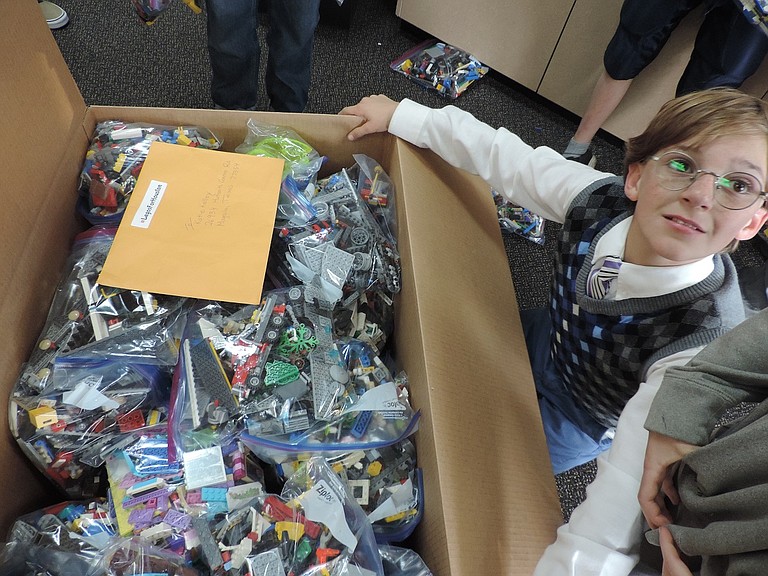 Originally published November 4, 2017 at midnight, updated November 4, 2017 at midnight
Houston has plenty to celebrate.
The Astros winning the World Series, and in the same week, the arrival of 144 pounds of Lego toys.
This fall's Hood River campaign known as "Legos For Houston" yielded two large boxes of Legos, shipped from the UPS Store on the Heights, courtesy of some enterprising Hood River youngsters.
Two local robotics kids teams organized a drive to donate Legos for the children of Houston, Texas, whose homes were ravaged by Hurricane Harvey. Houston is host city of Robotics World Championships.
"We're happy that we got so many Legos," said Noah Boris of Hero Robotic Monkeys, comprised of elementary students competing in FLL — First Lego League.
Oliver Schofield said, "We put these stickers for Houston on boxes and put them in schools and places and people would donate Legos and we collected them all and we're sending them to Houston because they lost all their Legos."
One team member's 10-year-old friend gave 10 pounds of Legos.
"At some of the donation spots, we had maybe a couple of bags, but in some cases people donated whole collections," said Alison Schofield, Hero Monkeys' coach. "One mother left a whole collection at the library bin, and emailed us, saying she left so many it overflowed the bin, and couldn't fit it all in."
The Legos will go to FLL partners in Houston for distribution.
Duct Tape, The Hood River Valley High School First Technology Challenge (FTC) team, also helped out. Duct Tape's Nash Levy was at the shipping party, but he said teammate Victoria Ervine deserves most of the credit, along with the younger robotics kids.
"This is a really cool project. They made it all happen, got the boxes together," Levy said. Also helping were Anthony Schu, Johnny Ervine, James Schofield and Ethan Lannoo.
Brad Rhylick of UPS worked with the kids to box up the Legos, starting with new sets of Legos some people donated, followed by plastic bags filled with miscellaneous sets and piece. Rhylick donated the boxes and gave the teams a 30 percent discount.
"I've only seen it one other time where we shipped bulk Legos like that," Rhylick said. "This is pretty impressive, what these guys did."