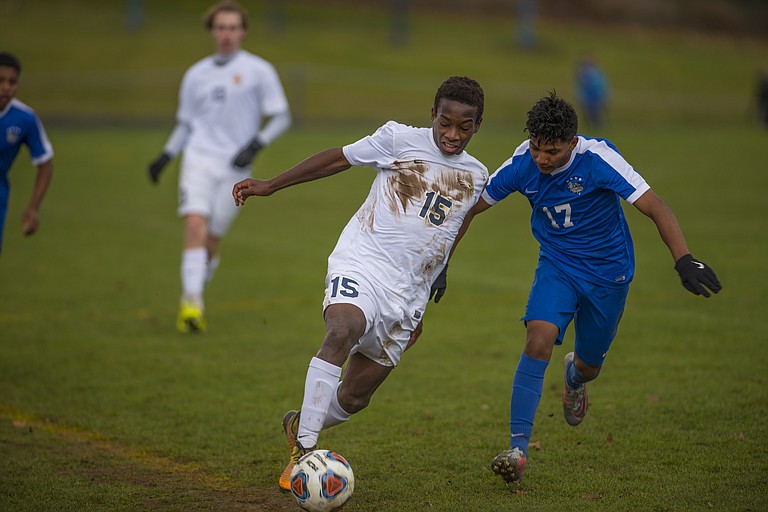 Originally published November 8, 2017 at midnight, updated November 8, 2017 at midnight
For a second straight season, the HRV boys soccer team had their 5A State title hopes crushed in the quarterfinals of OSAA State Playoffs.
After a scoreless match in regulation, HRV and Woodburn would go into overtime to determine a winner.
However, an extra 20 minutes of play still would not be enough for either team to punch their ticket to the next round of the playoffs, so the game would move to penalties.
In the penalty shootout, the Eagles would fall to Woodburn 4-3 and their shot at the 2017 state title would come to an end.
Woodburn will go on to play La Salle Prep in the semifinals on Nov. 7 at 6 p.m., a matchup between the number nine and fifth ranked teams in state. (Results not available at press time.)
In the 4-3 penalty shootout loss for the Eagles, it was crucial that HRV put this game away during regulation or overtime, and they had their chances to do just that.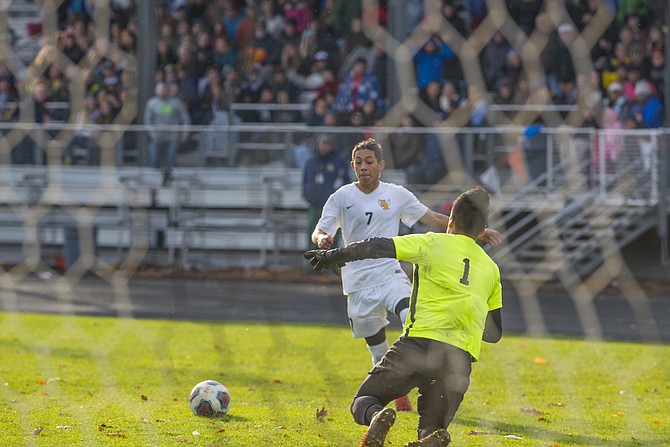 In the first half, HRV and Woodburn were constantly breathing down the necks of one another, getting very physical at times.
Sometimes that physical play led to over aggression and the attacking unit on both sides were slowly beginning to take advantage of it.
For the Eagles, their one clear shot at goal in the first half came from Robby Running who, from outside the box, was able to break away from defenders and get a good look at the goal.
But Running would get under the ball too much and it would sail over the left side of the post and out of bounds.
In the first half, HRV also had the advantage in corner kicks, but whether it was communication on where someone needed to be or a poorly executed kick, the Eagles were unable to convert on all their attempts.
Throughout the first half, both teams played outstanding physical defense that made it difficult for either offense to gather any control.
With no clear sign of either team gaining momentum in the first half, it was still anyone's game at the start of the second.
Both sides continued to play stingy defense and offensively, chances began to get harder to come by.
Late in the second half, a substitution was made by HRV that brought forward Domingo Barragan into the game, a clear indication from HRV's Head Coach Jaime Rivera that they were in attack mode.
Right after the substitution, Running passed a ball to Barragan, who aggressively fought for it and hit a through ball to a striding Erik Pitones.
Pitones, who had a defender on his back and a goalie charging the ball, was able to beat out both of them and get a shot at goal.
But it was a difficult shot from just outside the box and the ball would roll a few feet to the right passed the goal.
Barragan brought a small burst of an energy to the team with minutes remining in regulation, but HRV was unable to put a ball in the back of the net and with Woodburn still struggling to find the net like the Eagles this game would head into overtime.
In the first overtime, Woodburn started with the ball and quickly gave the Eagles a scare.
Woodburn put together a well-organized attack that got them a good open look from outside the box that HRV's goalkeeper Alejandro Rodriguez had to dive for to save it.
Outside of this shot, both teams generated little offense in the first overtime and it would lead to another 10 minutes of play.
Unlike the first overtime, the second saw a flurry of shots go up from distances close to the box and beyond, as it was desperation time for both teams.
But like the first 90 minutes of play, neither team could find the net in the second overtime and the only way left to decide a winner was a shootout in penalty kicks.
Both teams finally found the goals after their first penalty kicks and it was tied 1-1.
Then the Eagles would take a 2-1 lead after a miss by Woodburn.
After a miss by HRV, Woodburn tied it up a 2-2 and both team would fight their way to 3-3.
The Eagles got the first chance to put up the fourth score of penalties up on the board, but a tremendous block made by Woodburn's goalie kept the score tied.
Woodburn then came out and snuck one past HRV's goalkeeper Rodriguez, who got a hand on the ball, but it still bounced in.
With the score 4-3 and the Eagles' last shot at hope to continue the shootout, Woodburn's goalkeeper would come up big once again and his back-to-back blocks lifted Woodburn over HRV 4-3.
For HRV, not putting the game away in regulation or overtime, and allowing it to get to a penalty kick scenario, became all too stressful for them as they knew they must succeed.
The Eagles' next season will have a completely different look as they'll lose 10 seniors, including captains Saul Chavarria, Westley Carter and Erik Siekkinen.
Although a huge chunk of this year's roster will be gone next year, a big piece of the puzzle will still be around as star forward Running will become the leader of what will be a very young team in 2018.