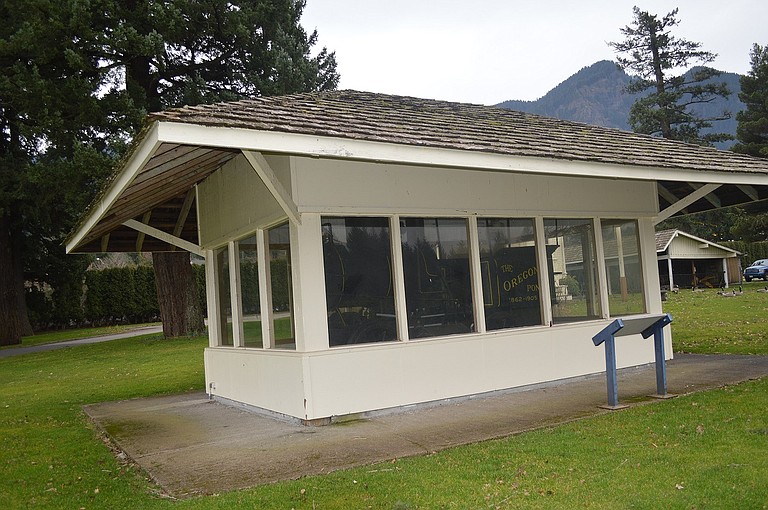 Originally published November 8, 2017 at midnight, updated November 8, 2017 at midnight
NEW TASK FORCE
A community group introduced by the Port of Cascade Locks is seeking members to develop plans for a new structure and exhibit displaying the historic Oregon Pony steam engine. Meetings begin in December.
The task force will give progress reports throughout 2018 to the port commission.
For details, visit portofcascadelocks.org.
The Port of Cascade Locks has laid out next steps for a community group that will hash out options and make recommendations for the historic train exhibit in Marine Park.
Oregon Pony, a 155-year-old steam engine, sits in an enclosure beside the Cascade Locks Historical Museum.

The port is mulling options to relocate the engine into a better climate-protected building — a discussion dovetailing with the port's efforts to improve Marine Park as a whole. The new building will be designed to keep the Pony dry and improve public access.
The Port Commission adopted a work description and timeline for the "Pony Task Force" on Oct. 19.
"The new Pony Task Force follows on the heels of the original committee that was convened to make recommendations about both the current Pony structure as well as the future facility," Paul Koch, port general manager, explained in an email.
Port Commissioners Joeinne Caldwell and John Stipan were appointed to the new task force. Other members will include people recommended by the Cascade Locks Tourism Committee and the Museum Board.
Cascade Locks area citizens who are interested are encouraged to sign up.
Via the timeline, by December the group's lineup will be established and a work plan underway.
In March 2018, the task force will make its first progress report, followed by two more in spring and fall.
By next November, the group will make its final report to the commission recommending long-range plans, operational details and financial plans including fundraising.
Marine Park plan
The port commission last week adopted the 10-year Marine Park Master Plan.
The plan, which emerged last summer, sets out goals and priorities for improving and developing the multi-use riverside park from 2017-2027. The "Pony" engine and museum are among the elements that will get a closer look.
Koch said the commission changed section "D" to read "Repurpose the incubator space," referring to the building Thunder Island Brewing Co. will vacate when the company moves to WaNaPa Street.