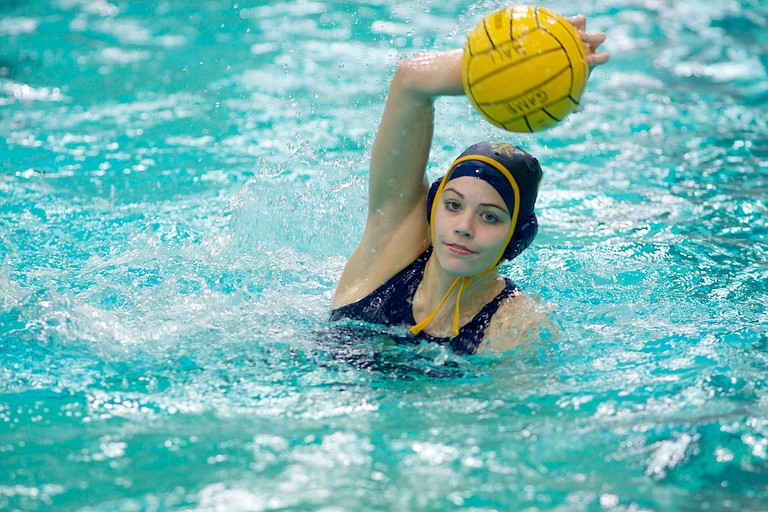 Originally published November 8, 2017 at midnight, updated November 8, 2017 at midnight
HRV girls water polo started its chase for back to back state titles with a dominating 15-0 win over Cottage Grove.
The girls got off to a fast start as they put up 11 of their 15 goals in the first quarter.
"We started out really strong and pushed it in the first quarter," said Head Coach Kellie Dunn. "After that, we really slowed things way down and focused on maintaining possession while running down the clock."
Through quarters two, three and four the girls team was able to get everyone valuable playing time and worked on keeping mechanics fresh for their semifinal game against OSAA's fifth ranked team from Ashland this Friday, Nov. 10.
The Eagles were very sharp on offense and defense against Cottage Grove, but even more impressive and definitely unusual in water polo was HRV's goalie Kat McElderry's shutout. "She played a great game," said Dunn. "The whole team played really great defense to help protect her shutout."
HRV was led by Jamie Robinson, Lauren Orr and Rose Finstad, who combined for nine of the 15 goals with three each. Faith Ocheskey followed with two and Amber Kennedy, Kathryn Guadagnuolo, Courtney Castaneda and Ella Murdy each added one goal.
The Eagles totaled six assists against Cottage Grove, with Ocheskey and Kennedy leading the way with two each. Finstad and Orr also each assisted on a goal as well.
Defensively, HRV combined for 12 steals and Finstad led the flock with four. Kennedy, Robinson, and Katherine McElderry each had two with Neilly Kendall, Grace Reagan and Ocheskey following with one apiece.
"At this point in the season, only two games stand between us and another state championship," said Dunn. And next up for HRV is a familiar opponent.
The Eagles played Ashland earlier this season in the South Salem Tournament, "so we know what to expect," said Dunn. "We have some really good momentum going into the tournament, and as long as we play our game without getting complacent, we will be in a great position to repeat as champions."
Depending on what happens on both sides of the bracket, HRV would play either Sandy or Summit in the state title game Saturday if they take down Ashland.
"This group of girls have worked hard all season for this and they want to defend our state title from 2016," said Dunn. "And we are in the position to do just that."