Wednesday, November 8, 2017
This year's Columbia Gorge Economic Symposium, organized by The Dalles-based Mid-Columbia Economic Development District, focused primarily upon the Columbia River Gorge region's forest products industry. Several speakers discussed what they saw as the industry's challenges and opportunities over the next 10 years.
Jason Spadaro, president of SDS Lumber Company in Bingen, was the keynote speaker for the event, which was held Thursday at the Hegewald Center in Stevenson. Spadaro opened his remarks with Mark Twain's famous quote, "The reports of my death have been greatly exaggerated."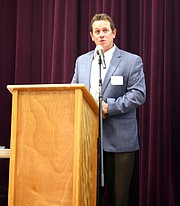 Spadaro said that sentiment also applies to the forest products industry.
"There is a general impression of the decline of the industry," Spadaro said. "Honestly, nothing is further from the truth. I see a bright future for the industry."
Spadaro listed what he perceived as several main challenges facing the forest products industry in Wasco, Sherman, and Hood River counties in Oregon and Klickitat and Skamania counties in Washington.
At the top of Spadaro's list was the unavailability of a reliable timber supply.
"That is our biggest constraint," he said, adding that federal and state forest lands previously provided much more timber for harvest, but now most of the timber being cut comes from private sources.
Other key challenges Spadaro mentioned include a tight labor market that is limiting the number of workers available in the industry; regulatory burdens; and a shortage of housing for workers.
Spadaro said that is especially true when housing developments are under consideration.
"Any rezoning plan or development seems to have everyone come out of the woodwork. We suffer from classic NIMBYism, in my opinion," he said, referring to the "Not In My Backyard" some people take when various development proposals come up.
Spadaro also noted the devastating impact forest fires can have, and he pointed out that when public forest lands are not effectively managed by allowing at least limited thinning or harvesting, the danger of catastrophic fires becomes more severe.
"Wildfires are a concern," Spadaro said. "The most unhealthy forest lands typically are public lands, and as it burns it affects private lands."
Turning to opportunities in the industry, Spadaro noted the impacts of research and innovations that are increasing the yields from trees and helps increase the growth rates of trees. In addition, mechanical advancements are providing for more efficient, safer, and more environmentally-sensitive timber harvests.
Also, the public response to recent serious wildfires in Oregon and elsewhere on the West Coast may help build interest in thinning or enhanced harvesting of timber that could otherwise simply burn up in forest fires.
"The public is starting to wake up," Spadaro said. "We can't expect forests to be there if we lock them up and not do any harvests. Active management will reduce wildfires. It's a great opportunity for us."
In summarizing what he sees as the outlook for the forest products industry in the Gorge, Spadaro said he sees three keys to the future.
"One, we need a readily available and properly trained work force," he said. "We need raw material availability. Public lands need to be managed more actively, and currently there is an unsustainable reliance on private lands for timber supply. And finally, the public needs to understand the importance of managed forests. That has been an uphill battle."
After Spadaro's detailed analysis, a seven-member panel of forest products experts later took the stage to address a series of issues posed by moderator Lisa Naas Cook of Hood River.
One of the questions to the panelists was what they regarded as the most pressing need to support the forest products sector in the region. Trevor McConchie of the Washington Department of Natural Resources said innovation in the industry is critical, as well as engaging younger residents.
"One challenge is how to get younger demographics interested in what we're interested in," McConchie said.
Jeff Nelson, co-owner of Nelson Brothers Engineering, agreed with McConchie about the need to bring in younger people into the industry.
"We're in danger of losing the ability to hire the top engineers," Nelson said. "There is a lot of innovation, but the people working in the industry now are going to retire soon, and there is not a lot of young blood coming into the industry."
McConchie said another challenge is getting the large population centers in cities such as Portland to support active management of the forests.
Wayne Vineyard, a member of the Port of Klickitat Board of Commissioners, said getting there will require a change in public perceptions to bring active management back to federal lands.
"The public has to want that for their public lands," Vineyard said. "You can't put a bubble over it." He pointed out that without effective management, there will be more insect infestations or wildfires that will kill trees and forests.
"I hope the public can learn, so we can provide raw materials to support rural communities," he said.
Jon Paul Anderson, a manager with the High Cascade/WKO mill in Carson, Wash., said stability in the timber market would solve a lot of concerns.
"It comes back to predictability and sustainability," Anderson said. "The public needs to get on board with sustainable management. Education of the young and the old is very important."
In response to a chart showing a steep drop in timber harvest levels in the region since several decades ago, Emily Platt of the U.S. Forest Service said there are good reasons why the timber harvests on federal lands are down significantly from previous decades.
"There are opportunities to increase the supply from federal lands, but it has to be based on reality," Platt said. "The Forest Service manages those lands for a lot of different objectives.
"That is just reality. We did harvest massive amounts of timber in the late 1980s and 90s, but we were harvesting at unsustainable levels at that time."
McConchie said the pendulum has swung back and forth over the years, but he was encouraged with trends because he has noticed a gradual uptick in the harvest levels over the last couple years.
"It's great to see that," he said.
When asked for three solutions to the key issues facing the industry, Vineyard offered his blueprint.
"One, we need a consistent supply of timer to allow sustainable productivity," Vineyard said.
"Two, we need a strong work force to want to come into the forest products industry, and three, we need public relations to make the other two happen."