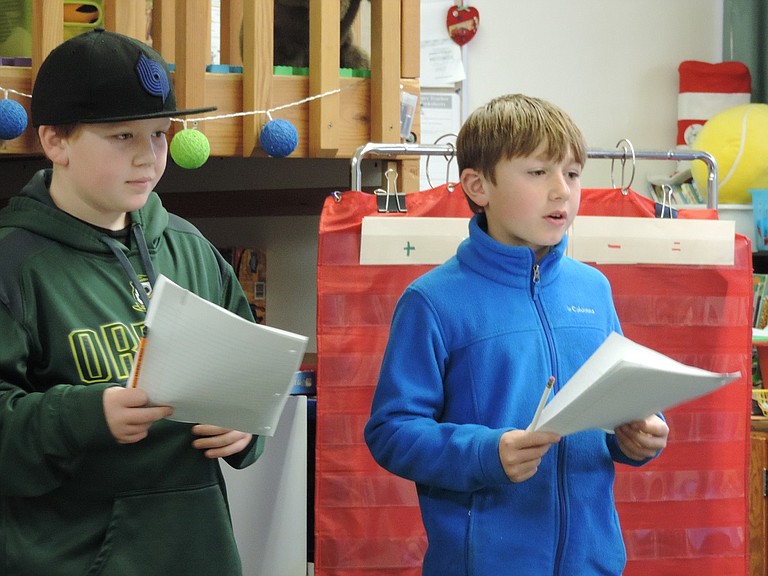 Wednesday, November 8, 2017
This story has been updated.
Slides, bigger monkey bars, a maze, and "a zip line straight to Mike's Ice Cream" were among the imaginative ideas students have called for in a redesigned Children's Park play structure at Ninth and Eugene streets.
In early 2017, the city announced this will be the final season for the structure, built 25 years ago and deteriorating. It will be torn down this winter and replaced with a new, revised and likely expanded structure, probably by late spring. The city has gone to lengths to ask the community what it wants to see in the new structure and asked people to get involved, a process that continues.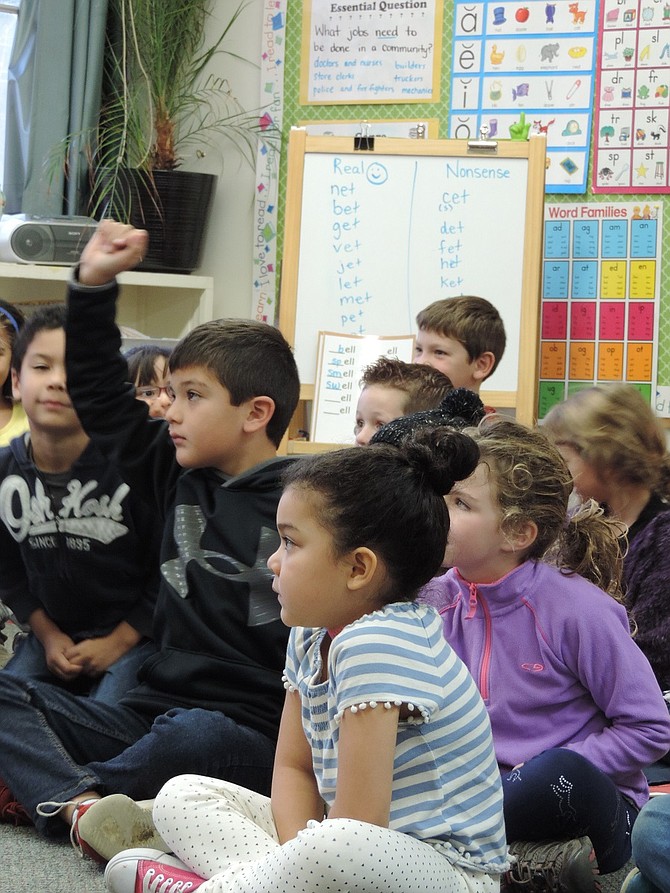 Part of that process is asking for kids' ideas. In a facilitated process at May Street, Westside and Horizon schools, dozens of local students turned in drawings — samples, below — of what they see in the new structure.
From drawings and meetings, one clear favorite is that, at every turn, students want slides: "big slides," "curly slides," "twisty slides," "racing slides," "covered slide" and even a "sloth slide."
"Needs slanted wall," one student labeled his drawing, along with sketches of "Junge Jim," while others specified "twisty poles," wooden air plane, "bouncy house" and ramps. One student turned in a simple image labeled just "swings."
The Children's Park design process reaches a key point Thursday with the unveiling of a proposed design at 7 p.m. at the Hood River Middle School auditorium. Last month, the city held a public meeting to take input, and on Thursday morning Lisa DeShano of the hired consultant firm Play By Design will meet with May Street, Horizon and Westside students. DeShano will take all input, including drawings by students at three local schools, and create a proposed design to be unveiled that night. The community will then have two weeks to comment — and also have a chance to participate in fundraising and park development.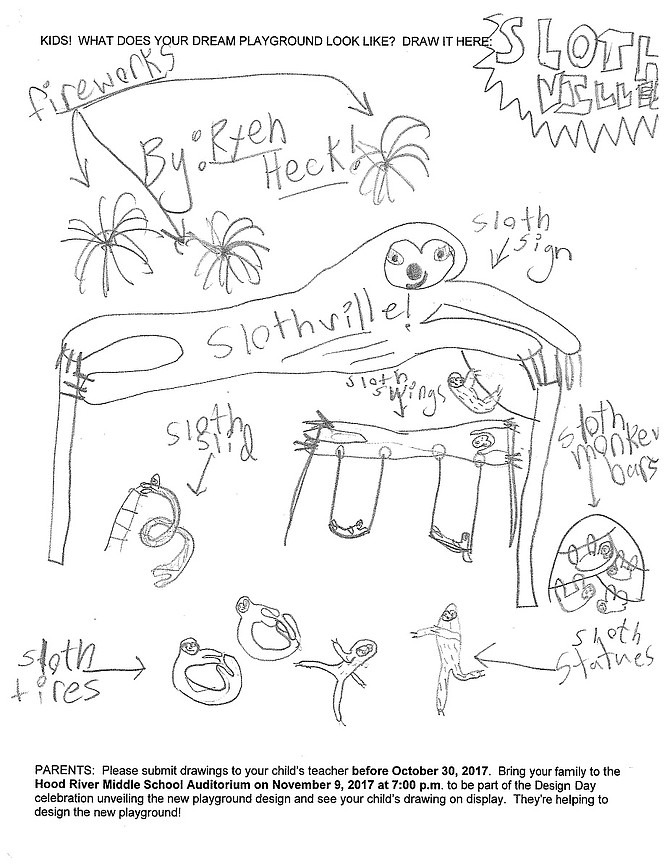 Last week, May Street Elementary student council members, including Ethan Sheppard and Cashus Logan, toured each classroom to ask their schoolmates what they want to see.
"We are here today to listen to your ideas of what you would like," Ethan said. "Do you guys have any ideas you would like at the Children's Park?"
Said Ethan of the process, "The kids have a lot of good ideas," and Cashus said, "It was cool to meet the people who have the ideas and what they have to say."
Popular suggestions included ponds, tire swings, tree house and sand box. Oh, and a rock walls: "A bigger rock wall than what we had."
One girl suggested "a garden and a jail."
Mostly Ethan and Cashus took notes and let the students' imaginations flow, but when one third-grader called for "skateboard ramps, with some dangerous things," Cashus replied, "It's the Children's Park so I don't think they want dangerous things."
Another student suggested a "fraidy feature."
•
Here are examples of what they heard from first and third-grade classes:
A water park
A skatepark. Ramps. Maybe some rails
A giant tower and you could go down the slide
Make it with kids' cars and little kids' streets
Rock wall
A pirate ship playground ("with cannons on it," added another student)
A tire swing
A mini-ferris wheel
A cotton candy stand
A place you could take to play with your dog
A skydiving tower
A fire pole
Bouncy bridge
Balance beam