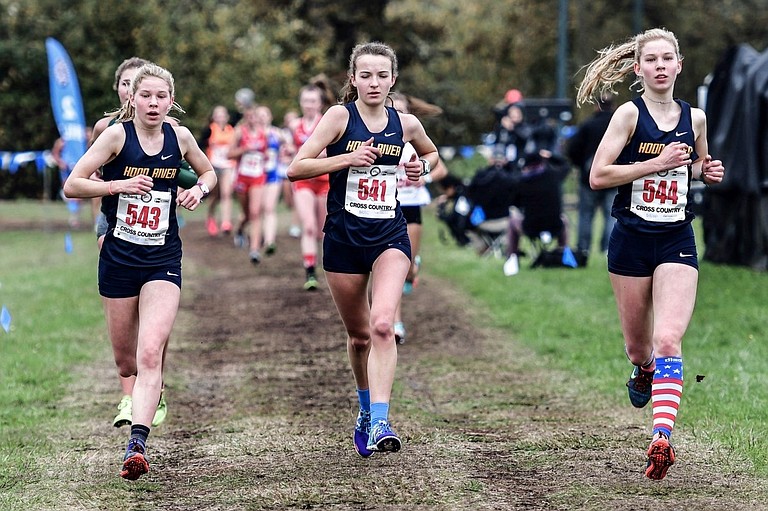 Originally published November 8, 2017 at midnight, updated November 8, 2017 at midnight
The HRV girls and boys cross country teams concluded their 2017 season with a remarkable state performance at Lane Community College this past weekend.
"As a coaching staff we started to see something over the past two weeks and it was how both the boys and girls teams were beginning to show they had the potential to put something special together at the end of the season," said Head Coach Brandon Bertram. "What we were seeing was a team that was confident, excited, and a group that believed in each other."
After some long couple months of hard training, everything finally came together for the HRV XC team.
The girls won the second-place title, the highest finish at a state meet for any HRV XC team since the 1993 girls state championship team.
"It was exciting to see the girls put together their best team race of the season at state," said Bertram. "They knew exactly where they were and who they needed to beat throughout the race. It was a huge performance for our program."
And on the boys side, HRV finished near the top-five standings with a sixth place finish.
"Both teams carried out their race strategy as planned," said Bertram. "We wanted to sit back and run an intelligent, controlled first mile, attack the second mile, and believe in everything you have the third mile."
In the girls race, Lottie Bromham, Josephine Dickinson and Frances Dickinson went through the first mile in 18-20th place, while Evelyn Nunez and Chole Bullock were running through places 29-40.
With the girls executing the first part of the plan, it was time for them to kick it in to full gear to end the race.
"During the second and third mile, all of the girls meticulously passed competitors to put our team in a great position," said Bertram. "Our front three fed off each other throughout the race as they ran three-wide at times, while Evelyne ran the race of her life, pressing on the gas the entire way."
Frances would lead the Eagles with a time of 19 minutes and 20 seconds for a 10th place finish. Stride to stride with Frances was Josephine, who crossed the finish at 19:20 as well, but slightly behind for an 11th place finish.
Six seconds later, Bromham came flying in to conclude the Eagles' top three performers, as she finished in 12th place with a time of 19:26.
Just nearly breaking into the top-20 was Nunez, who by a mere one second missed a 20th place finish. But coming in at 21st place with a time of 19:50 still earned her and her team a great finish.
Bullock, the freshman runner for HRV, cracked a finish within the top 40 and her 20:27 time was just enough to for a 39th place finish.
Vada Joplin Clay and Eva Jones finished this race off for the Eagles with times of 20:57 and 22:31 — 61st and 87th finishes.
The boys also went out and had themselves a solid race.
Once again, freshman Josh Haynes led the Eagles in the state meet "as he put himself in a competitive position moving up the standings throughout the race," said Bertram.
Ultimately, Haynes would end up in 23rd place with a time of 16:30.
First-year runner Braxton Wilson followed, crossing the finish line at 16:48 and earning 34th place.
Finn Peterson (17:28), Omar Quintana (17:30), Travis Running (17:33) and Raine Melby (17:49) "all ran strong to finish out our scoring on the boys side," said Bertram. "The leadership seniors Wilson, Peterson and Running on the boys team have provided cannot go unnoticed, as it pushed the team to continue to achieve more."
Over the XC season, both teams have had their share of individual and team success and "the coaching staff is incredibly proud of the kids putting it all together at the end," said Bertram. "They trusted in the process of their dedication and reaped the benefits of it at the right time."
All-State honors:
Josephine Dickinson, Frances Dickinson and Lottie Bromham each received second team All-State honors.
Evelyne Nunez was awarded third team All-State honors and for the boys freshman Josh Haynes was presented honorable mention for All-State.
However, the season isn't over just yet for the boys and girls as they will travel to Boise this weekend for the NXR Northwest Regional championship. Teams from Oregon, Washington, Idaho, Montana, Hawaii and Alaska come together at this event for some "serious competition," said Bertram.
The Dickinson sisters will extend their season even one week further as they both qualified for the Border Clash run, which is a meet complied with athletes from Oregon and Washington who are invited to the Nike Campus to race for their represented state team in an Oregon versus Washington event.