Wednesday, November 8, 2017
Doug Grissom, M.D., knows first-hand that it's a long way from an Air Force flight surgeon to family practice doctor.
Grissom's easy-going personality and kind nature might not seem like battle-hardened characteristics. In fact, when heading across the country for college, Grissom had an interest in medicine, but wasn't sure what type he might pursue. New surroundings and friends in college helped him discover his true passions.
After growing up in Portland, Grissom moved to attend Carleton College in Minnesota. He met many friends who were active in the Air Force reserves and learned about the Air Force college tuition program. He looked into it and decided it was a great way to complete medical school without going into serious debt.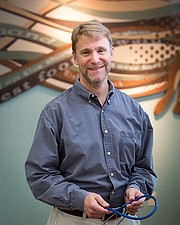 This was a big step. Grissom did not grow up in a military family. In his youth, he didn't see a lot of people in uniform — it just wasn't part of the culture.
Grissom joined the Air Force and served in the reserves during medical school at the University of Minnesota. He entered in 1997 and graduated in 2001, just a few months before the tragedies of 9/11. He was put on active duty and assigned as a flight surgeon. It was his job to keep pilots and their families healthy. Grissom was stationed at a base in Grand Forks, N.D.. During his active duty, he was deployed overseas several times.
Most of the pilots and crews he served flew KC-135 planes that carried fuel to bases throughout the world. Grissom was deployed to Qatar and to Diego Garcia Air Force Base in the central Indian Ocean area. While deployed, he was the local physician for everyone on the base. His job was a lot like a regular clinic doctor.
"Public health comes to mind when I think about much of the work I did as a general medical officer," said Grissom. "During my time in the Air Force, I realized how much I liked caring for groups of people. Providing ongoing care for a population gave me time to get to know my patients and work with them on the best possible outcomes. It helped me decide to pursue family medicine."
After four years of active duty, he left the Air Force to start his residency in Grand Forks. With many years of patien
t care already under his belt, he felt he was well prepared for this next segment of the journey. He completed his clinical requirements and stayed on to teach residents. The long hours were tough, but he loved the work.
Grissom always wanted to return to Oregon, and saw a chance when he learned Providence was searching for a family physician to join the team in Hood River. With family in the Portland area and a love for small town living, he knew working in the Columbia Gorge would be the perfect opportunity.
"The beauty of this place is unmatched as far as I'm concerned," said Grissom. "I tell my patients that we all need to figure out what 'fills us up.' For me, it is the outdoors and being in the woods. Hiking in beautiful scenery is what keeps me balanced and I can't think of a better place to live so close to nature."
In his team at the Providence Family Medical Clinic, three other physicians and a physician assistant round out the crew. Working as a team and putting patients as the focus is a reward he values each day.
The journey that brought him to Hood River came full circle when he hiked from Timberline Lodge to Canada on the Pacific Crest Trail in the summer of 2016, just before starting at Providence Hood River. The dream of hiking the PCT started during his military career.
"In my first deployment, I was in the middle of extreme desert heat. In my tent, I often read a book given to me by a friend about the Pacific Crest Trail. I thought about the cool, lush mountain scenery in the northern section the most. I knew I would return to Oregon someday," said Grissom. "It was during my deployments that I realized I wanted to eventually get back to the Pacific Northwest and that I wanted to practice family medicine."
Grissom doesn't take time to think about his military service only on Veterans Day. He keeps in touch with lifelong friends who served alongside him and is grateful every day for all of the opportunities his service provided.
Grissom is available for patient appointments and can be reached at the Providence Family Medicine Clinic at 541-387-1300.