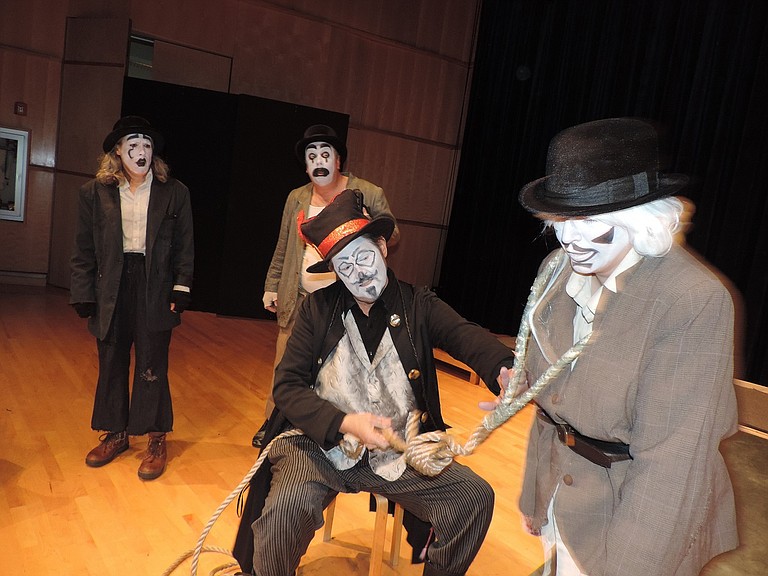 Wednesday, November 8, 2017
Two men wait by the side of a deserted road, near a barren tree.
Didi and Gogo, who look like clowns in bowler hats, joke, bicker, cajole, expound and conspire between and around each other, occasionally mentioning someone named "Godot," for whom they wait.
If they strike you as Laurel and Hardy at the circus, you are not far off. What follows has sad and emotional moments, along with no small amount of dark humor, and plenty of absurd stuff that makes no sense and is not intended to do much besides make audiences laugh.
Soon another couple arrive on the scene: Lucky, a bent-over, silent wretch whose neck is in a noose, her master Pozzo on the other end of the rope. Lucky carries a stool and a basket, and silently bends to Pozzo's will.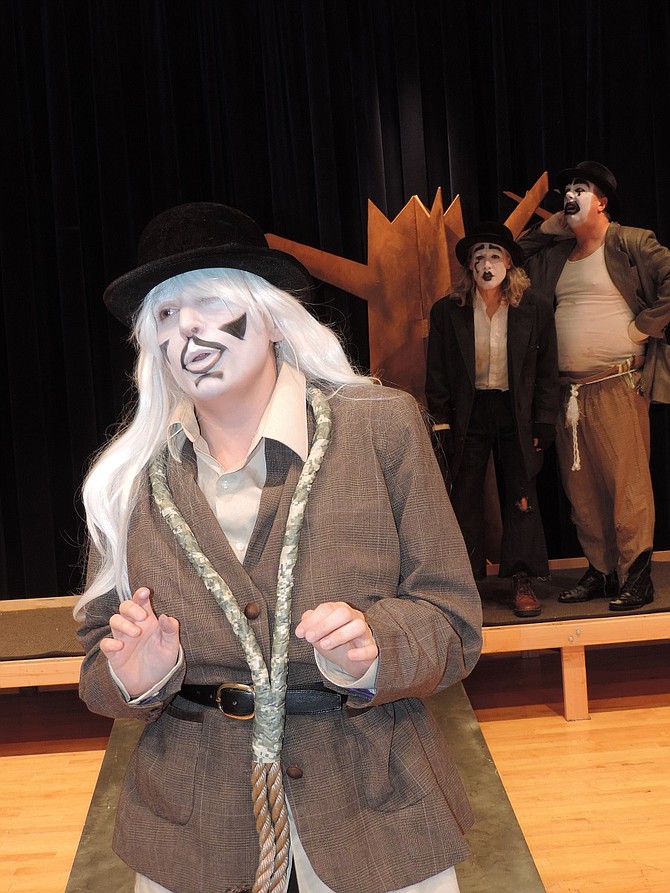 Who are these two strange couples, what brings them together, and, moreover, who is the never-seen Godot? These are questions, but not the most important ones, to ponder in the landmark absurdist play by the late Irish writer Samuel Beckett.
Audiences can have a look for themselves starting Nov. 10 on stage at Wy'east Middle School.
Tickets and times
Nov. 10-11 and Nov. 17-18: 7 p.m.
Nov. 12 and Nov. 19: 2 p.m.
Wy'east Middle School Performing Arts Center.
Tickets $15 adults, $10 for students.
The play, directed by Tom Burns, opens Friday at Wy'east Performing Arts Center in Odell. Actors in the Columbia Gorge Orchestra Association Stages production are David Dye (Gogo), Gregory Gilbertson (Pozzo), Kathleen Morrow (Didi), Abby Rankin (The Child) and Ashly Will (Lucky.) Burns is going away from tradition in casting women in key roles, fulfilling a long-desired goal for him (see Director's Notes, below).
Burns has long pondered another question about how to frame "Waiting for Godot" and what amount to themes and messages in an existentialist play he says ultimately must be regarded as a comedy.
"I first directed 'Waiting for Godot' 45 years ago," he said. "Widely considered the most important play in modern theater, it changed everything, and needless to say, it changed me."
What could be misconstrued as a bleak set of suggestions about the nature of humanity must be seen primarily as funny, to Burns, who played Willie Loman this summer in "Death of a Salesman."
"Let the concepts get to the audience, but get the comedy first," was the Beckett-recommended approach.
"Beckett talks about Laurel and Hardy and Charlie Chaplin. Those are his images, and so that made me go to white face," Burns said.
(Vladimir and Estragon are referred to by that name only in the list of characters, but only as Didi and Gogo in the play, and for this production, Burns chooses to have Pozzo, normally pronounced "pots-oh," to instead rhyme with "Bozo," as in the clown.)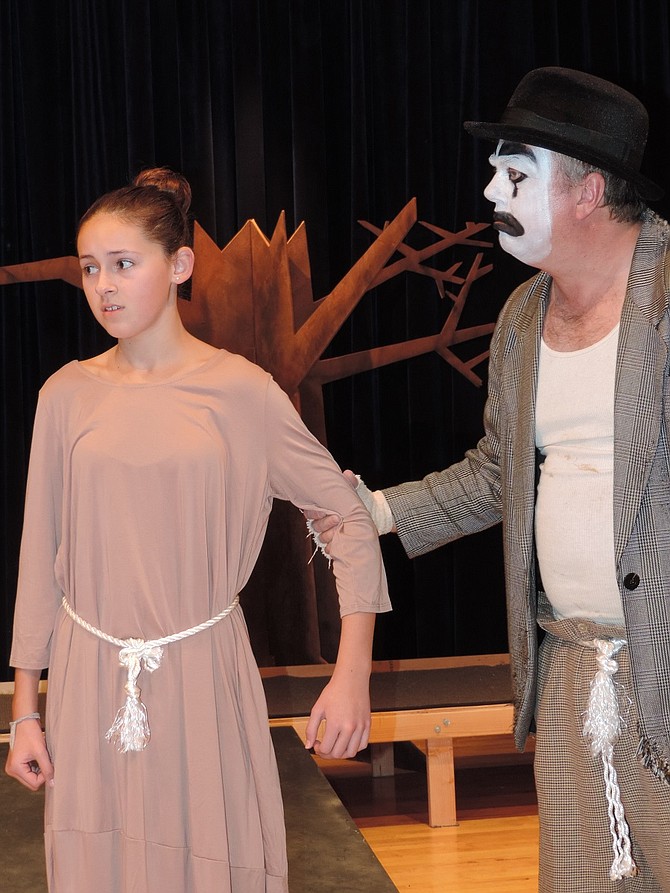 Makeup changes at intermission help tell the story of the character's circumstances; for example, Pozzo and Lucky go blind and dumb, respectively.
"It's another example of how their couple turn out poorly — master-slave, masochist-sadist thing is not a good coupling, and they pay for it with her dumbness and his blindness," Burns notes.
Beckett drew from many personal and cultural factors in creating the play, among them that during World War II, Beckett was part of the resistance, according to Burns.
LOCAL THEATER NOTES ...
Local theater notes: 'Fiddler' continues at HRVHS, holiday shows open soon
With the wait almost over for "Godot" and "Fiddler on the Roof" in play at Hood River Valley High School, this is a strong season for local theater. See page B3, On Stage, for details.
Add to that two upcoming holiday productions:
• Sullivan Mackintosh directs an all-ages cast in "Strega Nona' Christmas" at Columbia Center for the Arts," running Dec. 9-16.
• "A Christmas Carol" opens Dec. 2 at Wy'east Performing Arts Center; Gary Young plays reprises his portrayal of Scrooge for the fifth time, the first since 2012.
Both those plays, and plenty of other holiday events, will be detailed in the annual Gift Guide coming out Nov. 22.
Ready to audition?
Meanwhile, this is the time of year to make the move if you want to be IN a play, with two auditions happening in coming weeks, for two early-spring 2018 productions:
• "Passion" — Auditions Nov. 8-9, 6:30 p.m., Hood River Valley High School choir room. Mark Steighner will direct the Stephen Sondheim musical; email msteighner@gmail.com for details.
• "The Little Prince" — Auditions Dec. 11 and 12, 6:30 p.m. at Columbia Center for the Arts, directed by Nicole Scribner. People of all ages are invited to audition. Four to 10 actors are needed; some double casting is possible.
"He would go to a tree to pass along resistance information to a guy, but he didn't always come. He would come back the next day and the next until that person would show up."
A central theme to "Godot" is that of how humans respond to their circumstances: what is any of us do while "waiting"?
The darkly absurdist humor comes out at one point when Didi says to Gogo, "Your Worship wishes to assert his prerogatives?"
Gogo: "We've no rights any more?"
(Laugh of Didi, stifled as before, less the smile.)
Didi: "You'd make me laugh if it wasn't prohibited."
Gogo: "We've lost our rights?"
Didi (distinctly): "We got rid of them."
And, later, Pozzo says to Gogo, of Pozzo's beleaguered slave/companion, Lucky:
"She's stopped crying. You have replaced her as it were. The tears of the world are a constant quantity. For each one who begins to weep, somewhere else another stops. The same is true of the laugh. (He laughs.) Let us not then speak ill of our generation, it is not any unhappier than its predecessors. (Pause.) Let us not speak well of it either.
(Pause.) Let us not speak of it at all. (Pause. Judiciously.) It is true the population has increased."
'Nothing to be done': director's notes on 'Godot'
From Tom Burns:
"Since that original production (in the 1970s), an idea has been haunting me ever since which is, that the two main characters, Didi and Gogo, usually played by men, are parts of the same person. Didi represents the female side — cerebral, thoughtful, inquisitive, questioning and protective —while Gogo is all things male — physical, forgetful, unconcerned and unable to remember events or people. In this male/female relationship, Gogo and Didi need and complement each other. The other characters in the play, Pozzo and Lucky, are an unsuccessful couple, that is, a master and a slave. Together they represent the antithesis of each other. They are strongly and irrevocably tied together both physically and metaphysically, and their relationship does not turn out well for either.
"But who is Godot? What does he mean? Is he supposed to be God? Beckett said, 'If by Godot I had meant God, I would have said God and not Godot.' The original French title (En Attendant Godot) literally translates as "While Waiting for Godot" — and that's what the play is about. Not Godot and who or what he represents, but how Didi and Gogo spend their time while waiting. As they struggle to make sense of their lives, their hilarious conversations and clownish games help them make the daily journey from day to night. They may argue and make up, play word games, perform vaudeville routines, speculate, joke and ponder life's greater questions, but they never lose hope. Simply put, they are waiting for whatever comes next. That's what Godot is: Whatever Comes Next — and there's no way to define that. Who or what Godot is ultimately is of no importance. What is important is how they survive the waiting.
"Somehow, within this simple plot, Samuel Beckett's masterpiece explores the most profound questions of our existence. Described as 'one of the most noble and moving plays of the twentieth century … suffused with laughter and tenderness for the whole human perplexity,' Godot celebrates the human spirit's ability to persevere.
"At once harrowing and hilarious, riveting and riotous, their daily quest may be deferred, but never extinguished. This is a play about tenacity and resilience. It is a play about camaraderie and friendship. It is a play about what Tennessee Williams once called, 'That long delayed, but always expected 'something' that we live for' …'Waiting for Godot' is ultimately a play about hope."