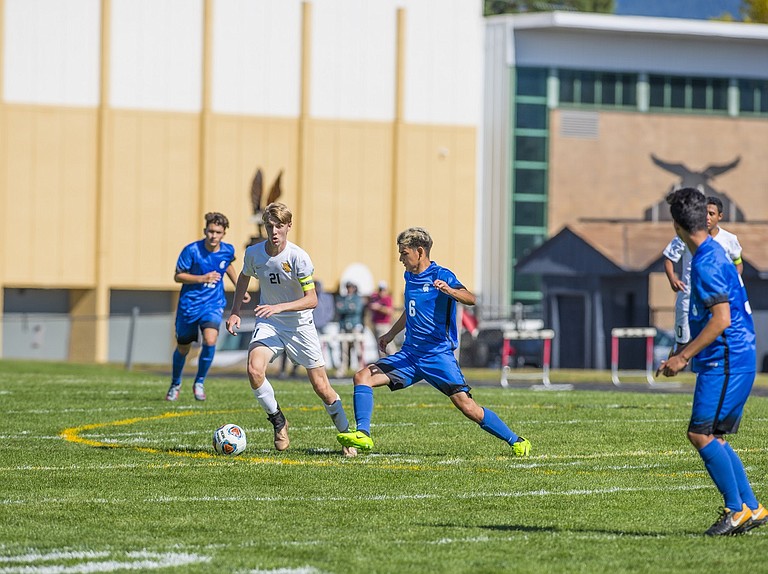 Originally published November 10, 2017 at midnight, updated November 10, 2017 at midnight
Despite the early exit from OSAA 5A state playoffs, the 2017 HRV boys soccer program had a season they should all be proud of.
Highlighted by ups and downs, this season was one that put the boys to the test physically, but even more so mentally.
The boys opened their season against McMinnville on the road, an early challenge against a team that would end up ranked fifth in the final OSAA 6A standings.
Not knowing the identity of this Eagles team just yet, the boys dropped this game 4-2 and started 0-1 for the first time under Head Coach Jaime Rivera's tenure.
A defeat early on in a season for any sport should never be demoralizing, but with the foundation this program has set, it would be a lie to say that the loss didn't hurt the team.
In their next two games against Summit and La Salle Prep, the Eagles outscored their opponents 4-1 and looked like they were getting back on track just in time before another early season test against 6A Central Catholic.
But once again, the Eagles would go on the road and lose 2-0 to the Rams.
Through the first four games of the 2017 season, HRV had already lost more (two) then they had in the last three seasons (one).
Again, an early season loss against a tough opponent shouldn't be derailing, but for a team that expects to win no matter what opponent lines up against them, these two losses hurt.
The boys opened up Columbia River Conference play after their Central Catholic loss, and with a 2-2 record, it was now or never to get things fixed.
The boys responded to their early season slump by going on a three-game winning streak and outscoring opponents 13-1, putting them back on top of the OSAA 5A rankings.
Then they would go up against Hermiston, a team HRV knew would be tough competition before the season even started.
And the Bulldogs would live up to the Eagles expectations and come out of HRV with a 1-1 tie.
However, this was a tough tie to swallow — the Eagles would rather have this tie happen on the road, not at home where they have the advantage.
And in their next game they experienced a hangover from their tie against Hermiston.
The Eagles went on the road to face 6A Franklin and would end up tying once again, 2-2.
Competition is very strong in the 6A classification, but a Franklin team that ended their season ranked 27th shouldn't have been able to sneak away with a tie against HRV.
Now at 5-2-2 on the season, the Eagles still ranked number one in the state and league play, but Hermiston (6-3) wasn't too far behind, and it began to put some unexpected pressure on the Eagles to succeed.
HRV in their next game found a way to sneak away with a win on the road against The Dalles 2-1, and then blew out Pendleton at home 10-0.
These league games led to an important matchup between HRV and Hermiston, a game with many implications.
If HRV had lost this game, it may have put away any hope of winning the final CRC title.
But a 1-1 tie on the road against Hermiston kept their hopes alive.
The Eagles last game of the season came at home against The Dalles, a game that decided HRV's league title fate.
A loss would've ensured Hermiston the CRC title, and a tie with a Hermiston win against Pendleton in their final matchup of the season would've also sent the trophy over to Hermiston.
Against The Dalles, HRV went into halftime tied at 1-1, and the feeling around the stadium was a bit uneasy.
But the boys kicked it into full gear in the second half and pulled away with a 3-1 victory, winning the final CRC title.
Heading into playoffs, HRV still wasn't where they needed or wanted to be, but an impressive first round performance against Silverton at home helped ease the concerns surrounding the team.
A 4-1 round one win in the OSAA 5A state playoffs, where HRV dominated from the opening kickoff and saw star forward Robby Running net in a hat trick in the second half, helped the Eagles gain some much-needed confidence before their second-round matchup against a familiar opponent: Woodburn.
There's only a few rivalries in the HRV soccer program, but there's almost certainly none greater than their friends from Woodburn.
The two schools would face off on Nov. 4 at HRV in what would end up being another memorable matchup between some of the best soccer athletes the Pacific Northwest has to offer.
After regulation and double overtime, HRV and Woodburn went into penalty kicks and, with the help of two crucial blocks by Woodburn's goalie, they'd come away with the 4-3 win and knock out HRV from 5A title contention — the second straight year HRV lost in the quarterfinals of the playoffs.
With a 9-3-3 record to end the season, HRV may have not had a season that was up to par with ones in the past, but what cannot be overlooked is how hard this team fought through the ups and downs.
The Eagles constantly found themselves searching for answers, and most teams who are supposed to achieve early on and don't, lose themselves mentally. However, this team stuck with it and battled from their first game against McMinnville to their last game against Woodburn.

And looking forward to next season, star players Robby Running, Erik Pitones and Emy Perez will be handed the keys with hopes to end their two-year championship game drought and lead them back to the 5A state title game.
Season awards:
All-League Player of the Year: Robby Running, junior midfielder.
First Team All-League: Westley Carter, senior forward. Saul Chavarria, senior midfielder. Robby Running, junior midfielder. Erik Siekkinen, senior defender.
Second Team All-League: Reese Carroll, senior defender. Jack McCaffery, senior defender. Emy Perez, sophomore midfielder.
All-League Goalkeeper: Alejandro Rodriguez, senior.
Honorable Mentions: Angel Sonato, senior defender. Erik Pitones, junior midfielder. Fabian Magaña, senior defender.