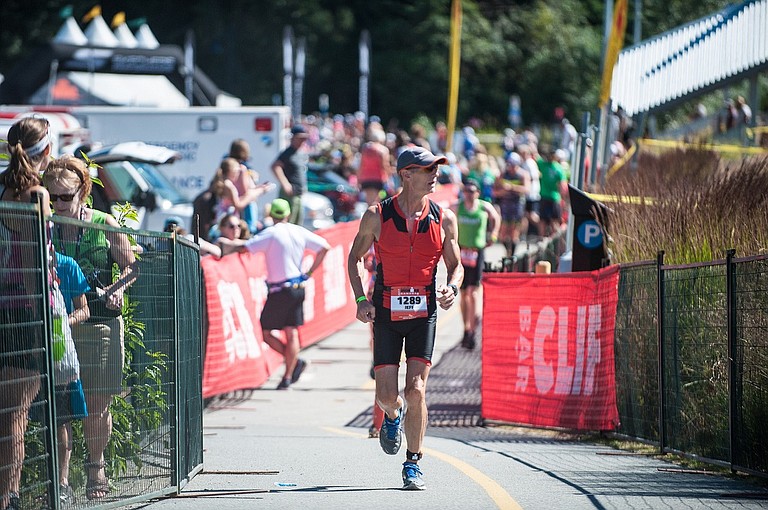 Originally published November 10, 2017 at midnight, updated November 10, 2017 at midnight
From November of 2016 to the summer of 2017, local triathlete Jeff Irwin was intensely preparing for the Ironman event in Whistler, Canada.
The Ironman event tests triathletes' abilities to swim, bike and run.
Mornings for Irwin started at 4:30 a.m. every weekday, followed by a workout from 5:30-7 a.m. at the gym.
Once the workout was complete, it was right to work until 5 p.m. and then another gym session from 5:30-7:30 p.m.
Without the interruption of work in his weekdays, this was Irwin's training load for nine months as he prepared for the Ironman.
Irwin covered a total of 3,156.67 miles and spent 345 hours training for the 70.3-mile course. 225,387 calories were also burned during this nine-month training period by Irwin.
"It was a tremendous commitment," said Irwin's wife, Samantha. "There were days I knew, because he said it, he didn't want to go train and workout; definitely some low moments, but he continued to stick with it and made the choice."
At Whistler, the Ironman course consists of a 1.2-mile swim, 56-mile bike course and 13.1-mile run.
Irwin finished the race and completed a goal all 1,257 participants had in common.
Many of these athletes had similar training schedules to Irwin prior to the event, and finishing the race is reassurance to know that what you worked for all paid off.