Originally published November 10, 2017 at midnight, updated November 10, 2017 at midnight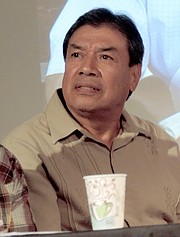 Who among us can "read the tree"?
Ubaldo Hernandez of Hood River described that as one skill set among many that agriculture workers in the Hood River Valley learn over years of practice.
This was one insight shared with an audience of about 100 people Wednesday during a "Latino Experience" Sense of Place forum at the Columbia Center for the Arts, facilitated by Dr. Lynn Orr, executive director of the Hood River History Museum, and Oregon State University's Natalia Maria Fernandez.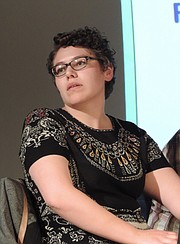 "We hear people talk about farm work as a low skill job, and in reality it is not," said Hernandez, who spent years in various orchard and packing house jobs.
"You have to do a lot of heavy work, and have a lot of skills." He noted, "We have a lot of Anglos coming to the orchard, and after three hours, they're done," he said, to laughter.
"In order to be a good picker, you have to be able to read a tree, put a ladder in without damaging the fruit. Your goal is to go up and pick the most fruit you can at once, and you have to do it fast, because you have to fill the bins, and you are being paid by the bins you fill," Hernandez said.
'The Latino Experience' at the History Museum of Hood River County
300 E. Port Marina Drive
Runs through Dec. 30
11 a.m. to 4 p.m.; closed Sundays
For more info, call
541-386-6772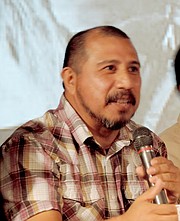 Said speaker Eduardo Bello, "I came here with no English and got my first job at Diamond fixing pallets. I was happy, because I could support my family," he said, recalling the help of friends, local churches, and FISH Food Bank in those early years. Bello moonlighted in the orchards and at Diamond Fruit while studying to become an electronics assembler. "An education for me and for my children was always my dream," said Bello, who now works as a realtor with Don Nunamaker Realty.
The focus in Wednesday's talk was personal histories tied to the Gorge, in particular the lives of three speakers: immigrants Hernandez, a Gorge resident since the 1990s, Bello, who arrived with his young family in 1989, and Lisa Munoz, a Hood River native and oral historian. Fernandez also spoke, describing oral histories as "a fantastic way to build community."
Muñoz's father was an orchard foreman and both her parents and all her siblings were farmworkers. Muñoz's father passed away when she was young and she went to work, sorting and packing fruit.
"For me, I didn't know any other way of being," she said. She received her BA degree in biochemistry and molecular biology at Lewis & Clark College in 2012 and returned to Hood River "because I love Hood River and I love my family." She is manager at Dog River and volunteers as oral history coordinator for the museum's Latino outreach program.
For the past two years, Orr and Fernandez, curator/archivist with Oregon Multicultural Archives, have been collaborating on an exhibition entitled, "Talking History/Talking Spanish," which runs through November at the History Museum and traces the Latino experience in the Hood River Valley.
"(Oral histories) are a wonderful way for community members to realize they have shared struggles and shared achievements, and that can really be a powerful tool," Fernandez said.
Meanwhile, the "Latino Experience" exhibit will be turned into a permanent part of the museum, filling an obvious gap considering the museum already has permanent displays devoted to the Japanese-American and Native American culture in the area.
Orr and Fernandez also described the ongoing effort at the museum to continue compiling oral histories of Gorge residents. "This is something we will refine and improve as we go along," she said.
Hernandez, a co-founder of Radio Tierra, was hired in March 2017 to what he called his dream job: community organizer for Columbia Riverkeeper. For Hernandez, it has allowed him to be paid to work for environmental concerns as well as social justice, which he has pursued for years from his home in White Salmon.
"Wherever there is environmental injustice there is also social injustice, and to heal both wounds you have to solve both issues," Hernandez said.
---
Sense of Place is in its eighth year as a service of Gorge Owned. (The next Sense of Place will feature the team of Scott Cook, a guide book author, and Arthur Babitz, an engineer, former mayor, and historian.)
Hood River News will profile the exhibit in a coming edition; also, see Happenings for exhibit details.