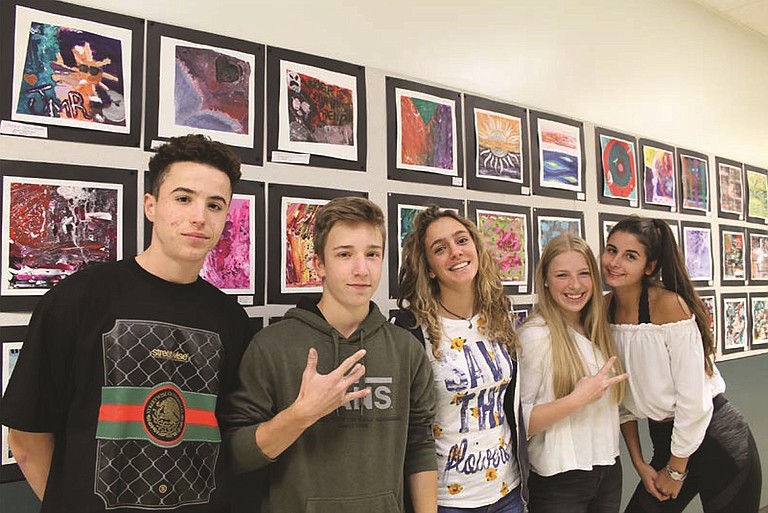 Wednesday, November 15, 2017
The Hood River Valley High School exchange students arrived this past summer, and call various countries home. Francesca Mela, Javier Pico Escudero, Julia Carmen Van den Broek, Nadja Essing, and Stefan Salmar are among these students, and had a lot to say about their experience and what they have enjoyed about their exchange so far.
The HRVHS exchange students are in Hood River until mid-June, and before returning home, will continue to soak in all the culture they can. By getting involved in various sports and activities, these students are sure to truly enjoy the time they have here in Oregon.
On this page, each student is pictured accordingly with a picture they drew that they feel symbolizes their hometown.
Francesca Mela
Francesca is from Avigliana, Italy. Avigliana is in Northern Italy, best known for its two lakes, Lago Grande and Lago Piccolo. She came to the United States on exchange with WEP-USA, a program that she picked over several other options. First, she arrived in New York City with a large group of other students. "I chose the United States, but they assigned me the state," says Mela when asked if she got to choose where she was sent. It's more expensive to pick the state where you would like to go, she explained. "It was completely my decision, not my parents."
To get involved at HRV, Franchesca has joined the band and says that she's most excited to potentially see the river freeze in the winter. "The hardest part is being away from my friends and seeing what they're doing on social media," says Mela. "I see them together, and it's difficult not being there." She has enjoyed Hood River so far, however, and is looking forward to skiing on Mount Hood this winter.
Julia Carmen Van den Broek
Julia comes to Hood River from Scherpenzeel, Gelderland in the Netherlands. She arrived to Oregon through the exchange program Education First. The decision to come was all her own, because she really wanted to learn English and improve her view of the world. "My parents didn't support it at first," says Julia, "…they didn't want me to go." The idea later grew on them.
All of the nature here in Hood River was a surprise, but she now cherishes the environment. In the first few summer months of her exchange, she hiked all around the Gorge, and says she loved the sights she discovered. In addition, she wasn't able to open her school locker when she first arrived, as the lockers she's familiar with use keys, rather than a combination.
She has also learned how to wakeboard since arriving in Oregon, which was a new experience. Her biggest complaint is that there isn't field hockey at the high school, because she's accustomed to seeing it at home on a regular basis. Julia loves the people she's met through school, and says, "They're really nice and welcoming."
She plans to play on the lacrosse team this upcoming spring, and is the second to say that she's hoping to ski on Mount Hood when the snow comes.
Javier Pico Escudero
Javier calls Málaga, Spain home: a southern coastal city on the Costa del Sol. He's here on exchange with the program ICES USA, which he also had the opportunity to choose. Since arriving, he's joined the HRVHS water polo team, and has helped lead them into the final rounds of state playoffs. He has played previously in Spain, and is excited to be on a strong, successful team here.
Hood River's small town community surprised Javier initially. "You just see people again and again because it's so small," says Pico. "There's only two taxis here, and that seemed weird in the beginning." Being in a tightknit community is a new experience for Javier, but he says that it's grown on him. "I was very surprised that everybody here has a car that they drive to school, because you have to be eighteen at home," explains Javier when asked what confused him at first.
He enjoys that many grades are mixed in the classes here, because he has the opportunity to meet more people that way. "It's fun to be all together." He's, no surprise, also thrilled to ski this winter.
Stefen Salmar
Stefan comes from Horn, Austria, a small town in Lower Austria: capital of the Horn District. As Horn has a population of around 6,500, Stefen was already accustomed to small town life. He got the opportunity to travel here through Rotary, choosing it because of the strong reviews he heard from others who've embarked on exchange in the past.
He decided to go on exchange because he believes that it's really important to be exposed to new ideas.
Stefen joined the football team this fall to get involved at the high school, and he enjoyed getting to know friends in a team setting. "There are more choices here," said Stefen when asked about his class schedule. He explained that you couldn't choose your courses back home in Austria, and has liked having more options here in Oregon. Stefen's excited to continue his experience here, and is eager to continue making friends.
Nadja Essing
Nadja is from Bensheim, Germany. Bensheim is in the Bergstraße District, and is nestled on the edge of the Odenwald mountains. Bensheim is in Southern Hesse, so she drew the Hessian flag to symbolize her home. Hood River is just a smaller town in general she says, and explains how surprised she was by the small amount of public transportation available. Nadja says she would've liked to have been sent to Florida, but now loves Hood River.
Joining the cross country team this fall has helped her keep active physically, and made it much easier to bond with her peers. Voltigieren, or equestrian vaulting, is common in Germany, and Nadja was disappointed it's not popular in Oregon. She described it as "gymnastics on horses," and explained that it's quite a big deal where she comes from. Being in classes with kids of other grades is one of her favorite parts of her experience so far, and she has really enjoyed getting to know other HRV students.