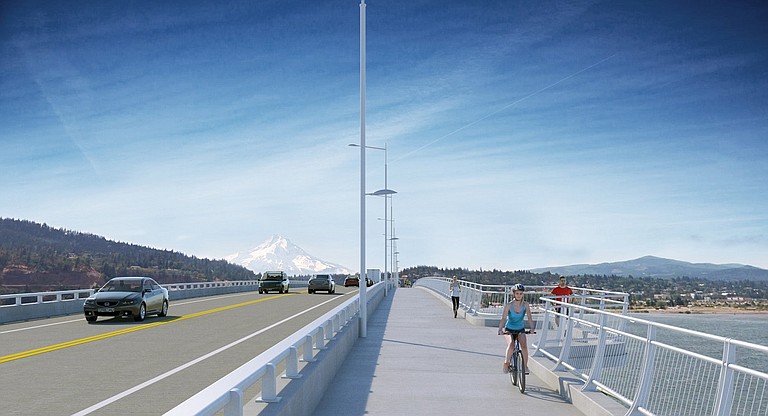 Wednesday, November 15, 2017
A Colorado infrastructure investment company on Nov. 7 introduced a proposal to replace the Hood River-White Salmon Interstate Bridge.
United Bridge Partners, based in Denver, submitted a plan to the Port of Hood River that involves using private funds to design, build and manage a new concrete bridge just west of the aging steel archway, complete with a modern look, wider lanes and a pedestrian crossing.
Efforts to replace the structurally deficient Columbia River toll bridge have persisted for decades. Studies by transportation agencies estimated the price tag of a new structure at around $250 million.
Company representatives Ed Diffendal, chief executive officer, and Kenneth Szeliga, vice president of construction and development, as well as their team's local contact, Arthur Babitz, discussed the plan with Hood River News.
"We really think that it provides a solution for communities where there isn't public money to allow a public entity to continue to own and operate a bridge," Szeliga said. "… It's worked in other communities and we think it could work here."
Early designs state the new fixed span, high rise bridge would have two 12-foot travel lanes, eight-foot shoulders, and a 12-foot protected pedestrian and bicycle path.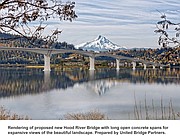 "We really designed it to have a light and airy feel that would comply with the local and Columbia Gorge National Scenic Area design aesthetics," Szeliga said.
The company would keep tolls relatively low, he said — consistent with the $2 cash rate the port is considering adopting in a toll increase next year. All tolling would be electronic on the new bridge.
Babitz, formerly Hood River mayor, as a private citizen has introduced representatives to local stakeholders.
"They're in the process of figuring out how to deploy a chunk of capital and they're looking for communities that are interested in it," Babitz said.
"So it's not someone trying to push something on us. There's an opportunity here. Does the community want it or not? And that's really the question … we're excited about starting the discussion."
The company directed its unsolicited proposal to Michael McElwee, port executive director, last week.
McElwee said via email the port received a package containing multiple copies of the proposal, but returned it without reading its contents or doing an evaluation.
"While it is good to know there is early interest from one private firm, a proposal at this time is very premature," McElwee said.
The Oregon Legislature passed HB 2750 in July, which authorizes the port to enter public-private partnerships to run the bridge — like the concept United Bridge Partners voiced.
However, McElwee said, the bill requires the port to prepare and adopt extensive administrative rules, similar to those of the Oregon Department of Transportation, to guide how "P3" proposals are solicited and evaluated.
The port is drafting those rules, and the elected port commission may adopt them in early 2018, he said.
Cost challenges loom for the bridge. The port faces $51 million in upkeep and upgrade work on the structurally deficient crossing over the next 15 years. The bi-state link was built in 1924 and owned by the port since 1950.
Commissioners are eyeing a cash toll increase from $1-$2 to adopt in February 2018, with added revenue cordoned off in a bridge repair and replacement fund.
State policymakers have taken initial steps supporting the replacement concept. Oregon's 2017 transportation package sets aside $5 million for related pre-construction work and studies.
United Bridge Partners views the Hood River Bridge project as a long-term investment.
The company is a joint venture between American Infrastructure Funds, an investment firm, and FIGG, an engineering firm that designs bridges across the United States. They own and operate a toll bridge in Chesapeake, Va.
The firm would either buy property or lease it from the port, via their plan, and start construction on the new bridge in three years.
McElwee said much work and due diligence remains before the port would consider the proposal, or others of its kind.
"If 'P3' is determined to represent the best approach, there are other firms that will be interested — we will need to solicit interest broadly and benefit from competing proposals," he said.