Wednesday, November 22, 2017
Growing up, I was obsessed with choose-your-own-adventure books. I loved the ability to see how different decisions led you down completely separate paths that sometimes, but not always, met up again. As a daughter of hardworking, high school educated parents, I appreciated the reassurance that the possibilities are endless if you make smart choices, just as my parents taught me. I found this idea of open possibilities exciting and decided to view my life in this same format. If I faced a fork in the road or a missed opportunity, I would remind myself that it was because some other unforeseeable door in the future was opening. So when I was an undergraduate, struggling to excel academically with the addition of the recent onset of a rapidly progressing movement disorder after graduating with a 4.0 and being team captain of my high school lacrosse team, I knew I simply had to be patient.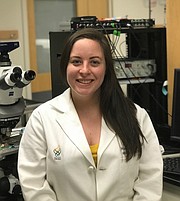 To learn more about my largely misunderstood disorder, I traveled to the United Kingdom with the help of a research fellowship program through my college. I designed a clinical research plan that would allow me to interview clinicians, surgeons, researchers, and patients to get a firm grasp of how this disorder is often treated more efficiently in the UK. Through this experience, I became more and more enamored with the discussions of biochemical pathways, neurobiological questions, and clinical research. One of my collaborators suggested I submit an abstract to present a poster at the conference on this disorder in Spain the following fall, which is where I decided that I wanted to be a scientist.
When the door to becoming a medical doctor closed, as my grades fell below the benchmark, I had no awareness of this other career path. But now as a second-year graduate student at Oregon Health & Science University studying neuroscience, I could not imagine pursuing anything other than research.
Along my path to graduate school, I completed a post-baccalaureate research fellowship through the National Institute of Health (NIH) in a behavioral neuroscience lab at the National Institute on Drug Abuse (NIDA). While at NIDA, I contributed to projects that uncovered details about how memories are stored in the brain. Specifically, my lab found that the memory for reward seeking is held in a separate group of cells as the memory for reward withdrawal. Additionally, we found that these memories are stored within small, sparsely distributed populations of cells that live within rewarding centers of the brain and are encoded in the form of molecular or functional changes, which we defined for different drug-seeking paradigms. This work contributes to a larger body of work that leads science in the direction of targeted treatment for drug addiction, which would impact large public health problems such as the opioid epidemic.
As a graduate student, I have joined a lab that focuses on understanding chronic pain circuitry and the impact of opioids and cannabinoids on this system. On a daily basis we interrogate a minimally understood network of brain areas to learn details that help drive changes in the clinical sphere. We help to define the actions and efficacy of different medications prescribed for pain, the time-course of their effectiveness, and any sex-differences in their success. I was lucky enough to be selected for a National Science Foundation Graduate Research Fellowship that will help fund my living stipend throughout my degree program.
However, on Thursday, Nov. 16, House Republicans voted to pass the Tax Cuts and Jobs Act, which amongst many other things will increase my annual taxes from $3,000 to $15,000 out of my personal earnings of $34,000/year — making it impossible for me to continue my research degree.
As a student in a rigorous doctoral program at a leading institute, my peers and I spend a minimum of 40 hours a week working tirelessly to uncover answers about how our brains function — answers that will contribute largely to medicine, industry, and public health. As graduate students we are paid a modest living stipend that is often is covered by our lab's NIH grants, and our institution waves our tuition as a result of the more than full-time hours we spend outside of our courses working in lab or teaching. Students who leave a research-based doctoral program end up starting their own labs, editing for scientific journals, working in the biotech or pharmaceutical industry, or entering other fields such as science policy, law, or consulting.
This is not the first time this administration has made a statement about their views on the value and validity of science, but this is the first time it has targeted all students in a way that will put a major roadblock on the scientific advancements in this country. Requiring graduate students to pay taxes on waived tuition will ensure that only those with a financial safety net can complete these degrees. Students like me, who are the first in their family to attend college, will be unable to pursue these degrees and subsequent career paths. The diversity this field has worked so hard to cultivate will take major steps backwards. Potential innovators from under-represented groups in science will no longer have the ability to pursue this field, and our science as a result will suffer.
My personal health is greatly impacted by the ability for scientists to continue to define unknown pathways that lead to movement disorders, just as those with cancer or Alzheimer's feel the impact of scientific research with advancements in medication or surgical options. In a country where we have learned that "just say no" is not enough to avoid or fix an opioid crisis, we need this research to improve public health and to avoid a greater long-term burden on taxpayers.
We owe it to our communities to understand the value of research and how bills like this will push us collectively a step backwards. It is imperative that we keep the doors to these careers open for any young academic looking to drive scientific innovation. As an alumnus of HRVHS, first in my family to attend college, and now working towards my PhD in neuroscience, I urge you all to consider the individuals this will close doors for and what our country will look like without diversity in higher education. It is time to inform ourselves and call our representatives in both the House and Senate and refuse this bill.

•
Kylie McPherson, who graduated from HRVHS in 2009, is a PhD student at OHSU studying neuroscience. She wrote, "This bill unfortunately greatly impacts my ability to complete my degree (if passed). What I wrote may be too much personal info because I wanted to make sure the reader saw the personal side to legislation like this as well as understanding the different science that is completed by students."