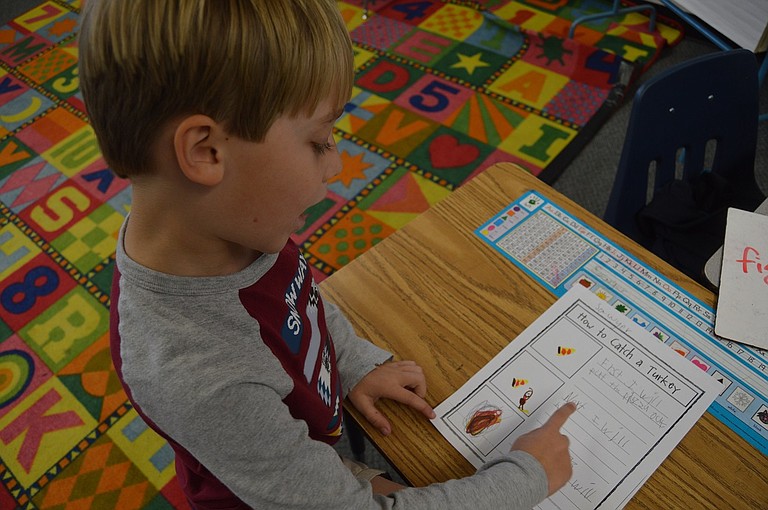 Wednesday, November 22, 2017
How do you catch a turkey?
That was the question posed by May Street Elementary first grade teacher Aaron Haynes to students last week — and the answers were somewhat surprising.
Students first listened to the book "Turkey Trouble" by Wendi J. Silvano, featuring an increasingly frantic Turkey who wishes to avoid becoming the centerpiece of Thanksgiving dinner. Spoiler alert: After numerous failed attempts to convincingly dress up as another animal, Turkey finally disguises himself as a pizza delivery boy, bringing a tomato and onion pizza to the family — saving his neck.
Perhaps that pizza delivery is what inspired students the most as they sat down at their desks to think about ways they could catch a turkey. Baiting a turkey with a pizza seemed a popular strategy, as did a simple "hide and tackle" approach.
Below is a sampling of the student's work — in their own words. Whatever the solution, almost all agreed that eating the turkey was the end game.
'Pouns on and trap the trcky'
By Nyllah Ybarra
First we get the trap. Next we wate for the turkey. Then we tackl the turkey. Then we cook it up. Last we aet it gobble gobble gobble.
By Ivar Van Rutledge
First you lay the pizza out. Next you let the turkey get fat. Last you tackle the turkey.
By Sawyer Stillwell
First I will put the pizza out. Next I will hide. Last we will fit! (Fight)
By Sierra Henehan Soram
First, I diskis (disguise) as a pizza and leve it out to them. Next I wate for them to come to the pizza. Last, wen they come to eat I pop out for it and pouns on and trap the trcky. Yum.
By Nolan Macnamara
First, I sneak up no a turkey. Next, I hide bhid a tree. Last I can eat the turkey.
By Kylie Bunting
Frst git a BB gun. Then soot the turkey. Last eat the turkey.
By Lukas Mayo
First, I laey out food. Then I hide. Next I wayt for the turkeys to come. Then I catch the tkcey. Last, I cook the turkey. Mmm. Mmmmmmmmmmmmm.
By Brayden Fogle
First, I get the food and net. Next I go in the forst to look for the turkey.
By Audrey Dunbar
First I put on the trap. Next I put on the net. Last I eat it.
•
Up the valley, at Blossoms Bilingual Preschool in Pine Grove, teacher Socci Galvez's class had plenty to say about the holiday as they drew pictures representing what Thanksgiving means to them.
Turkeys were perhaps the most popular. Presley Goodrich drew a picture of a turkey, then offered a quick cooking tip: "Put it on the barbecue." Cora Whiting's turkey picture also included cupcakes — for the kids, she said. Etta Elderkin's turkey was drawn in purples and pinks, but she had no cooking tips for the big day. "I'm too little to cook a turkey," she said.
Pies were a second favorite, with pumpkin winning out overall. Nicole Carter drew a pumpkin pie and was confident when she recited her recipe: "You put a pumpkin in the oven and then you let it cool off."
Noted.
Moses Jensen's pie recipe is just as simple. "Cook it," he instructed.
Paikea Goode took a more historical approach, drawing the pilgrims walking along a beach. "They sailed in the sea, so they can get to the other side of the water," she explained. "Then they built houses and it becomes a world."
Zoe Wolf went a completely different route, drawing her mom on the beach, as did Kailee Keopaseuth, who drew a waterfall. "I go on hikes with my family," she said.