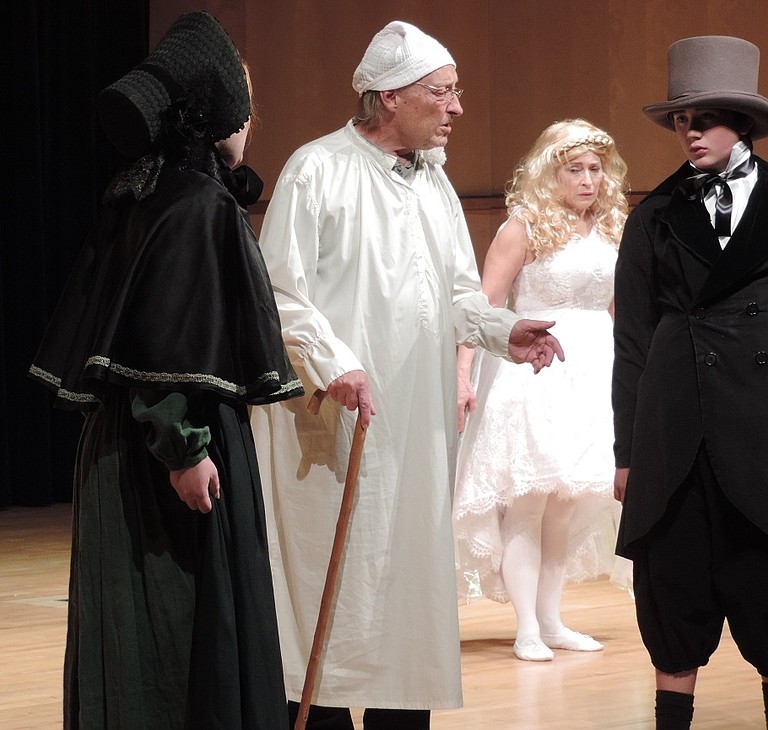 Originally published November 29, 2017 at 11:03 a.m., updated November 29, 2017 at 11:03 a.m.
"In half a minute Mrs. Cratchit entered — flushed, but smiling proudly — with the pudding, like a speckled cannon-ball, so hard and firm, blazing in half-a-quartern of ignited brandy, and bedight with Christmas holly stuck into the top."
— A sample of Charles Dickens' rich descriptive language in "A Christmas Carol," newly adapted by Gary Young
Gary Young, who portrays Ebenezer Scrooge in the new production of Dickens' classic "A Christmas Carol," sat for an interview Nov. 27 in his Heights home, after polishing off a bowl of his own homemade soup. He spoke with editor Kirby Neumann-Rea, who has the role of Mr. Fezziwig in the production, by Plays For Non-Profits.
Young has directed and performed in numerous local theater productions for the past 30 years, including this, his fifth turn as Ebenezer Scrooge.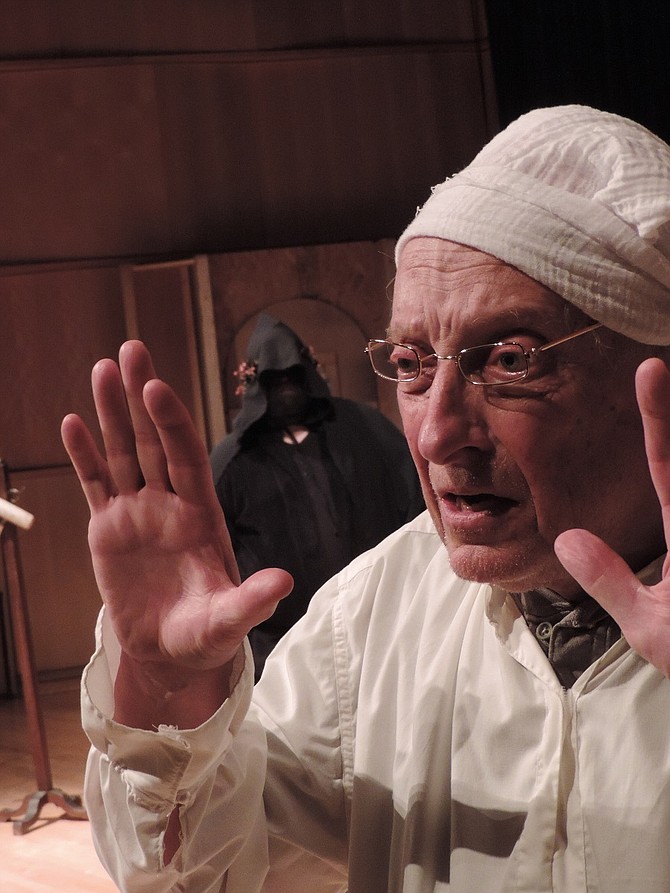 Young used others' Dickens adaptations in 1998, 2002, 2008 and 2012, but this time around he took the Dickens book and crafted a new adaptation. Plays for Non Profits founder Lynda Dallman directs. The production benefits food banks in Klickitat County, Columbia Gorge Dance Studio, and Hood River County Christmas Project.
A Hood River resident since 1986, Young was rector at St. Mark's Episcopalian Church for eight years, working on health and wellness concerns for the Medical Trust of the Episcopal Church and other denominations for five years, then worked for Providence Hood River, retiring in 2007 along with his wife, Barb, who is the "Christmas Carol" producer.
(At Providence, Young served as director of Mission Integration and Spiritual Care — abbreviated MISC. He said that when he came to work there he looked at the "MISC" plaque on his office and thought, "Somebody had a sense of humor," so he told then Finance Director Ron Guth, "I want all the money from all the department budgets put in mine, now, because everyone has a line item 'MISC.'")
— Kirby Neumann-Rea
INTERVIEW
Q: Ebenezer Scrooge — this is your third or fourth time in the role?
GY: In the paper it said it's the fifth time.
Q: I think I meant to write fourth time!
GY: If it was in the paper it must be right! (Laughs)
Q: How did it first come that you took on the part of Ebenezer Scrooge?
GY: I had a personal tradition of reading "A Christmas Carol" every year, which I still do. I was in central Washington and there was a church bazaar, and there was a 1902 or 1908 copy, something of that vintage, of "A Christmas Carol," with the original illustrations. I paid 50 cents for that book and it became a treasure. I just read it every year, and it's a wonderful thing to restore Christmas and so that was my personal tradition.
And then it just sort of morphed. I started looking at scripts. We found one that worked, and then we just used other various adaptations of it.
This year, I thought, "I'm not really happy with any of those adaptations. Why not do our own? It's in the public domain." What I noticed about the other adaptations is that though it is this Christmas story, they have taken out and tend to delete particular phrases and lines which I believe are the reasons Dickens wrote this.
Q: There are a number I don't really remember having heard.
GY: These are all from the original text, there are some of my favorites, like when the Ghost of Christmas Present blesses the meals and says, "To any kindly given, to a poor one most," and Scrooge says, "Why to a poor one most?" The spirit replies, "Because it needs it most." Scrooge asks him, "Do not those of high estate also claim needs?" and the spirit responds to that. And I think we are at a place where there is a response.
Q: What does he say?
GY: "There are some upon this earth of yours, who lay claim to know us, and who do their deeds of passion, pride, ill-will, hatred, envy, bigotry and selfishness in our name, who are as strange to us and all our kith and kin, as if they had never lived. Remember that, and charge their doings on themselves, not on us."
I think the spirit is calling us to reorder our society so that we are caring for people who have been less fortunate. That's the message of Christmas and that is what Scrooge has got to get to in his own self. Although in his own self, as you follow his story, you can see how he comes to that attitude. The first time you see him in the play, he's very angry at his nephew and Bob Cratchit and the gentlewomen who come in, but when the spirit of Christmas Past takes him back to his childhood and there he was at a school, sent off to boarding school; why was he sent off to boarding school? I think it was because his father didn't know what to do with him and his mother probably died in childbirth.
Q: It was standard practice at the time, though.
GY: Yes. And his sister comes and she is his benefactor and then she dies, apparently in childbirth, giving birth to Fred. The only good time he's had in his life is with the Fezziwigs. And then Belle leaves him.
Q: He's "found another idol."
GY: He's found another idol. And you can see how his life has descended through events, and Marley's insistence is that he confront himself and make these changes, and by the final thing Scrooge says, "He's become as good a man, and as good a friend, as the good old city ever knew.'"
And so our image of — we always have this image of Scrooge being a crusty old mean guy, but we've got to be delighted with him that he discovers his life. And I think in this adaptation, we're able to get dark so the light of this transformation can REALLY take place.
Q: You just used the word transformation and you speak of Marley confronting Scrooge, to me it suggests reformation, getting back to the true sense of what he was like as a child, but you said transformation?
GY: I see him being transformed and all of a sudden, sort of like a St. Francis character in many ways of taking on those cares for other people and to assure there is fairness and equality, all of those things.
Q: How in the five times you have done Scrooge, has your perception of either Ebenezer or "A Christmas Carol" as a whole changed?
GY: I think it's deepened every time I do his lines. The hard lines are hard to do but I do them with a lot of vigor.
Q: What's an example of a hard line?
GY: When Scrooge tells his nephew Fred, "Out on Christmas! What's Christmas time to you but a time of paying bills without money …" Don't we all do that?
Q: He's being bitter, and in the face of the only family member (Fred) who shows any interest in him.
GY: Any interest at all. But what Scrooge sees is beloved Fan, who died in childbirth, and he can't get over that. And I think the message is, "Let life go on, let's don't hold on to those old things."
Q: Fred is an interesting character in that Scrooge is embittered to him for doing the normal thing: he fell in love with someone and married her. And Scrooge holds a major grudge.
GY: (A la Scrooge) "I was in love, but there were other priorities in life. You've got to build up before you can do this." And that whole thing comes crumbling down around him.
Q: We're getting at this story being timeless and being applicable anytime; there are some interesting anachronisms, the Storytellers in circus costumes, the Ghost of Future carrying a light sabre.
GY: (Laughs) There is a difference between the person doing the directing and the person doing the adaptation.
It's not a secret at all when you do an adaptation you're taking the words of the author, and putting them into the style, with every little change. I changed a word here or there. But the Storytellers are my invention, and what the Storytellers do is carry the descriptive words of Dickens between the dialog of the part of the cast, and the descriptive words of Dickens are beautiful and poignant. And those three Storytellers are meant to be so close that they become one with three parts.
Q: They share a lot of lines.
GY: They share a lot of lines and they're put in that way. And we have two women and a man and I adapted it in the way that the guy often doesn't catch on to what's going on and then he does, and then he has more pure knowledge. But those are exclusively Dickens' words, and in their play and in their lightness, it allows the rest of the play with Scrooge to get even darker. It's looking at those two issues.
And Lynda said, "I see it as a ghost story," which it is, and I think the Storytellers are circus performers. The circus was just starting at the time, and getting to be a big thing in England, so it does make sense we have a couple of ringmasters and a jester. And their dialogue: we see Scrooge as the main character, but the real focus is this the Storytellers who carry Dickens' words.
Q: They interact in a couple of select points, including the dance.
GY: They have the ability to go back and forth and be seen and unseen.
Q: They are like an unseen force, yet they open doors for characters who don't seem to realize it.
GY: (None of the characters are) aware the of Storytellers being there.
Q: It's an interesting staging device but they have no temporal connection.
GY: And I enter as the Fourth Storyteller and morph into Scrooge and at the end go back to being a storyteller.
Q: It's somewhat as if they serve the function of a Greek theater chorus, helping the audience understand and interpret what has just happened and what is about to happen.
GY: Yes, and I think there's a lot of Shakespeare suggested around that. Plays in which you have that person communicating with the audience.
Another thing: I guess how I came up with the Storytellers is that Dickens made his living by going around reading "A Christmas Carol," and people would pay to come hear him. I wanted Dickens' voice to somehow to be in this adaptation, and at first I thought it would work with a person being Dickens, but that didn't seem to balance out to me, and as I went through it and looked at his descriptive words, the Storytellers came to light and (I thought) if we had three of them they could really interact with each other and deliver Dickens' message.
Q: Is this a new approach?
GY: I haven't seen it anywhere else.
Q: How hard was it to fashion it?
GY: It was pretty easy. In the first version, we did a read-through and I realized the segments I had assigned were too long. I was treating them as individual storytellers and I refashioned all the language, and they all became three parts of the same unit, and now it's intertwined.
Q: How does it feel now having taken it to the point where we are now?
GY: The cast and crew have become a community. Lynda has done a wonderful job and Bill Weiler has done a fantastic job of putting music into play. We have an adaptation that could work anywhere, and we probably ought to get it published in some ways. It's very different and it's a lot of fun to do.
Q: You're 75 now. Are we going to see Scrooge again?
GY: Well, I'm sure you'll see Scrooge again (laughs).
Q: Are we going to see Gary Young as Scrooge again?
GY: Well, you never know! We've done this about every five years. As long as I'm capable and people don't get tired of me, I would do that.
Q: What does it feel like to transform yourself from a Storyteller into Scrooge? You change your voice and expressions and posture, and the Storytellers help you with a top hat and scarf, and in a matter of seconds you are vastly different. How does that feel for you?
GY: That's an interesting question. I had a person say to me after one of the previous (productions), "Wow, that transformation, that's what captured it."
Q: Acknowledging that this is not a new technique for you. The staging is a little different, but what you do as an actor is something you've done before.
GY: Right. And it really helps build into that character. I'm able to come on as Storyteller and be myself, and having that transformation really allows me to be Ebenezer Scrooge in the bad parts, in the difficult parts, and in that wonderful transformation where he's lightness of spirit.
Q: It's a great moment. It must feel good in each performance to get back to that point where you're leaning out the window to the boy to buy that fattest turkey.
GY: Yes, and by that time —
Q: "Fattest goose."
GY: Turkey. It is turkey.
Yes, and by that time I've got a totally let myself go, which means I'm unsure of where I'm going and what I'm doing because it's such a joyful moment. And as you have experience of joyful or sad moments in life, if you enter into them you lose yourself, and in that transformation Scrooge loses himself and becomes such a happy individual that it's infectious. And that's what I hope will happen. That transformation will be infectious, in a good way, to those who watch it and I hope it will delight them in a way that it brings lightness and resolve to their holiday traditions on their own."