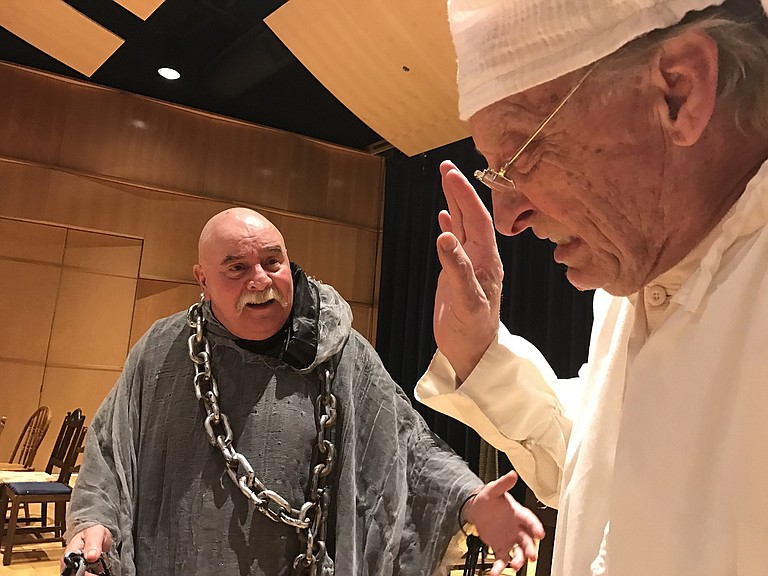 Wednesday, November 29, 2017
"You are about to show me shadows of the things that have not happened, but will happen in the time before us. Is that so, spirit?"
Scrooge's longest night receives a fresh take starting Dec. 2 from the large cast of "A Christmas Carol," directed by Lynda Dallman, on stage at Wy'east Middle School.
"A Christmas Carol" is the winter production of Plays for Non-Profits, which donates proceeds to area causes. The beneficiaries are Columbia Gorge Dance Academy (owner Susan Sorenson provided choreography), Washington Gorge Action Programs (food banks) and Hood River County Christmas Project. Plays for Non-Profits presented Shakespeare's "A Mid-Summer Night's Dream" in July and August.
For the fifth time over the past 19 years, Gary Young reprises his appearance as Charles Dickens' reformed old sinner — with a difference.
The structure uses three Storytellers, who weave the tale through narrative directly to the audience and via Scrooge and other characters, collaborators in the story yet all but invisible to the players. The Storytellers, somewhat anachronistically, dress in colorful circus garb while the characters are arrayed in muted Edwardian tones. Jimmie Oates is a Storyteller in all performances, while the other two Storyteller roles are shared by Jennifer Hanlon-Wilde, Maza Brady, and Debra Pennington-Davis and her daughter, Emilie.
The Pennington-Davis family is one of several represented in the production: Young's wife, Barb, is producer, and roles are carried by Dawn Rankin (in several roles) and Matt Rankin (Fred); Lorre Chester-Rea and Kirby Neumann-Rea as Mrs. and Mr. Fezziwig; Erik Lundby (Bob Cratchit) and his daughter, Elena (Belle); and Bob Fox (Christmas Present) and his daughter, Kristin, as Tiny Tim and Fan Scrooge.
Young performed as Scrooge in 1998, 2002, 2008, 2012, and this time, he wrote the script himself and asked Dallman to direct.
"When Gary asked me to direct, how could I resist?" Dallman said. "The opportunity to celebrate Christmas traditions on stage, with seasonal food, music, dancing and a festive generosity of spirit was irresistible." Dallman notes that Dickens' tales "focus on the humanitarian aspects of the season." (Some of the show's music is pre-recorded, but music director Bill Weiler — who has two small parts as well — is a continual on-stage presence, providing piano accompaniment to songs of Christmas.
Young used the Dickens text, including portions of it that have been left out of many scripts. (The book is in public domain, giving extensive leeway to those who produce it.)
The three ghosts are portrayed by Maren Euwer (Past), Bob Fox (Present) and Jason Carpenter (Future). Future does carry a 1970s light sabre, and among other musical surprises, Past sings the 1960s "Tuppence," a tune from the film "Mary Poppins" that dramatizes Scrooge's early turning of a cold shoulder to humanity.
Scrooge's fiancé Belle (Elena Lundby) tells him, "You fear the world too much. I have seen your nobler aspirations fall off one by one, until the master-passion, Gain, engrosses you."
•
The essence of Dickens' tale is the transformation of Scrooge from miser to man of generous spirit.
Young said that, when that transformation manifests as Scrooge, "I'm unsure of where I'm going and what I'm doing because it's such a joyful moment.
"And as you experience of joyful moments or sad moments in life, you lose yourself, and in that transformation, Scrooge lost himself and becomes such a happy individual, and it becomes infectious. And that's what I hope will happen.
"That transformation will be infectious, in a good way, to those who watch it and I hope it will delight them in a way that it brings lightness and resolve to their holiday traditions."
Tickets & Times
"A Christmas Carol" begins at 7:30 p.m. on Dec. 2, Dec. 8-9 and Dec. 15-16, and 1:30 p.m. on Dec. 3, Dec. 10 and Dec. 17. All shows are at the Wy'east Middle School Performing Arts Center. Tickets are $20 for adults and $15 for seniors and students, available at the door or Waucoma Bookstore (Hood River) and Mugs Coffee (Bingen). Tickets are also available at showtix4u.com.