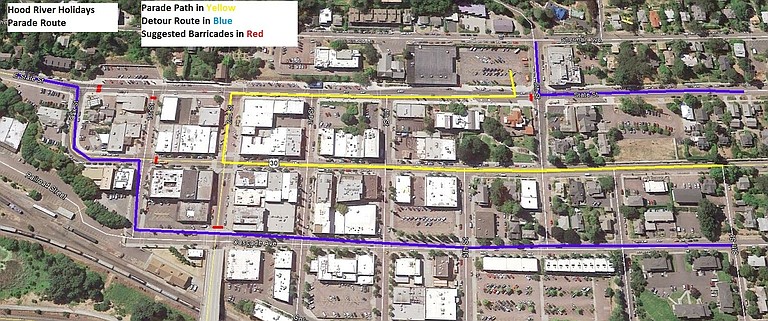 Wednesday, November 29, 2017
Hood River Holidays happens from 4-7 p.m. on Dec. 1 in downtown Hood River, with the annual parade beginning at 6 p.m. at Oak and Seventh streets and ending at the Hood River News parking lot. Formation starts at 5 p.m. at Seventh and Oak; lineup is first-come, first-served except for parade sponsors.
The tree lighting follows at 7 p.m. and will feature the arrival of Santa Claus, at Second and Oak streets.
"The Hood River Holidays parade route has changed slightly, turning south on Second Street then west onto State Street," said Ashley May, events coordinator for the Chamber of Commerce. "The adjustment was made to mitigate traffic control and crowd control issues that have surfaced as the attendance of the event has grown significantly in the past few years."
Many businesses will be open extended hours and offer refreshments and other amenities, including other stops by Santa.
Columbia Center for the Arts holds its annual Holiday Art Show and Sale, 215 Cascade Ave., featuring original arts and fine crafts created by artists living and working in the Gorge.
Other events around the valley (see Holiday Happenings on page A11) include:
• Parkdale Branch of the Hood River County Library District hosts an open house on Dec. 2 at 2 p.m., with music, food, games and prizes for the whole family, to celebrate the remodeling of the branch. The branch is located inside the Community Center, Baseline and Clear Creek roads. The facility will have a new coat of paint and new carpet, among other things. Local musician Violet Montenegro will perform songs in English and Spanish during the celebration.