Wednesday, November 29, 2017
Tolls for new bridge
Port Director McElwee says it's very premature to look at a proposal for a new bridge; meanwhile, the port is racing to raise tolls to pay to maintain our decaying bridge.
How about we replace it instead of spending $51 million maintaining it? I'd much rather see my tolls going to pay for a new bridge than to pay the unpredictable costs of maintaining this money hole long past its reasonable lifespan.
Forrest Rae
Hood River
Focus the blame
My letter is in response to two of the letters to the editor from the Saturday, Nov. 25 edition. It seems that some people are placing the blame for the Eagle Creek fire on such things as a "well-planned act of sabotage" by ISIS, to a sweet little teenaged boy who did the whole thing by accident. The real fault, says a gentleman from Washington, lies with the Forest Service and the government!

So here we go, pointing fingers at each other about something that was an act of teenage stupidity, possibly for attention. The young man is old enough to know better than to carry an incendiary device into the woods with the clear intent of lighting it! He had to light it … they don't light themselves! How could that have been an "accident"? I do NOT believe that the kid is part of ISIS. But he knew very well what he was doing. And he had friends with him.
So there is no need to get the federal government involved in prosecution, except for evidence they may have about the fire itself.
The parents, we hear, and the whole family are traumatized. The secret of the boy's name has been guarded by the Hood River County DA and law enforcement, so how does anyone even know who it was?
I ask, "What about the trauma of hundreds of people who had to flee their homes, and many hundreds more who had to be packed and ready to go?" What about the hundreds of fire fighters? What about the millions of taxpayer dollars?
This event traumatized many innocent people! Someone MUST be held accountable, with more than a slap on the wrist. And I lay the blame on the teenage boy whose hands carried the firework into the forest (intent), lit it, and threw it over the side of the trail, into a deep canyon. I don't know HOW he should be punished, but he NEEDS to pay the debt to society. He needs to learn. Protecting him is not a bad thing, but he needs to pay for his deeds.
Pennie Burns
Hood River
Letter replies
Greg Walden seems to be a "Our Readers Write" target with multi-bullseyes. The Nov. 22 edition has three of interest.
Letter 1: (Another Voice) "Grad Student Tax," authored by Kylie McPherson, addresses her admirable past six years of educational accomplishments, but Miss McPherson didn't share how she was able to finance her many successful years of accomplishments.
Does this proposed budget measure address student tuition loans of thousands of dollars of unpaid government overdue student loans that she may have accumulated over her student years?
Letter 2: "For gun reform," by Ken Serkownek, Ph.D, who either doesn't understand America's foundation (our Constitution/Bill of Rights), and that Greg Walden, being a Republican, adheres to it, unlike President Obama, who ignored it and did as he pleased.
I think it to be well if Mr. Serkownek were to compose and submit his version of the "law" that would stop all killings, including abortions (and don't overlook Henry Ford's killing machine). To "vote out Walden" is like walking backwards to get ahead!
Letter 3: "Pay Attention," by Jim Appleton, challenges Mr. Walden's "tax reform" vote. This letter reminds me of a verse of Scripture wherein God states that He allows the rain to fall on the just as well as the unjust.
My "gut" sensation is that this letter contains more innuendos than facts and is a product of that organized Walden Bashing Organization that showed its colors at Congressman Walden's last town hall. However, Mr. Appleton's letter does contain one eyebrow raising point: student tuitions and loan interest, not making mention of the unpaid overdue dollars of years-old student loans which may have some influence on this Republican proposed just/unjust budget.
Alan Winans
Hood River

Farmers' Market does well, and good
The 2017 Hood River Farmers' Market season was the most successful year to date! This year, the market supported over 60 local farmers and small business owners, hosted an average of 850 weekly shoppers and brought over $350,000 to our local economy.
Farmers' markets are essential to our community and local economy. They serve as a business incubator for new and small businesses. This translates directly to more local jobs and a healthier economy.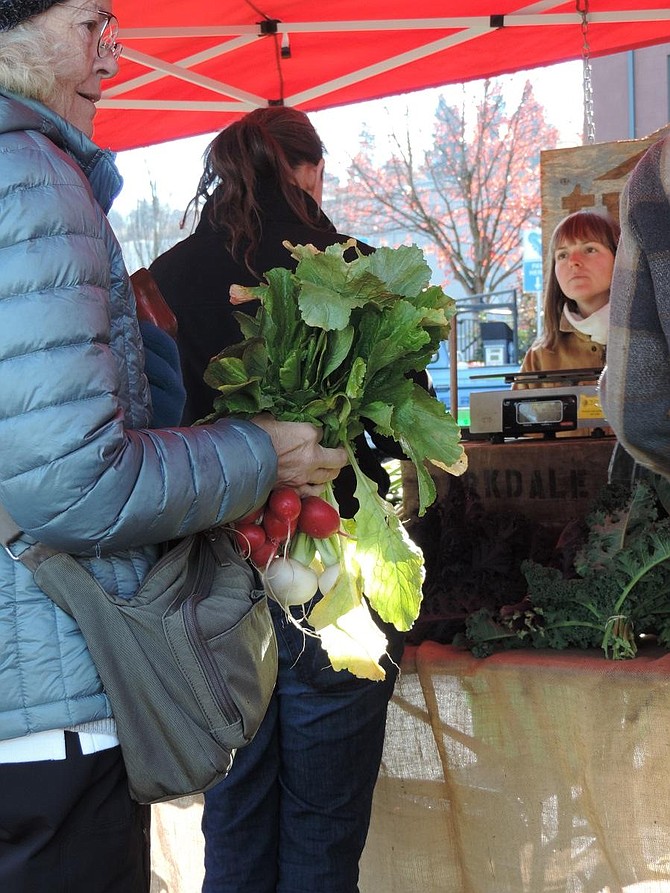 The Hood River Farmers' Market also attracts both local residents and visitors to our vibrant downtown. From surveys conducted, we know that 45 percent of farmers' market customers planned to spend over $50 at downtown stores or restaurants.
Moreover, the market bolsters our food security by growing the number of diversified farms operating in our community. Ninety-eight percent of the food we consume in the Gorge is shipped in from other areas — increasing the amount of food produced here means we'll be better prepared in the event of an emergency when highways are closed and grocery store shelves go bare.
Thank you to our dedicated customers who shopped at the market this year. You helped us grow the market by 13 percent from 2016!
Farmers' market fans can still shop locally in the coming winter months.
The Hood River Farmers' Market will move indoors in 2018 on the first and third Saturday of the month, January to April, from 1-4 p.m. at Springhouse Cellars, near the corner of First Street and Cascade Avenue.
Hannah Ladwig, manager
Hood River Farmers Market
Hood River
Opened and unread?
Recently, the Hood River News published an article about a proposal from United Bridge Partners to build a new bridge to replace the current Port of Hood River Toll Bridge, and the proposal was sent back unopened and unread. What?
Why ignore a group that has a history with bridge building, a concept, an answer and a timeline? The port has never given us any indication that they have anything on the drawing board and the package was not even opened! The answer to why is being hidden behind bureaucratic rules of engagement, but when the port has had ample time, and has wasted millions of dollars in a "replacement fund" (that honestly does not even exist), and is yet again asking for another toll increase to keep putting lipstick on the pig, without even once coming up with a palpable plan — can the port really afford the "luxury" of not even looking at a perfectly viable proposal?
To me, that is the definition of arrogance, and ignoring the needs of the communities they serve. I am not suggesting that we have to take the first bridge proposal that's offered. But the $51 million the port is asking to spend on the bridge for the next 15 years is more than tripling the past annual expenditures on the bridge (compared to the $22 million over the last 20 years) and in the end we will still not have a new bridge or any money to build one. The port has become a real estate development firm, and can't be trusted to do what's best for our transportation needs, and clearly can't be trusted to manage a bridge "replacement" project when they refuse to even acknowledge the hard work that someone has done to suggest a viable solution. The Colorado group says three years to start building a new bridge — what does the port have to offer besides more rate increases? Whatever the port comes up with, it's not likely have any kind of a timeline like that. Open your mail!
Bart Vervloet
Hood River