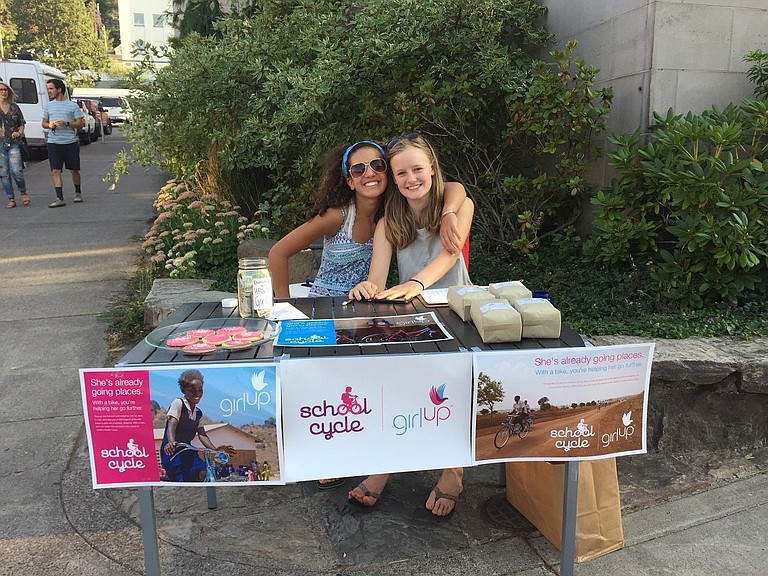 HRVHS Girl Up, a United Nations Foundation club, is hosting a three-part movie series to raise money for School Cycle, which sends bikes to Malawi and Guatemala so that girls can get to school. The event was Tuesday, but it is just one part of a new set of efforts by young women at Hood River Valley High School.
HRVHS Girl Up, led by president Eva Jones, has been working for months on empowerment for young women the world over.
At First Friday in July, the club collected advocacy cards from residents and sent them to our congressmen to support H.R. 2408 or S. 1850, Protecting Girls' Access to Education in Vulnerable Settings. In August, they held a STEAM roundtable discussion where they brought together women of all ages involved in the Science, Technology, Engineering, Art and Design and Mathematics fields to share experiences and ideas (details below).
In July, Jones traveled to Washington, D.C., for the 2017 Girl Up Leadership Summit. Over 300 girls from around the world attended. For three days, they participated in leadership training, learned from speakers, engaged in skills-based workshops, and led an official lobby day on Capitol Hill, where they met with Senators and Congressional representatives.
Through the School Cycle initiative, Girl Up aims to eliminate one of the biggest obstacles keeping girls out of school: distance. For every $125 that HRVHS Girl Up raises, their club will be sending a bike and maintenance kit to Malawi or Guatemala. Their goal is to send 40 bikes by the end of 2017. Currently, they are selling Organic Guatemalan Coffee, with half the proceeds donated to School Cycle. The coffee is from Pacific Rim Coffee Roasters. They will also be hosting a three-part movie series at Andrew's Skylight Theater this fall on the first Tuesday of each month (October, November, and December).

To make a donation directly to the HRVHS Girl Up School Cycle initiative, visit fundraise.unfoundation.org/team/127792 or search HRVHS Girl Up on the internet. To purchase a bag of coffee, email melissa.bentley@hoodriver.k12.or.us.
For more information about Girl Up and School Cycle, visit girlup.org.
n
Jones interviewed four women involved in STEAM fields for the Girl Up Summer STEAM Challenge, a three part challenge in the Girl Up community that shines light on the disproportional amount of women in STEAM fields and encourages girls to venture into STEAM.
Part one is to interview local #GirlHeroes in STEAM, part two is to tune into Live Interviews with STEAM #GirlHeroes via Girl Up, and part three is to teach yourself how to code.
"Now, more than ever, advancements in STEAM are essential for creating innovate ways to improve girls' lives and life outcomes around the world," said Jones. "There is no one better to lead in these fields then women, yet women are disproportionately represented in the STEAM fields in almost every country, and Girl Up wants to change that."
Jones completed part one by interviewing local women involved in STEAM: Leia Paul, future nurse and FTC Robotics Worlds Participant; Germaine LaFleur, Insitu's Industrial Engineer; Laura Stanton, a neurological speech pathologist; and Caitlyn Fick, a lab technician and science major at Scripps College.
"These accomplished women were so inspiring and it was an all-around amazing experience for me. The obstacles that they came over to accomplish great feats and follow their passions were nothing but lessons to make them stronger," Jones said.
"One common love was connecting, collaboration, and helping people through STEAM. Each and every one of these women stated that they felt that men in their lives in STEAM treat them condescendingly, pettily, and with entitlement," she said. "They hope to change this and the mindset that 'STEAM is for boys' by using their positions to educate and help our community so that girls can rise to the top of the STEAM field with the same ease that any boy would. Though being in such a male-dominated field is hard, it's the passion that allows these women to continue to succeed and change our world for the better."
•
To donate to the current project SchoolCycle, which sends bicycles to girls in Malawi and Guatemala so that they can access education safely and efficiently, visit the fundraising page at fundraise.unfoundation.org/fundraiser/1048129.
FILM OCT. 3
The first movie is "Girl Rising" at 6:45 p.m., Oct. 3 at Hood River Cinemas, a set of true stories profiling six girls from around the world and the various challenges they faced and overcame.
Many businesses have donated proceeds and pledged raffle tickets to the event. Hood River Cinemas is donating 100 percent of ticket sales to School Cycle. Each ticket includes a T shirt and raffle ticket. Tickets are at Doug's or Melika.