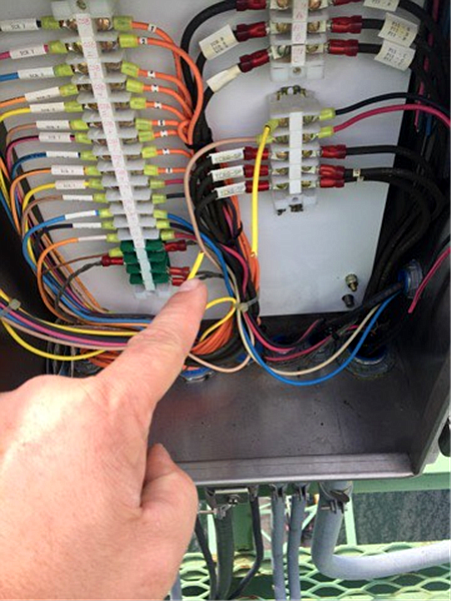 Wednesday, October 4, 2017
A suspected vandalism case hit the Hood River-White Salmon Interstate Bridge in late September, leaving graffiti and damaged equipment.
Due to emergency repairs stemming from the incident, the Port of Hood River's planned bridge maintenance — and related traffic closures — will extend further into October.
On Sept. 21, port staff discovered the damage: spray paint graffiti on the north tower, a broken window at the control room, cut wires, and other damaged gear and lights. They also found a tattered American flag hung atop the tower. Port staff informed Hood River Police about the incident.
"This was an act intended to disable or shut down the bridge," said Michael McElwee, port executive director.
He said apparently someone — or multiple people — broke into the control room underneath the bridge's north tower and then climbed the tower to gain access to the top.
The cost of damages hasn't been determined, but McElwee guessed it comes to about $10,000-$15,000.
"It's a setback," McElwee explained, as the port's planned maintenance work will need to account for the repaired lift span machinery working properly.
From Oct. 9-10, bridge engineers will run operational and mechanical safety tests on the bridge lift span. The work will require multiple full closures of the bridge as the lift span will be raised to full height for tests. That could lead to delays up to an hour long, multiple times throughout the day and night.
On Oct. 12, there will be a nighttime full closure of the bridge from 11 p.m. to 3 a.m. for strain gage testing on the lift span. Night work will cut down on impacts to daytime bridge crossings.
From Oct. 11-25, the previously planned "auxiliary truss" and floor beam repair work will be underway. The work will require intermittent, single-lane closures for up to two weeks.
Anyone with information about the incident is encouraged to contact detective Anthony Frasier with Hood River Police Department at 541-387-5257.