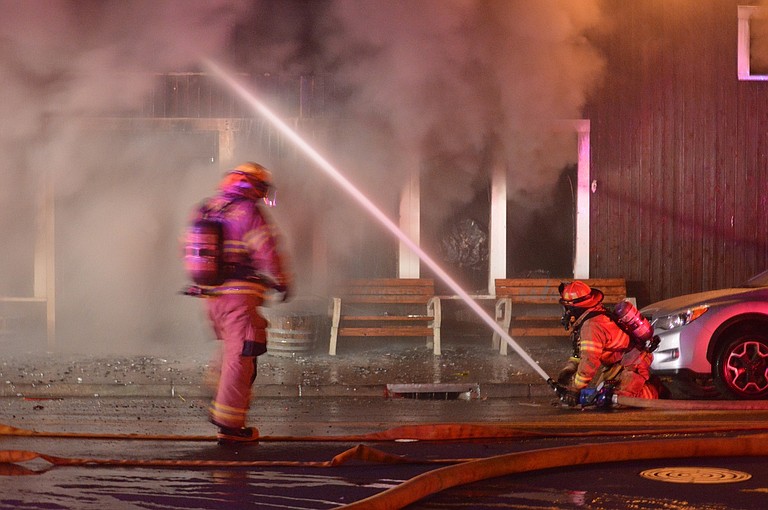 Originally published October 4, 2017 at midnight, updated October 4, 2017 at midnight
Wreckage revealed a "divine" result at Kayak Shed, which was gutted by fire on Sept. 27.
The fire remains under investigation and officials have released no details yet on possible cause, but in the ashes owner John Hart found the happiest of surprises:
Two plastic file cabinets and two paper accordion files, full of treasured documents, escaped the fire.
"Wet, but intact," said Hart, calling it "divine intervention."
Hart was also surprised to find intact his computer servers, which are still being examined to see if the information within can be retrieved.
"The amazing thing is that what survived the fire are the things I truly needed," he said, referring to invoices, receipts, tax information and other valuable documents. "Without that, we were in the dark. Now we are less in the dark," he said. "Hopefully, the (computer) drives aren't toast."
The two-alarm fire drew firefighters from Hood River, West Side, Wy'East, and Mid-Columbia Fire agencies. No one was injured.
Hart lost all his merchandise, totaling an estimated $500,000. The fire lightly damaged the neighboring Ground café, which was able to reopen for business on Friday.
He said is still far from knowing where Kayak Shed might set up shop again; there are too many other details to attend to at this time.
"We're just getting our pulse back," Hart said.
One thing he needs to do is order are checks; he has the cash for the next payroll, but the shop's checks were lost in the fire. Turning off utilities has been another challenge; he lauded Charter and GorgeNet for doing what they can to make the process easier.
Two days after the fire, he was walking the perimeter and noticed that water was flowing through a pipe broken in the fire, and he immediately called the city to turn it off.
Hart expressed thanks to the work of his insurance agent, Scott Reynier of Columbia River Insurance, and added "the community has been so amazing," coming up with four separate offers of crowd-funding on Kayak Shed's behalf, all of which Hart had to decline.
"The insurance, theoretically, will be amazing, and we are trying to figure out a way to have this be a positive impact on the community in general," he said. "Instead of helping us, we want people to be encouraged to support local businesses, to buy your products here, to get a restaurant meal, because we all had a rough winter and a brutal September."
Hart also provided a piece of hard-earned advice:
"Check your insurance policy, and make sure you have good insurance. I could have been a really sad person right now. My job, my retirement resources could have been lost, but I had what I needed in place and as a result I have a different outlook."