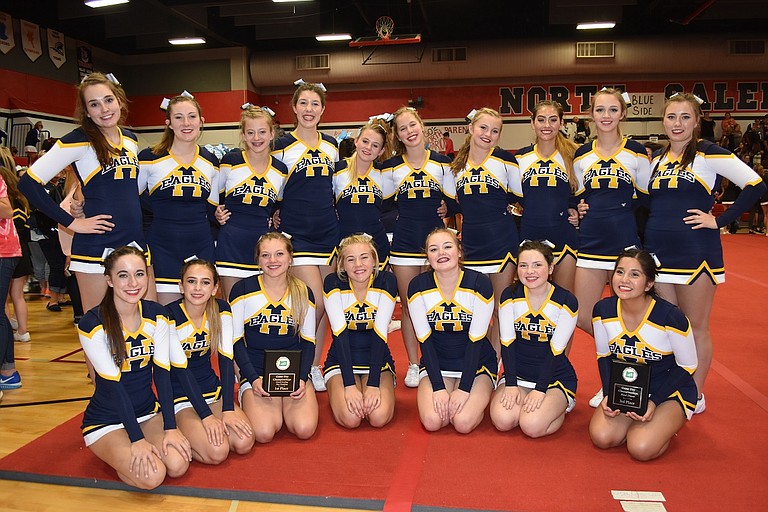 Wednesday, October 4, 2017
The Hood River Valley High School cheerleading team, both junior varsity and varsity, attended the first annual Oregon Cheerleading Coaches Association (OCCA) Game Day Championships at North Salem High School on Sept. 23.
This was the team's first competition, as the fall team often cheers at away and home HRV football games.
Junior varsity competed in the non-tumbling division in both crowd leading and fight song, while varsity competed in the 5A non-tumbling division for crowd leading, band dance, and fight song.
LisaAnn Kawachi, cheerleading head coach, thought the team did a great job, particularly given that the competition was brand new and the expectations were unknown.
Many other squads had more elaborate routines, including formations and stunts, which put HRV at a disadvantage.
"The girls were sharp and really knew the material," said Kawachi. "They had lots of energy and enthusiasm, and I think the audience responded well to that. We've worked a lot on jumps and cleaning things up and that definitely showed."
In the end, junior varsity placed second to Aloha High School in crowd leading, and the varsity team won their crowd leading competition.
In band dance, varsity had some steep competition, ultimately placing third behind Thurston and Lebanon.
"I think we set a strong precedent, and I hope we go back next year. That's the plan," elaborates Kawachi. For full results and more information on the championships, visit www.occa.net/competition-results.html.