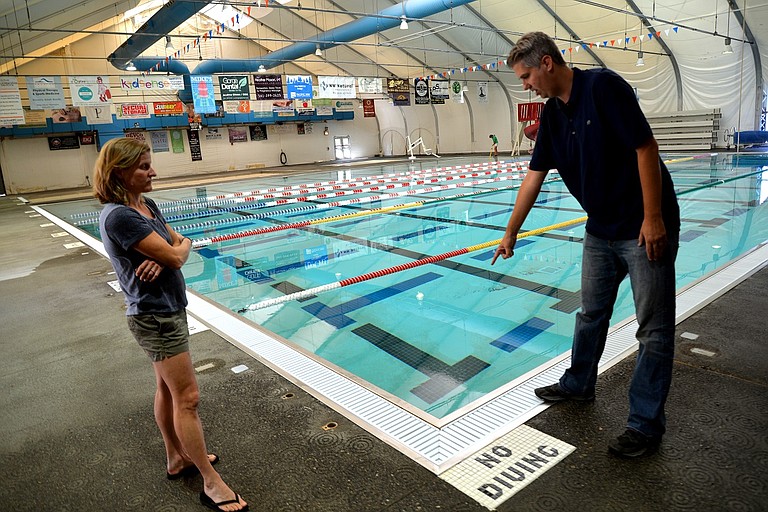 Originally published October 4, 2017 at midnight, updated October 4, 2017 at midnight
Hood River's tented public pool is treading closer to the end of its usable lifespan, according to a facility study the parks district commissioned.
The Hood River Valley Parks and Recreation District contracted with Water Technologies Inc., an aquatics engineering firm, to do a condition assessment of the Hood River Aquatic Center. Their March report stated the pool has about three to five years left of serviceable use.
The original aquatic complex at 1601 May St. was built in 1948. The tent enclosure and other infrastructure upgrades came during an overhaul in the 1990s.
Mark Hickok, parks district director, and Marcie Wily, assistant director, discussed the structure's age and related challenges during the pool's annual maintenance closure in September.
"We've come to the conclusion that within the next five years, we're going to need (a) major renovation or a new building," Hickok said.
Details on a potential re-do or new facility — and costs — aren't yet hammered out.
Hickok compared the pool to an old truck. The complex no longer meets modern standards for water flow and pressure. Much of the systems, such as heating the inside of a tent in cold weather, aren't cost-effective, he explained.
The iconic tent poses other issues. Wind buffets it through the year, ripping the walls in some places. Crews with the parks district routinely replace tent panels, and the wall on the west end is being held together by rope and zip ties.
On a scale of 100, the facility scored roughly 45 (100 being perfect) in Water Technologies' study.
Given facility concerns, the parks district has been charting out early next steps. Last February, the district assembled a stakeholder group of community members to look into the pool's future.
That group worked with an architecture firm, Opsis Architecture, which has developed a pool enclosure conditions study. The report includes various repair and replacement options.
In a week or so, a final draft of the Opsis study will be posted online at hoodriverparksandrec.org, under a new tab on the menu bar titled "Pool Enclosure."
Wily highlighted the appeal of the pool, but also the need for change.
"To have a pool like this in such a small town is saying something … it's a nice facility that was well thought out when they built it. Really, we've done a great job in maintaining the facility, but I think it's time for some improvements and some changes," she said.
The district has been raising awareness about the pool's condition, and invites residents to attend stakeholder and board meetings.
The parks board of directors holds evening meetings at the pool, usually the third Wednesday of each month. Details are posted at the district's website.