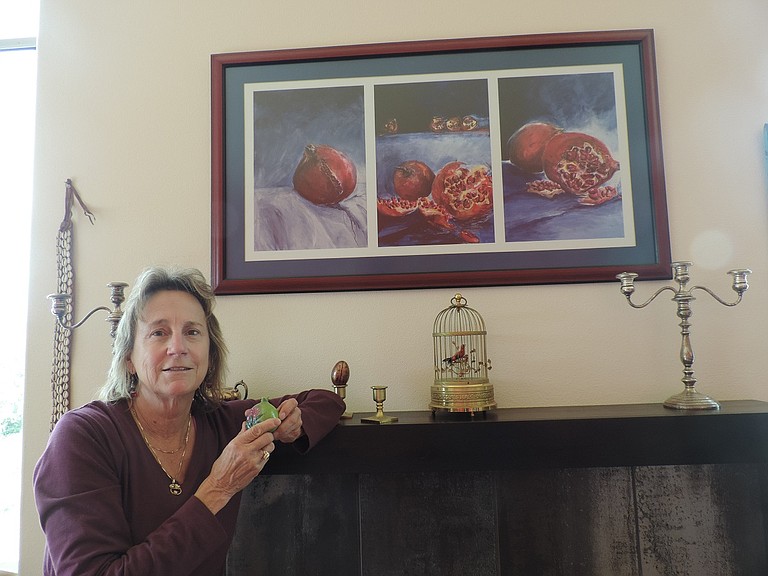 Originally published October 4, 2017 at midnight, updated October 4, 2017 at midnight
Pomegranates and their topographical and cultural power will be the focus when artist Yvonne Pepin-Wakefield speaks Oct. 6 at Columbia Center for the Arts.
Pepin-Wakefield, who lives in The Dalles and has an additional studio in Tieton in Klickitat County, will give her free talk at 7 p.m. at the center, 213 Cascade Ave., Hood River. Her new exhibit is on display in the lobby gallery.
Pepin-Wakefield previously exhibited her works at the center, and regularly teaches classes there.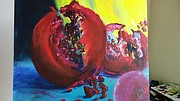 In "Pomegranates Contextualized," she will introduce new works and some that she created in Kuwait in 2004-2010 while teaching at art to university women. The experience was formative for the veteran landscape painter, who found herself in a hot, flat land with little landscape color or texture.
So she turned to the pomegranate and its vibrant, almost violent, textures and colors. The fruit grows throughout the Middle East, India, and other Asian lands. Pomegranates are more than an essential food in these cultures; they are also symbols of fertility, wealth, and fortune. Among the dark red, purple, yellow and green of the flesh, seeds and skin, and the way the seeds revealed and the glistening fruit tore, she found ample inspiration.
During her six years in Kuwait, in addition to her research and publication on the cultural significance of the fruit, Pepin-Wakefield had three major exhibitions of her work, the last at Kuwait National Museum.
In 2016, she resumed painting pomegranates in her Tieton studio. The 20 or more pieces premiering in "Pomegranates Contextualized" at Columbia Center for the Arts represent monumental shifting in the artist's expressionistic rendering of the pomegranate.
Pepin-Wakefield is also the author of two books, including "Suitcase Filled with Nails: Lessons Learned from Teaching Art in Kuwait," in which she writes, "My teaching involved encouraging students to see for themselves. This led to thinking, original thoughts, which led to creating artworks unique to these young women's newly stirred senses.
"And this is haram — bad, forbidden — when it threatens people in a position of assumed authority who use their position to condemn what they do not condone, which is everything do not understand or take time to understand … this cultural quandary is not limited to Kuwait, a diamond in the rough of the Middle East ...

"I also found some incredible artists, poets, (and) humanitarians, patrons of the arts, and bright spirits, who I count as friends."