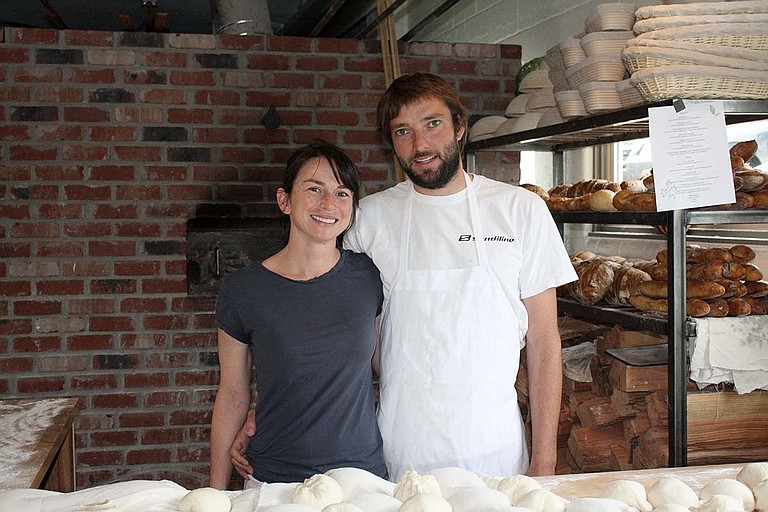 Something more than just bread is rising at a little bakery nestled along NE Estes Avenue in White Salmon. It is a bakery looking to connect its community to a better way of eating and to more regionally sourced food.
White Salmon Baking Company opened its doors in April 2015, allowing Nina Jimenez and Jure Poberaj to realize their dream. The pair wanted to start a bakery that was a part of a community, and White Salmon felt like the natural choice. They both lived there and felt that the business would provide something unique to the town — a retail bakery offering fresh bread, pastries and even special occasion cakes.
"We felt there was a need," Jimenez said. "Every town needs a bakery." And White Salmon may have needed them. Poberaj said that most of their clientele are repeat customers. "The best part of the job is the regulars," Jimenez said. "I feel real lucky."
But filling a niche isn't the only way the pair are connecting to the community. They are making sure they provide their customers with a better way to eat. And to do that, they take a classical approach in food preparation and source ingredients from the Pacific Northwest.
What does a classical approach mean? Poberaj wanted to bake his bread the way it was made before temperature-controlled ovens. That meant they needed a wood-fire oven, which presented some challenges — for starters, no one manufactures wood ovens for retail bakeries.
"It's not a hot commodity," Poberaj said. He contacted a builder in Canada and got some plans, which he and his father used to build the oven. It was a two-week process to construct it.
A fire is lit in the oven around 11 a.m. and it burns until 3 p.m. Then they let the fire go out, allowing the oven to cool to the right temperature for the bread that is baked the next morning.
There is nothing standardized about this process. Bakers adjust the baking time based on the oven's temperatures, but other factors can affect it — including things like humidity and the outside temperature.
"Every day is different," Poberaj said.
For the White Salmon Baking Company, the classical approach isn't just about the means to bake the bread, it's also what goes into the bread.
"All bread has three ingredients: flour, water and salt," Poberaj said, stressing that bread shouldn't need sweeteners or milk. By keeping it to three ingredients, the baker can "bring out the best flavor of the wheat." Jimenez and Poberaj also use wild, natural yeast. Poberaj explained that natural yeast is all around and that by mixing water and flour, then allowing it to set, it ferments, creating a starter. Their starter is a sourdough starter, which they created when they opened the bakery.
At the heart of all bread is its grain. Jimenez and Poberaj try to source their grains from the Pacific Northwest. Currently, they get grains from Shepherd's, a grain co-op, and also purchase heritage grain from Camas Country Mill.
"Most flour does go stale so it is important to us to get the freshest possible," Poberaj said, adding that the closer the grain is, "the quicker we can get it." Using regional grain allows the pair to support regional farming. They also support local and regional farmers by buying seasonal fruits and vegetables. Cheese and meats are a little harder to find; Poberaj uses Tillamook Cheese but admits he sources some of these items from California. He looks to the Portland metro area to find specialty items for the bakery's pizza night.
Then there is the coffee. Jimenez and Poberaj make sure they offer a Gorge-roasted brew: Pacific Rim. "We love our coffee roasters," Jimenez said with a smile.
Along with providing customers with regionally-sourced, classically made bread, White Salmon Baking Company makes sure its customers get something sweet, too. The bakery has a traditional convection oven for making pastries; the wood-fire oven is too hot for that. "Pastries are too delicate," Poberaj explained. The bakery offers a variety of goodies. "Mostly we bake what we would like to eat, not overly sweet or fussy," Jimenez said.
Last winter, Jimenez and Poberaj launched a weekly "pizza night" at the bakery, which has continued and become a popular community gathering every Monday from 5 to 9 p.m. It was born out of a desire to bring back wood-fire pizza to the White Salmon area — to fill the hole that was left when Solstice Wood Fire Cafe moved to Hood River — and also a way to showcase their love of wine.
"Jure and I enjoy sourcing wine to serve along with the pizza night offerings" Jimenez said. "Our goal is to find small, interesting and family-owned wineries that represent the land on which the grapes were grown." Typically, they pick wines they know and enjoy drinking. It is a way to showcase wines not found in the Columbia Gorge. For them, it's a great way to bring in international wines that may not be familiar to people in the area, she said.
As the pair continues to bake, they look for more ways to grow and connect. Poberaj hopes that some day he can add more varieties of bread, and that the bakery can be open seven days a week. The couple also hope to make their own wine someday. They recently purchased about 10 acres and plan to plant grapes from the Friuli region of Italy, including Ribolla Gialla and Friulano, and other varietals.
"Jure grew up in that area, and he feels it's important to try and bring some of those varietals back to the U.S.," Jimenez said. It's something they hope will be another way to connect with the community.
For more information, go to whitesalmonbaking.com.