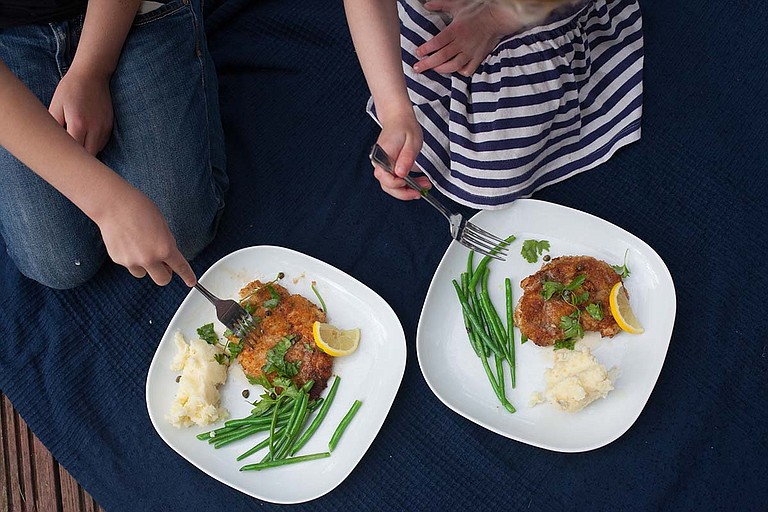 My daughters have been requesting to help more in the kitchen. In fact, they've been begging for "cooking lessons." Per their request, Chicken Picatta was to be the subject of our first cooking lesson. I have my own version of Chicken Picatta (recipe below), but we began by watching a few cooking shows featuring Ina Garten and Giada De Laurentiis cooking their versions, which can be found on YouTube.
My kids love any opportunity to cuddle on the couch and watch a screen so this got them fully engaged and helped them see and understand the process. Next we got a pen and paper and wrote out the ingredients we would need (which I already had on hand), and the basic steps. I walked them through the bits that they would do, and what I would have to do alone. I headed to the kitchen to prep, leaving them on the couch to look through my cookbooks for "inspiration."
The most important part about cooking with kids, for me, is the prep and pausing to clean as we go. Making sure everything is laid out and ready helps reduce the chaos and makes the whole thing (or at least most of it) easy and fun. Once the ingredients were all out on the counter, and the cutting boards and parchment paper prepped, I called to the girls to wash their hands and come in to do our lesson. First I had Lulu, 4, measure out the flour and breadcrumbs and season them, while Gigi, 6, cracked and whisked the eggs with a bit of stock. I had them trim the green beans using their kid-friendly knives, as well as cut the peeled potatoes for our sides.
To flatten out the chicken, I placed one chicken breast at a time between two layers of parchment paper. (Using the parchment is great because it keeps their little hands from ever touching the raw chicken.) The girls then took turns whacking it with a rolling pin before I took over for the final turn. The girls were then excused for a bit to play while I did a quick clean of the counter, started the potatoes simmering, and got the chicken coated in breadcrumbs, cooked in hot oil and butter, and into the oven to keep warm.
While I whisked up a pan sauce, the girls were responsible for getting out the plates and cutlery for our dinner. Gigi helped me plate our food, while Lulu cut up and topped our chicken with a bit of fresh parsley, as well as a lemon slice and fried capers, and they each got to spoon on their own sauce. It was truly delicious, and they were beaming with pride.
A few final tips…
Teach the importance of good hand washing before cooking, after cooking (especially when handling eggs or raw meat/poultry), and before sitting down at the table.
Talk to your kids about the possibility of minor injuries: little cuts, burns, or bonks happen often when doing something new — especially in the kitchen. Be prepared for these little accidents with ice, Band-Aids, etc.
Consider getting a kid friendly knife set — we have the Kuhn Rikon kinderkitchen Children's Essential Set.
It's great to plan for an early dinner, which allows extra time (just in case), and you also don't end up with over-hungry meltdowns mid-cooking!
Have your kids help to clean up after the meal.
Gigi and Lulu's Chicken Picatta
(In the directions I've put an asterisk next to the tasks that are great for kids.)
Ingredients:
4 boneless skinless chicken breasts
1 cup, plus 2 Tbsp all purpose flour
2 eggs
1 cup, plus 2 Tbsp chicken stock
juice of two lemons, plus lemon slices for garnish
1 cup Panko bread crumbs
unsalted butter
extra virgin olive oil
sea salt
freshly ground black pepper
1 Tbsp capers, rinsed
1 tsp dried parsley
fresh flat leaf parsley
Directions:
Preheat your oven to 250ºF and put a baking sheet in the oven to warm.
*Mix together 1 cup of chicken stock and the juice of two lemons.
*In a shallow bowl whisk together the flour with one teaspoon salt and a few turns of fresh pepper.
*In a separate shallow bowl whisk the breadcrumbs with the dried parsley, 1/2 teaspoon salt and a few turns of fresh pepper.
*In a third shallow bowl whisk the two eggs until well blended. Add 2 tablespoons of chicken stock to the egg and mix it in.
One at a time, lay the chicken breasts between two sheets of parchment paper. *Using a rolling pin, whack the chicken until it's about 1/4 inch thick.
Dredge the chicken in the flour, shake off the excess. Dip it in the egg mix, coating it well, allow the excess to drip off. Finally, coat the chicken in bread crumbs. Set aside.
In a large skillet, heat 3 tablespoons olive oil and one tablespoon butter over medium high heat until it's bubbling. Cook the chicken breasts, one or two at a time, until they are deeply golden on both sides and cooked through — this usually takes about 4 minutes per side. Transfer the cooked chicken to the oven to stay warm while you finish cooking the rest of the chicken, adding more oil and butter as needed.
Toss the capers into the hot pan with the leftover oil, frying them for a minute or two. Transfer to a paper towel. Add two tablespoons of butter and one tablespoon of flour to the pan, whisking to combine. After one minute, add one cup of stock to the pan while whisking, scraping up all the bits from the bottom of the pan. Bring to a simmer, whisk and reduce until the sauce is like a thin gravy. Season to taste.
*Chop up some fresh parsley.
*Plate the chicken, garnish it with a lemon slice, fried capers, and parsley. Enjoy immediately along with your desired sides.
Kacie McMackin is a food blogger, writer and photographer, and founder of gorgeinthegorge.com.