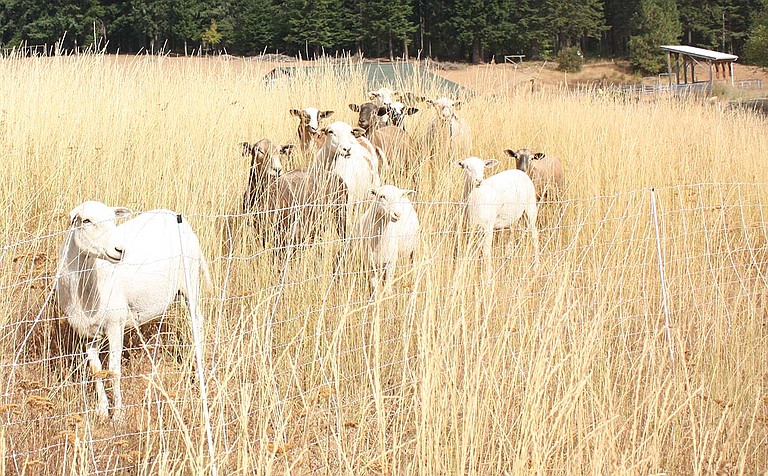 "Hey ladies," Laura Bazzetta says to her sheep as she walks by them. For the sheep, it is a signal they are moving to a new pasture, so they gather around the fence opening waiting for Bazzetta to take them to a new grazing spot.
The small herd of Katahdin sheep are part of Bazzetta's big-picture approach to farming, soil conservation and meat production at the 121-acre Horseradish Ranch, 25 miles northeast of White Salmon. Her approach uses dry farming to raise crops and multi-species rotational grazing.
Bazzetta looks at the sheep and the area where she has them pinned — there is a mixture of grass and weeds. She decides they need to stay, they have work to do.
Horseradish Ranch is located on farmland that hadn't been used for agricultural purposes for a long time. Bazzetta took it over in October 2016, leasing it from Blue Moon Stead owner Barbara Bailey. Before Bailey owned the property, it was used as a theater camp. The weeds have had a chance to take root.
That is where the sheep come in.
"They're great weeders," Bazzetta said. She selects a spot for the sheep to graze and builds a temporary fence around the area. Once the sheep are in the right area, they start to eat the weeds. As they eat, they leave organic material behind that fertilizes the soil.
This is where the idea of multi-species rotational grazing begins. Once the sheep have grazed a spot, Bazzetta moves in the chickens and ducks. They graze too. Chickens also scratch through the sheep poop, spreading it. The birds eat bugs too.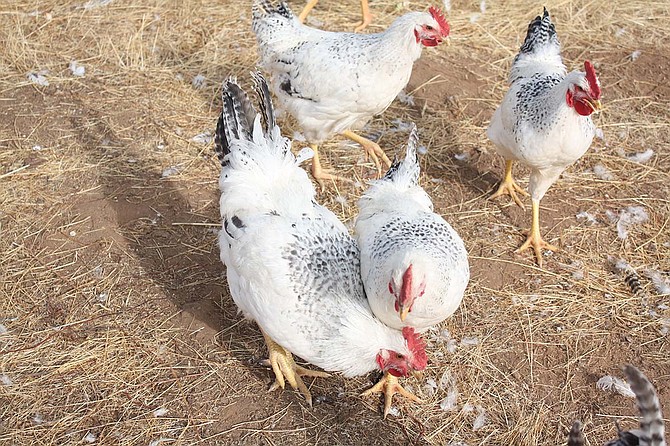 After a while, the animals will eat through the weeds and the grass, and help improve the soil. Bazzetta explains this will allow her to reseed with grass that is right for the property and the area. It's a long process that will be done throughout the ranch.
Multi-species rotational grazing does stray from the traditional way cattle is grazed, but it's a more natural approach. In the wild, animals would move to a small spot, graze it as a group, then move on, leaving organic material and allowing the grass to regrow.
It is also a way of land management that ensures the land isn't overgrazed. Cattle or other livestock aren't left in an area so long that they eat the best part of the pasture until it is dirt. Through her management plan, Bazzetta's livestock will graze on a spot a couple of times a year.
"It's practical, holistic management," she said, adding that it can help reduce erosion, help the land retain moisture and return the area to its natural state. The practice benefits the herds too. Bazzetta explained that since the chickens graze after the sheep and they scratch through the organic material, they find and eat parasites that aren't harmful for them but could be for the sheep. They also eat fly larvae. So, they make the grazing spots better and healthier for other animals.
Bazzetta also uses her fields to raise rabbits. The rabbits don't graze after the chickens, but instead are given their own spot to graze. Each day Bazzetta moves the large crates housing the rabbits, allowing them to graze on a different spot of pasture. Just like the sheep, the rabbits eat the grass down so it can regrow, and they fertilize the soil.
While the animals are important tools in restoring and maintaining the farmland, they have another purpose: food.
Bazzetta, a Wisconsin native, grew up on a hobby farm. "My dad was a tractor enthusiast so the garden gave him an excuse for his tractors," she said. As a teenager, Bazzetta began working at an organic grocery store and started learning about organic food and the industry.
"I was 16 and so horrified," she said, especially after learning what farm animals went through. She became a vegan, and remained one for some time, then she started working on farms doing different jobs. She saw the different roles of animals in the food cycle as well as in farming. The idea of a life cycle and everything having a place has become part of Bazzetta's approach in raising her chickens, sheep and rabbits.
"I'm attached to these animals," she admits. Each time she takes chicken, rabbits and sheep to butcher, she has a lot of feelings. She concedes that everyone and everything dies, but that doesn't mean an animal can't have a good life before it becomes food.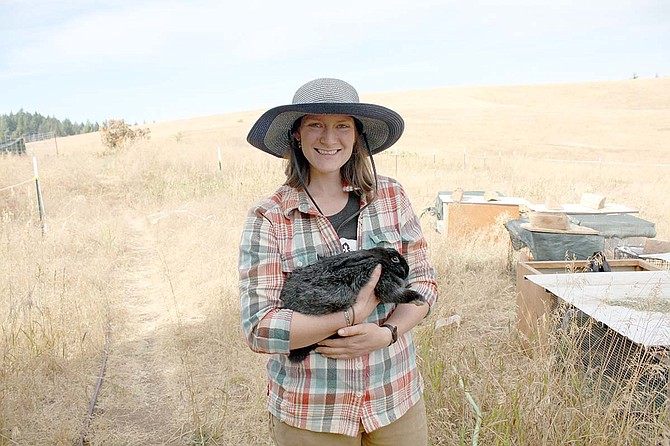 "What I do is offer them to be raised on a pasture," Bazzetta said. The sheep eat weeds, the chickens get to scratch and eat bugs. "I give them the best life I can." The rabbits, too, get to eat grass — something their digestive system breaks down well. It is as natural as Bazzetta can make it in the cages. While rabbits can be grazed in a fenced area, that doesn't work for Bazzetta. The places that works are flat with special fences that prevent rabbits from digging.
Horseradish Ranch has gentle slopping hills and grazing animals are rotated from pasture to pasture, making moving specialty fences too labor intensive. Bazzetta is careful to keep her rabbits from becoming invasive.
The cages are large enough that more than one rabbit can live in one. Rabbits are social and like having a community. The cages also have hidey holes so the rabbits feel like they can hide from other rabbits or perceived dangers.
Each of the animals that Bazzetta raises for butcher have a place in the food system. Sheep offer a lean red meat and chicken are a traditional source of white meat. "Rabbits have a role, too," she said. Rabbits are just white meat and are very lean and flavorful.
Horseradish Ranch has grown a following. Bazzetta has customers — especially older ones — who grew up hunting and eating rabbits and were excited to see someone selling them. There are also customers from other cultures that eat rabbit who are happy to find a source.
But there is a curiosity about rabbits as food. Bazzetta has customers who have never had rabbit before but are familiar with the local food movement, like to cook and want to try something new, she said.
"The New York Times has published several very popular articles and recipes about rabbit in recent years, and I think this has had a big influence on the positivity with which people are receiving it as a food now," Bazzetta said. "I find that as people learn more about what a sustainable, efficient, and resilient source of food rabbits are — something I always try to educate my customers on — they become more open to it, as we all learn to shift our diets as our world changes around us."
Sustainability at Horseradish Ranch doesn't end with the animals. Bazzetta dry farms the land. The concept is simple: farm without using artificial irrigation. This idea builds on using and retaining moisture in the soil.
The ranch is arid and has limited water rights. Bazzetta and Bailey are dedicated to reducing the amount of water used to cultivate crops, and this means a different approach is needed.
First, the pair looks to keep moisture in the ground. Walking around the ranch, there are garden spots that are covered in straw, mulch and sometimes plastic weed block. These strategies help keep water from evaporating and keep moisture in the soil.
The pair pulled back some straw in one spot in mid-September and were happily surprised at the soil temperature. "Feel it, it is cool," Bazzetta said.
They also look to plant what works best in the soil and with limited water. These are plants that will root deeper and work a little harder to pull water and nutrients from deeper in the soil. They have focused on beans. They are also working to replant the pasture with perennial grasses that have stronger and deeper root systems.
For Horseradish Ranch and Bailey's Blue Moon Stead, the current crop has been tepary beans. Bazzetta said the beans are a little smaller than other beans but they have bigger flavor. "Like wine," she said, explaining how wine grapes have more flavor after a hot, dry summer. "They concentrate their flavor, sugar and nutrients into a smaller package." Beans and other vegetables are the same way.
"A dry-farmed tomato is amazing," she said, expressing her desire to grow some in the future. "They are smaller and are like eating an apple."
Bazzetta plans to look at different crops to try, but like the animals she grazes, it will be what best fits the land.
To learn more about dry farming, multi-species grazing and Horseradish Ranch, go to horseradishranch.com
Easy Multi-Dish Rabbit Recipe
By Laura Bazzetta
Rabbit can seem like an intimidating project for the uninitiated — but this mildly-flavored, all-white meat is actually quite versatile and easy to cook. Highest in protein and lowest in fat of all the meats we raise, pasture-raised rabbit makes the perfect addition to any meal.
This recipe will result in tender, juicy meat that is easy to peel off the bone. It makes a great ingredient for other dishes to save time cooking meals later in the week (hence 'multi-dish'). Keep a container of this cooked rabbit in the fridge, and it's quick to throw together for salads or sandwiches on the go (just like chicken breast!), or toss into a pasta or casserole dish for a delicious, nutritious dinner.
Gather your ingredients and supplies:
• 1 whole 2-3 lb rabbit (slow-thawed)
• 1/4 cup Apple Cider Vinegar
• 1/4 cup coconut, sunflower, safflower, or canola oil (olive can substitute in a pinch)
• 1/8 cup raw sucanat sugar (or 1 TBSP brown sugar)
• 3 small or 1 large sweet white onion (pearl drop or Walla Walla are the best)
• 1 tsp fennel seed power
• Salt & pepper to taste
• One crock pot (or dutch oven)
Now for the best part — just a few steps!
1.Place the Rabbit in the pot.
2.Pour and sprinkle all ingredients over the rabbit with abandon.
3.Cover the pot. If using a crock pot, turn on LOW, not high — never high. If using a dutch oven, heat your oven to 225 F and place the dutch oven inside.
4.Cook for about 3 hours. Walk away and enjoy the rest of your life while the rabbit takes care of itself. If inclined, flip the rabbit over halfway through the cooking process to spread the sauce more evenly — but it's not essential.
5.After 3 hours, pull the rabbit out and let it cool. It's done! Once cool, it's easy to remove the meat from the bones and set it aside for use in other dishes (or right away if you're like me, and you enjoy a warm drumstick fresh from the pot).
For more recipes and cooking tips, go to horseradishranch.com.